AFL confirms rule changes but scraps 18-metre goal square
Email AFL confirms rule changes for 2019 season but scraps 18-metre goal square
Updated October 11, 2018 16:24:03
Photo: The AFL will introduce set positions at centre bounces as part of its rule changes. (AAP: Tracey Nearmy, file) Related Story: Has the AFL got its numbers wrong on proposed rule changes? Related Story: While fans enjoy historic AFL round, league goes ahead with controversial trial of new rules Map: Australia
The AFL has announced nine rule and interpretation changes for the 2019 season, but it has rejected the proposed introduction of an 18-metre goal square.
Key points:
The 6-6-6 rule at centre bounces was approved
The hands in the back rule was discarded
The AFL wants the changes to created a more attractive game for spectators
The 6-6-6 rule, which sees teams having six players in each of their defensive and forward arcs and six in the midfield at each centre bounce, has been given the green light as a way of reducing congestion.
The AFL Commission knocked back the idea of increasing the size of the goal square, which was trialled during the VFL season.
AFL football operations manager Steve Hocking said the changes were designed to create more "free-flowing passages of play" and "one-on-one contests".
"For us we believe within these nine changes we are actually looking after the heritage in parts," Hocking told a media conference in Melbourne.
"We are also progressing it at the same time so we are pretty excited about that."
The contentious 18-metre goal square proposal had been recommended by the AFL's competition committee last month, but the commission chose to instead endorse two rule changes regarding kick-ins.
A player will no longer need to kick to himself to play on from the goal square, while the man on the mark will be positioned 10 metres back at kick-ins rather than five metres.
"The commission had a range of options put in front of them (about the goal square) and where we have landed we are very comfortable with," Hocking said.
Photo: The rule changes are essentially designed to reduce congestion around the ball. (AAP: Tony McDonough, file)
The AFL has removed the 'hands in the back' rule, meaning a player can now place his hand on the back of an opponent in a marking contest as long as it is not a push.
Other rule and interpretation changes include:
Defensive marks and free kicks
When a defender marks or is given a free kick within nine metres of their goal the man on the mark must be brought into line with the top of the goal square.
50-metre penalties
Players are allowed to play on while the penalty is being measured out, and they can advance the mark by 50 metres without the penalised player delaying the match.
Ruck contests
Ruck contests will also see changes, with ruckmen no longer having prior opportunity when they take direct possession from a bounce, throw-up or throw-in.
A ruckman for each team will still need to be nominated to the field umpire when there is uncertainty over who is the designated ruckman.
Kicking for goal after the siren
When a player is awarded a mark or free kick once play has ended he will now be able to kick across his body using a snap or check-side kick.
But the player is required to kick the ball in line with the man on the mark and the goal.
Umpire contact
Players will not be allowed to set up behind the umpire at centre bounces.
Runners and water carriers
Team runners can only come on the field of play after a goal has been scored and they must exit before the re-start of play.
Water carriers are not allowed to come on the field during live play.
Photo: The AFL is confident the changes will make the game more attractive to spectators in 2019. (AAP: Julian Smith, File)
"The changes, and where we have landed, is about protecting what is great about the game," Hocking said.
"The fast, open nature of the game, unique skills of the players and we're looking also to even up the defensive and offensive strategies in the game."
The AFL's competition committee and games analysis team had spoken with clubs, the AFL Players' Association and the AFL Coaches Association, as well as the league's medical officers and other industry groups during the consultation process.
"It's (consultation) been extensive," Hocking said.
"We've also consulted with our fans, we've listened to the fans as we have worked through this over the last 10 months."
The new rules were first tested in an official match during a VFL fixture between Coburg and Werribee in August.
They were trialled in a total of three VFL matches.
Topics: sport, australian-football-league, australia, vic, melbourne-3000
First posted October 11, 2018 15:05:15
O'Connor brothers steer Ballintubber to Mayo SFC title
Ballintubber 0-12 Breaffy 1-8
A brilliant point in the 59th minute from Diarmuid O'Connor turned out to be the match-winning score as Ballintubber reclaimed the Mayo senior club football championship title at MacHale Park, Castlebar tonight.
The former Young Footballer of the Year fired over a fantastic point from the left wing that turned out to be the last score of an attritional decider as Breaffy's long wait for a Moclair Cup went on.
Mayo's talisman, Cillian O'Connor, shot seven points (six from frees) and delivered a man of the match performance as Ballintubber justified their pre-match favourite's tag.
Their first county title success since 2014 was masterminded by their 36 year-old manager, Kevin Johnson, a native of Sligo, and means the Abbeysiders have now four county senior titles in nine seasons.
Ballintubber led at half-time by 0-6 to 1-2 despite getting off to the worst possible start in front of a crowd of 8,311 spectators.
Breaffy's Peter Dravins tucked away a penalty inside three minutes after Aidan O'Shea was bundled over inside the square.
However, the outsiders were unable to build any sort of momentum as Ballintubber gradually got into their stride.
Four frees from the unerring Cillian O'Connor helped them to regain the initiative while Stephen O'Malley and captain Damien Coleman were also on target.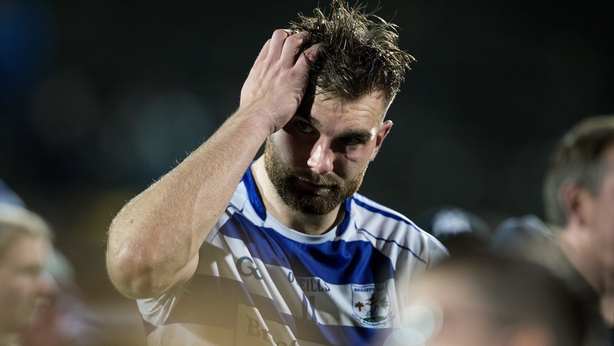 Meanwhile, down at the other end, Breaffy goalkeeper, Rob Hennelly, was off target with three long-range place kicks as his side struggled to get the scoreboard moving.
In fact, their only score of the opening half from play came from Gareth Dunne as Ballintubber's well-organised defence stood firm.
The second half was a much more entertaining affair than the first as both teams threw off the shackles and started to play with more directness and pace.
Cillian O'Connor tagged on three further points from frees as Breaffy's backline continued to foul inside his range.
But Ballintubber were unable to pull away despite their territorial dominance, and Breaffy stayed in touch with points from Tommy Reilly, Gary Fadden and Conor O'Shea.
Goalkeeper Rob Hennelly also broke his duck when he finally landed a long-range free and the tension was almost unbearable in the closing stages as Breaffy drew level through a Conor O'Shea free.
Breaffy substitute Colum Dravins and Ballintubber's Ciaran Gavin were also both shown black cards as the stakes continued to mount.
Down the home stretch Ballintubber, playing their third game in 14 days, showed no ill-effects of their two marathon semi-finals, both of which had gone to extra-time.
Instead they managed to create a scoring chance for Diarmuid O'Connor who split the posts in style from 35 metres out on the left wing in the final minute of normal time.
Breaffy pushed hard during the five minutes of additional time but were unable to dig out an equaliser, with Aidan O'Shea off target with a free.
The West Mayo side have now lost all three of the county senior finals they have appeared in, having also finished second best against Castlebar Mitchels in both 2013 and 2015.
Ballintubber: B Walsh; G Loftus, C Hallinan, B Murphy; D Coleman (0-1), M Plunkett, R O'Connor; JGibbons, D O'Connor (0-1); C Gavin, A Dillon (0-1), A Plunkett; B Walsh, C O'Connor (0-7, 6fs), S O'Malley (0-2).
Subs: M Kelly for Loftus (35); J Finnerty for A Plunkett (35); P O'Connor for Gavin BC, 53); J Geraghty for R O'Connor (57).
Breaffy: R Hennelly (0-1, '45); M Dervan, J Minogue, C Kelly; K Mulchrone, S O'Shea, D Cannon; M Ruane, P Dravins (1-0); R Fadden (0-1); A O'Shea, R Martyn; T O'Reilly (0-2), C O'Shea (0-3, 3fs), G Dunne (0-1).
Subs: M Hall for Martyn (35); C Dravins for Dervan (39); G Jennings for C Dravins (BC, 41); G Walsh for P Dravins (50); S McDermott for Fadden (55); D Morrin for O' Reilly.
Referee: V Neary (Bonniconlon)