Alex Ferguson out of intensive care, confirm United
Alex Ferguson is out of intensive care following surgery on a brain haemorrhage, Manchester United have announced.
The 76-year-old former United manager is to continue his rehabilitation in hospital in Salford.
United said: "Sir Alex no longer needs intensive care and will continue rehabilitation as an inpatient.
"His family have been overwhelmed by the level of support and good wishes but continue to request privacy as this will be vital during this next stage of recovery."
The news came hours after present United manager Jose Mourinho said he expected his players to raise their game when they return to action for the first time since Ferguson's surgery.
Mourinho was speaking ahead of Thursday's Premier League match at West Ham, when he was asked about the former United manager, who won 38 trophies during his Old Trafford tenure.
"His family asked for privacy and that is what I am going to respect," Mourinho said. "But (as a club) we are positive. We are very, very positive. We are confident."
Asked if it would influence the mood of the players or United coaching staff going into Thursday night's match at the London Stadium, Mourinho replied: "No, I can only think that if there is any relation, it is a positive relation."
Gestures of support continue for the Scot, who retired in 2013 having guided United to 13 Premier League titles as well as five FA Cups and the Champions League twice.
Wales manager and former United winger Ryan Giggs was brought into the Old Trafford first team by Ferguson as a talented 17-year-old in 1991.
He developed into a key player in a squad which would go on to complete a famous treble when lifting the Champions League trophy in 1999, before later making the move into coaching which saw him take temporary charge at United in April 2014 following David Moyes' departure.
Giggs, who eventually left Old Trafford in July 2016, echoed the sentiments of former players under Ferguson, whom he felt now brings football together in support for his recovery.
"You've seen the response, not just from within football but from people all around the world. It shows how much he means to people. I'm not surprised," Giggs, speaking at the launch of the FAW and McDonald's Grassroots Football Awards, said.
"No matter who you support you've got to recognise what he's done for the game. Like everyone I was shocked to hear the news, I was with him just a couple of weeks ago at a dinner.
"I know him better than most and I'm wishing him a speedy recovery. Hopefully he recovers fully and wishes go to Cathy and the family."
Rose feeling on top of the world
It took a while for Justin Rose to get over his disappointment at losing the BMW Championship on a playoff, but moving to world number one helped.
Rose heads into this weekend's FedEx Cup season-finale Tour Championship in Atlanta, Georgia, at the top of golf's rankings.
His recent second placed finish, losing a Monday playoff to Keegan Bradley in Aronimink, was enough to see him climb to the highest rung on the ladder, which was some consolation.
"I knew after I signed my card after the playoff started, it was enough to be number one," he said. "But a playoff is a playoff, and they're over really quickly; if you make a mistake, it's not like you have time to recover.
"So yeah, obviously it was disappointing to finish the tournament that way.
"One of the things I'm proud of last week was the putt I hit to win the tournament. My last putt was a great putt that didn't drop.
"You've got to look at things sometimes in a positive light, so I feel like I did a lot right, just the playoff, I'd like just to leave it there. That wasn't great."
The Englishman says that the reaction he received following defeat to the news that he'd made the top of the rankings helped to cheer him up.
"The reaction on my phone; you can always judge it on your phone," he explained. "If you win a Major, your phone blows up; you win a tournament, you get a nice bunch of messages.
"And getting to world number one, my phone blew up again. You can kind of gauge it from the response really of your wider network. It was a big moment for sure. I've enjoyed it."
We did it Dad…. World Number 1⃣ Thank you so much to my family, friends & everybody that has helped me achieve this incredible goal. Also, my sponsors @TaylorMadeGolf @adidasGolf @Hublot @Mastercard @ZurichNAnews @MorganStanley @LamkinGrips Thank you! #Team🌹 pic.twitter.com/geZgcpTR7U

— Justin Rose (@JustinRose99) September 10, 2018
He continued: "I've been able to have just a glass of champagne over the weekend with a couple close friends and try to just mark it, saying this is fun, this is a moment we've worked hard for, but also you realize that life goes on at home.
"The kids were happy for five minutes and then they're on to the next thing, so nothing changes at home. I'm still number two or three there," he smiled.
Rose could be overtaken in the rankings this weekend by the likes of Brooks Koepka or Dustin Johnson, but he is determined to finish the year top of the pile.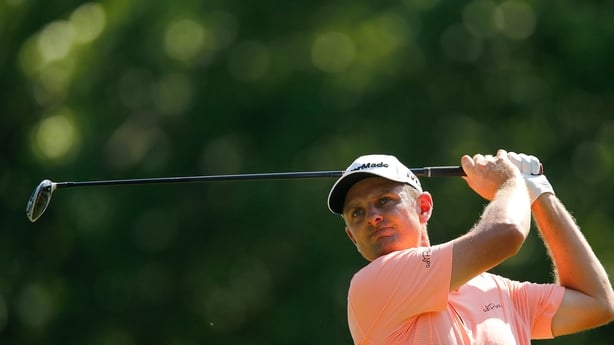 He said: "It's really tight up top. It could easily switch this week. I just feel that if I go to two or three this week, if Dustin and Brooks both play well, I have an opportunity the week after and British Masters, and going to China and Turkey.
"There's going to be opportunities to get back there. So I'd love to end the year number one. I'd say that's a goal.
"I think if I lose it between now and then, I'm not going to lose any sleep over it because it is so tight at the top. Literally, if I finish seventh this week and Brooks finishes sixth, he'll go to number one, so it is that tight
"If I were going to talk about my career, I'd say Justin Rose, Major champion, Olympic gold medalist, world number one.
"That's the three things I would choose to say. Not necessarily in that order maybe, but that's how I would just simplify my career. Those would be the top three."