Child abuse inquiry says orphanages were places of 'threat and abuse'
Children at Smyllum Park orphanage were sexually abused and beaten with leather straps, hairbrushes and crucifixes, the Scottish Child Abuse Inquiry has found.
Nuns belonging to the Daughters of Charity of St Vincent de Paul ran the Catholic Children's home near Lanark, as well as Bellevue House, Rutherglen.
Lady Smith, who is chairing the inquiry, has published a report on evidence heard during the case study.
She said the homes were places of fear, threat, and excessive discipline.
The judge said emotional, physical and sexual abuse took place.
The children found "no love, no compassion, no dignity and no comfort," she said.
What is the Scottish Child Abuse Inquiry?
The inquiry was set up in October 2015 to look at the historical abuse of children in care across Scotland.
It is currently in the process of looking at allegations of physical and sexual abuse at 86 institutions, including former children's homes and leading boarding schools.
The inquiry, which has cost £15.67m so far, was originally scheduled to end next year but the Scottish government has since said it can take as long as it needs.
From the end of November last year, the child abuse inquiry heard case study evidence over 20 days about the Daughters of Charity of St Vincent de Paul.
A total of 54 witnesses told of their experiences at Smyllum Park, which closed in 1981, and Bellevue House, which closed in 1961, and 21 written statements were submitted.
What did the inquiry report say?
Lady Smith's interim report into the Smyllum and BelleVue case studies concluded:
Children were abused while in the care of the Daughters of Charity of St Vincent de Paul
They were sexually abused in Smyllum by priests, a trainee priest, nuns, members of staff and a volunteer. The abuse was, in some cases, prolonged.
There was also problematic sexual behaviour by other children.
Children were hit with implements, the punishment being either excessive or for reasons which the child could not fathom.
The implements used included leather straps, the "Lochgelly Tawse," hairbrushes, sticks, footwear, rosary beads, wooden crucifixes and a dog's lead.
For some children, being hit was a normal aspect of daily life.
The physical punishments meted out to children went beyond what was acceptable at the time whether as punishment in schools or in the home.
Children who were bed-wetters were abused physically and emotionally.
They were beaten, put in cold baths and humiliated in ways that included "wearing" their wet sheets and being subjected to hurtful name-calling by Sisters and by other children.
Many children were force-fed.
Children were used as unpaid labour.
Many children were forced to queue in a state of undress for a bath and shared bathwater that was too hot or cold and dirty.
There was no system for marking children's birthdays. Some children didn't know when their birthday was.
Children were abused for being left-handed and forced to use their right hands instead.
Some were abused for being Protestants and one child was told the Jewishness would be knocked out of him
The report names Charlie Forsyth, a former Smyllum resident who went on to work in the home, as someone who physically and emotionally abused children.
Forsyth, who is now dead, was said to have given out violent, angry beatings and called the children demeaning.
It was said that he had complete autonomy.
Lady Smith's report also highlights the case of Samuel Carr, a child in Smyllum, who died aged six as a result of contracting a severe and vicious E. coli infection after contact with a rat.
He was malnourished despite having been in Smyllum for a significant time.
He had received a severe beating from a Sister not long before his death, the report says.
Francis McColl, was 13 when he died in Smyllum after an accident in which he was hit by a golf club when it was being swung.
Patricia Meenan died aged 12 when she was hit by a car when she was running away from Smyllum to go back to Glasgow.
Lady Smith's said she would take her findings into account when she analysed all the evidence gathered by the inquiry and decides what recommendations to make within the final report.
The victims have waited years by David Cowan BBC Scotland news
Children were abused – three words from Lady Smith which will mean everything to former residents from the two homes.
For years they've alleged they were victims of physical abuse, sexual abuse and emotional abuse – and now the chair of the Scottish Child Abuse Inquiry has said she believes them.
Lady Smith described Smyllum Park and Bellevue House as places of fear, where many children found no love, no compassion, no dignity and no comfort.
For some, she said, being hit was a normal aspect of daily life.
The order which ran the homes, the Daughters of Charity of St Vincent De Paul have repeated their apology to anyone who suffered abuse in their care.
Smyllum and Bellevue complaints in numbers
20,000 – Number of children housed by the Daughters of Charity in Scotland between 1864 and 1999
11,601 – Number of children housed in Smyllum from its opening in 1864 to its closure in 1981
4,748 – Number of children accommodated in Smyllum from 1930 until its closure in 1981
6,585 – Number of children accommodated in Bellevue from its opening in 1912 to its closure in 1961
121 – Number of complaints of alleged historical abuse at Smyllum made to the Order between 1998 and 2002 That's 37 complaints against individual sisters, 23 complaints against lay staff, four complaints against priests and two complaints against scout leaders)
26 – Number of complaints of alleged abuse at Bellevue made to the Order between 1998 and 2002 (That includes 18 complaints against individual sisters and five complaints against lay staff)
99 – Number of civil actions raised against the Order in relation to Smyllum
18 – Number of civil actions raised against the Order in relation to Bellevue
A statement from the Daughters of Charity said: "Lady Smith's findings describe events and practices which are totally out of keeping with the fundamental values which underpin our life and mission and we are committed to giving this report our utmost attention.
"We most sincerely offer our heartfelt apology to anyone who suffered any form of abuse whilst in our care."
New York witches place hex on Brett Kavanaugh
The occult turned partisan on Saturday as a coven of New York witches placed a hex on US Supreme Court Justice Brett Kavanaugh.
Dozens attended the event at Brooklyn's Catland Books, which was also streamed online.
Organisers said the event was "an act of resistance and resilience".
A Catholic priest and exorcist in California, Father Gary Thomas, planned to counter the spell by saying prayers for the justice at Mass.
"This is a conjuring of evil – not about free speech," Father Thomas told the National Catholic Register.
Witches cast 'mass spell' against Trump
Dakota Bracciale, co-owner of Catland Books and one of the organisers of the event, said they would not share details or specifics of "the spells", but told the BBC the hex was "aimed at exposing Brett Kavanaugh for what he truly is, to cause him harm and see him undone".
Skip Facebook post by Catland
⚰️💀🔥🕯🗡🕳

Posted by Catland on Saturday, 20 October 2018
Report
End of Facebook post by Catland
Mr Kavanaugh's appointment to America's top court was confirmed despite him facing sexual assault allegations, something he denies.
Asked when the spells were expected to take effect or when they anticipated seeing the results, the organisers said "as soon as possible", adding: "There's not a firm timeline on these things."
They went on to say that part of its purpose was to provide "camaraderie, fellowship and support during tumultuous times".
Half of the proceeds are to be donated to charities, including the women's health group Planned Parenthood, the organisers' event page says.
Skip Facebook post 2 by Catland
Hex on Kavanaugh!

Posted by Catland on Saturday, 20 October 2018
Report
End of Facebook post 2 by Catland
Last year, Catland hosted "three consecutive rituals to hex Trump", with tickets to each of the events selling out, the owners said.
They added that press coverage of the rituals sparked a backlash, but that it was "nothing" compared with the scale of abuse following the announcement of their latest event focusing on Mr Kavanaugh.
"We have experienced a pretty severe amount of backlash in the form of hate mail and death threats," Dakota said.
However the previous rituals aimed at Mr Trump, they say, have proved successful.
"We feel the rituals were a success as they sought to expose Trump for what he is, and that has happened on many levels; from the Russia probe to the exposé on his finances to Stormy Daniels [the porn actress who says she had a sexual affair with Mr Trump in 2006]."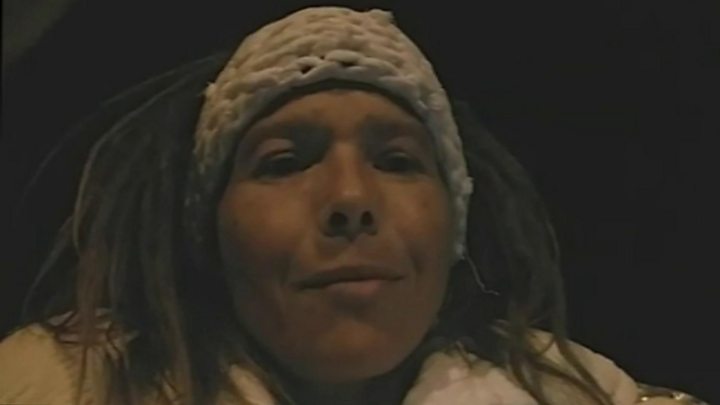 "Witchcraft is a practice, not a religion," Ms Bracciale explained. "It's what one does, not what one believes."
She said that followers of witchcraft see motivation in its history: "It has always been practiced by the most downtrodden, disenfranchised and oppressed peoples who have used it as a tool for survival… to be the arbiter of their own justice since it would be denied by the powers that be.
"[We see] the witch as a political figure who threatens and works to take down the patriarchy. This has been seen throughout history, but more recently in American society.
"We uphold this legacy which merges art, political theatre, religious iconology and socio-political resistance."