Child abuse inquiry says orphanages were places of 'threat and abuse'
Children at Smyllum Park orphanage were sexually abused and beaten with leather straps, hairbrushes and crucifixes, the Scottish Child Abuse Inquiry has found.
Nuns belonging to the Daughters of Charity of St Vincent de Paul ran the Catholic Children's home near Lanark, as well as Bellevue House, Rutherglen.
Lady Smith, who is chairing the inquiry, has published a report on evidence heard during the case study.
She said the homes were places of fear, threat, and excessive discipline.
The judge said emotional, physical and sexual abuse took place.
The children found "no love, no compassion, no dignity and no comfort," she said.
What is the Scottish Child Abuse Inquiry?
The inquiry was set up in October 2015 to look at the historical abuse of children in care across Scotland.
It is currently in the process of looking at allegations of physical and sexual abuse at 86 institutions, including former children's homes and leading boarding schools.
The inquiry, which has cost £15.67m so far, was originally scheduled to end next year but the Scottish government has since said it can take as long as it needs.
From the end of November last year, the child abuse inquiry heard case study evidence over 20 days about the Daughters of Charity of St Vincent de Paul.
A total of 54 witnesses told of their experiences at Smyllum Park, which closed in 1981, and Bellevue House, which closed in 1961, and 21 written statements were submitted.
What did the inquiry report say?
Lady Smith's interim report into the Smyllum and BelleVue case studies concluded:
Children were abused while in the care of the Daughters of Charity of St Vincent de Paul
They were sexually abused in Smyllum by priests, a trainee priest, nuns, members of staff and a volunteer. The abuse was, in some cases, prolonged.
There was also problematic sexual behaviour by other children.
Children were hit with implements, the punishment being either excessive or for reasons which the child could not fathom.
The implements used included leather straps, the "Lochgelly Tawse," hairbrushes, sticks, footwear, rosary beads, wooden crucifixes and a dog's lead.
For some children, being hit was a normal aspect of daily life.
The physical punishments meted out to children went beyond what was acceptable at the time whether as punishment in schools or in the home.
Children who were bed-wetters were abused physically and emotionally.
They were beaten, put in cold baths and humiliated in ways that included "wearing" their wet sheets and being subjected to hurtful name-calling by Sisters and by other children.
Many children were force-fed.
Children were used as unpaid labour.
Many children were forced to queue in a state of undress for a bath and shared bathwater that was too hot or cold and dirty.
There was no system for marking children's birthdays. Some children didn't know when their birthday was.
Children were abused for being left-handed and forced to use their right hands instead.
Some were abused for being Protestants and one child was told the Jewishness would be knocked out of him
The report names Charlie Forsyth, a former Smyllum resident who went on to work in the home, as someone who physically and emotionally abused children.
Forsyth, who is now dead, was said to have given out violent, angry beatings and called the children demeaning.
It was said that he had complete autonomy.
Lady Smith's report also highlights the case of Samuel Carr, a child in Smyllum, who died aged six as a result of contracting a severe and vicious E. coli infection after contact with a rat.
He was malnourished despite having been in Smyllum for a significant time.
He had received a severe beating from a Sister not long before his death, the report says.
Francis McColl, was 13 when he died in Smyllum after an accident in which he was hit by a golf club when it was being swung.
Patricia Meenan died aged 12 when she was hit by a car when she was running away from Smyllum to go back to Glasgow.
Lady Smith's said she would take her findings into account when she analysed all the evidence gathered by the inquiry and decides what recommendations to make within the final report.
The victims have waited years by David Cowan BBC Scotland news
Children were abused – three words from Lady Smith which will mean everything to former residents from the two homes.
For years they've alleged they were victims of physical abuse, sexual abuse and emotional abuse – and now the chair of the Scottish Child Abuse Inquiry has said she believes them.
Lady Smith described Smyllum Park and Bellevue House as places of fear, where many children found no love, no compassion, no dignity and no comfort.
For some, she said, being hit was a normal aspect of daily life.
The order which ran the homes, the Daughters of Charity of St Vincent De Paul have repeated their apology to anyone who suffered abuse in their care.
Smyllum and Bellevue complaints in numbers
20,000 – Number of children housed by the Daughters of Charity in Scotland between 1864 and 1999
11,601 – Number of children housed in Smyllum from its opening in 1864 to its closure in 1981
4,748 – Number of children accommodated in Smyllum from 1930 until its closure in 1981
6,585 – Number of children accommodated in Bellevue from its opening in 1912 to its closure in 1961
121 – Number of complaints of alleged historical abuse at Smyllum made to the Order between 1998 and 2002 That's 37 complaints against individual sisters, 23 complaints against lay staff, four complaints against priests and two complaints against scout leaders)
26 – Number of complaints of alleged abuse at Bellevue made to the Order between 1998 and 2002 (That includes 18 complaints against individual sisters and five complaints against lay staff)
99 – Number of civil actions raised against the Order in relation to Smyllum
18 – Number of civil actions raised against the Order in relation to Bellevue
A statement from the Daughters of Charity said: "Lady Smith's findings describe events and practices which are totally out of keeping with the fundamental values which underpin our life and mission and we are committed to giving this report our utmost attention.
"We most sincerely offer our heartfelt apology to anyone who suffered any form of abuse whilst in our care."
Primary school tables: Poor pupils won't catch up for 50 years
As new primary school data is released, BBC analysis suggests it will take 50 years to close the achievement gap between England's rich and poor pupils.
If the pace of change remains the same as it has done since 2011, poor pupils will not catch up until 2070, it shows.
This year, 51% of the poorest pupils reached the expected level in their national end-of-primary school tests.
This compares with 70% of their better-off peers, leaving a gap of 19 percentage points
Readers can check how schools in their area have performed through the BBC's postcode search below.
Sorry, your browser does not support this tool.
Please visit the Department for Education.
English primary school tables
Compare schools in your area on the Department for Education website by entering your postcode or council in the box below
Please read our privacy notice Click to expand privacy notice.
The BBC uses the postcode you enter here to create a web link to the Department for Education website. The BBC is the data controller of the data you enter here. Please be aware that when you leave the BBC website you will be subject to the Department for Education's privacy policy. If you have any questions about how the BBC process data, please read our Privacy and Cookies Policy.
Department for Education website
If you can't see the postcode look up, click or tap here.
What's in the school league tables?
League tables are the shop window of every school, and parents often use them to help choose schools for their children.
They are based on the performance of pupils in each school in their end-of-primary national curriculum tests, known as Sats.
This year was the third time children sat the government's tougher tests, introduced in 2016.
The tables give a snapshot of how each school is performing in results and pupil progress but they also provide a huge amount of data on education at a national level.
The government has said the attainment of disadvantaged pupils is a key aim of its education policies.
The achievement gap has shrunk every year since 2011 but at a slow pace.
If this pace continues, the gap in attainment at this early age will not close until at least 2070, BBC analysis reveals.
To assess this gap, the government uses pupils' results in reading and maths tests.
These are ranked from best to worst as if they were the results of a race.
On average, poorer pupils rank worse. This difference in average ranking between poorer and better-off children is the disadvantage gap.
The current gap shows that poorer children would sit 2.9 places further back on average in a ranking of 20 poorer and 20 better-off children.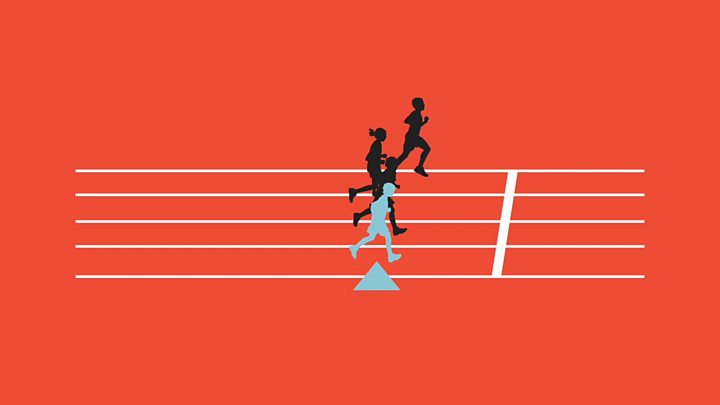 School Standards Minister Nick Gibb said: "Standards are rising in our schools, with 86% of schools now rated good or outstanding as of August 2018, compared to 68% in 2010 and these statistics show that the gap between disadvantaged pupils and their peers has closed by 13% since 2010."
In 2011, the disadvantage gap was 3.3 places, it is now 2.9 places, having closed by 13% or 0.4 places.
Mr Gibb added: "Every child, regardless of their background, deserves a high quality education and opportunity to fulfil their potential."
Children are counted as disadvantaged if they are eligible for the pupil premium, that is if they have been eligible for free school meals at any point during the past six years or have been in care continuously for at least six months.
Data published in July revealed 64% of pupils met the expected standard across all tests: reading, writing and mathematics – up from 61% the previous year.