EU scraps Ireland lawsuit in Apple 'state aid' case
The EU is no longer planning to sue Ireland over its failure to recover €14.3bn (£12.7bn) in back taxes and interest from Apple after the company handed over the money.
However, a continuing legal row may mean Irish coffers never see a cent of the windfall.
The European Commission ruled, in 2016, that Apple owed the sum after finding Dublin guilty of providing illegal state aid to the company in the form of tax incentives.
Then, last year, EU officials launched a lawsuit against Ireland citing delays in the country recovering the back taxes demanded.
They confirmed that case was to be dropped after Ireland's finance ministry confirmed the tech firm had paid up.
However, finance minister Paschal Donohoe confirmed the cash – enough to fund the country's health budget for a year – would be held in a protected account pending the conclusion of an appeal by Apple and the Irish government against the original state aid ruling.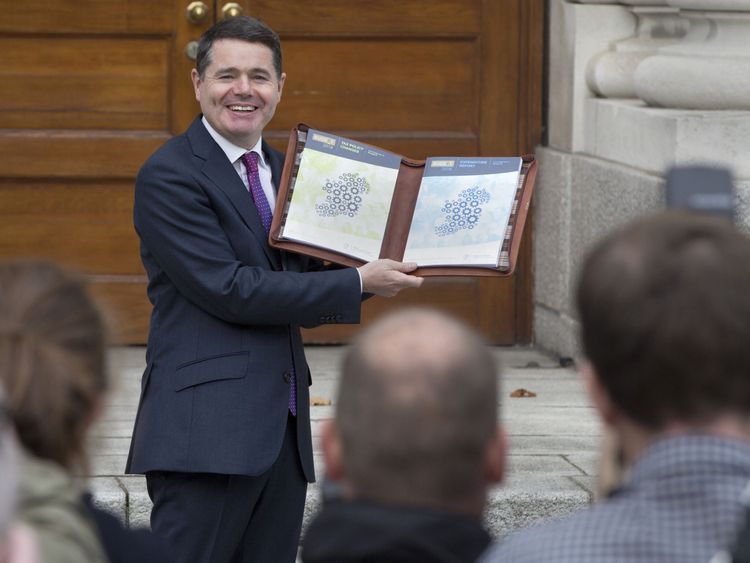 He said: "While the government fundamentally disagrees with the commission's analysis in the Apple State Aid decision and is seeking an annulment of that decision in the European Courts, as committed members of the European Union, we have always confirmed that we would recover the alleged state aid.
"We have demonstrated this with the recovery of the alleged state aid which will be held in the Escrow Fund pending the outcome of the appeal process before the European courts.
"This is the largest State Aid recovery at €14.3bn and one of the largest funds of its kind to be established.
"It has taken time to establish the infrastructure and legal framework around the Escrow Fund but this was essential to protect the interests of all parties to the agreement."
The department, which denies any suggestion of selective tax treatment, admitted it could take several years for the appeals process to be completed.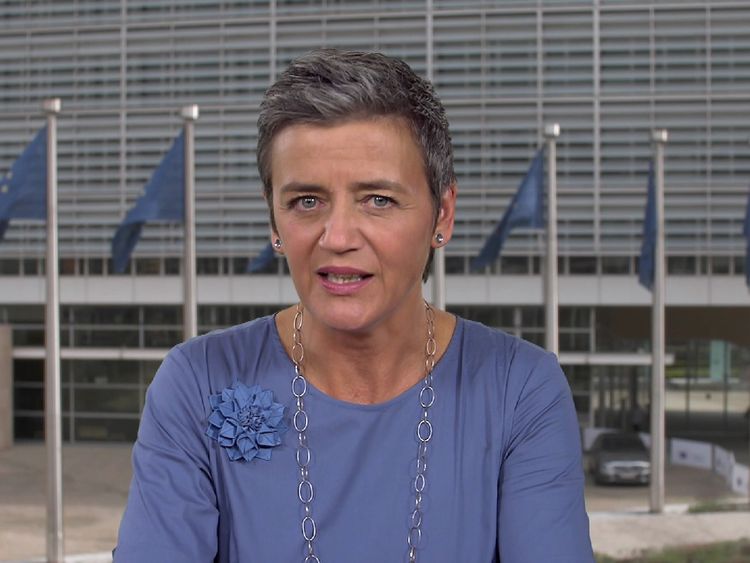 It believes the ruling risks damaging overseas investment in the country.
More from Business
BMW to shut Mini factory in Oxford for a month after Brexit day – Sky sources

EU investigates BMW, Daimler and VW over emission collusion allegations

China retaliates with $60bn tariffs in Trump trade war escalation

Government's 100,000 net migration cap 'not policy', Migration Advisory Committee chair says

UK 'garden shed' inventors win prize for device to help stroke survivors

Kopparberg to produce cider in the UK over Brexit fears
The commission found Apple paid an effective corporate tax rate of just 0.005% on its European profits in 2014 through a sweetheart deal with the Irish authorities.
A commission spokesperson said of the planned lawsuit on Tuesday: "In light of the full payment by Apple of the illegal State aid it had received from Ireland, Commissioner (Margrethe) Vestager will be proposing to the College of Commissioners the withdrawal of this court action."
Where to find self-driving cars on the road right now
Self-driving BMW 5 series vehicles.
Aptiv
Headlines abound about self-driving cars, but there's a big difference between reading about them and seeing one, replete with all its sensors, on the street. Or, for that matter, taking a ride in one. While you may have heard about companies such as Uber working on autonomous vehicles, plenty of other outfits are making progress and running their cars in states like California, Michigan, and Pennsylvania. Here's an evolving round-up of what's going on with self-driving cars on public roads, from Aptiv to Waymo.
Aptiv
Las Vegas, Boston, Pittsburgh, Singapore
The name "Aptiv" might not ring a bell, but if you visit Las Vegas, you could ride in one of their autonomous vehicles after hailing a Lyft. They first began offering rides in their cars during the Consumer Electronics Show in January, 2018, and the program has grown from there. The company currently has 30 autonomous cars on the roads in Sin City; they cruise around 20 hours a day, seven days a week. Aptiv says they've completed more than 25,000 trips and hauled around more than 50,000 passengers, and while the vehicles are autonomous, a real human sits behind the wheel and in the passenger seat, too. Aptiv—which purchased self-driving car company nuTonomy last year—also tests their cars in Boston, Pittsburgh, and Singapore.
Aurora
Palo Alto, San Francisco, and Pittsburgh
Like Aptiv, Aurora may not be a familiar name, but the company is developing its own self-driving technology while working with Volkswagen, Hyundai, and Byton. Their self-driving VW e-Golfs and Lincoln MKZs are on the streets of Palo Alto, San Francisco, and Pittsburgh—with two vehicle operators on board, too.
Cruise
San Francisco; Scottsdale, Arizona and Orion, Michigan
General Motors has owned autonomous car company Cruise since 2016, and their gen-three autonomous Chevy Bolts are the roads of San Francisco, Scottsdale, Arizona, and Orion, Michigan. (The Bolt is Chevy's all-electric vehicle, and not to be confused with their hybrid Volt, which they recently put out to the asphalt pasture.) These self-driving Bolts have safety drivers behind the wheel, and in San Francisco, they're part of an internal ridesharing program, called Cruise Anywhere, for over a 1,000 employees who can use hail one to catch a ride. Cruise and General Motors have also made a splash by revealing their generation-four concept vehicle, a Bolt that has no steering wheel or pedals.
A self-driving van in Texas.
Drive.ai
Drive.ai
Frisco and Arlington, Texas
Like Aptiv and Aurora, the name Drive.ai may not be familiar, but they're already offering a self-driving service in two places in Texas: Frisco and Arlington. Both of those towns are in the Dallas, Fort Worth area, and both services use self-driving vans and safety drivers to shuttle people around in a specific, geofenced region. The service in Arlington is the more public of the two—so if you're visiting Arlington, you could summon a self-driving van, for free, via an app or through a kiosk. The vans even have signs on them to let pedestrians know what they're doing.
A Ford Fusion Hybrid.
Ford
Ford
Dearborn, Miami, and Pittsburgh
Ford is working with a company called Argo AI for its self-driving cars. The company has autonomous vehicles on the road in Dearborn, Michigan, and Miami and Pittsburgh; they also plan to expand into Washington, DC in 2019. Those cars also have two safety personnel on board—one behind the wheel, and one in the passenger seat.
The automaker has also been working with Dominos, Postmates, and Walmart to explore the intersection of self-driving cars and business deliveries; interestingly, those cars are designed to look like self-driving cars, but actually are just regular ol' vehicles with humans driving them. These fake self-driving tests are so the company can learn about logistics and human-car interactions at the pick-up and drop-off points.
Finally, it has been eying a 2021 launch in Miami and Washington, DC, for an autonomous commercial service that would carry people and goods.
Uber
Planning to return to Pittsburgh
Uber, through its internal Advanced Technologies Group, was ploughing ahead on self-driving cars—and then one of their vehicles hit, and killed, a pedestrian in Tempe, Arizona. While they yanked their autonomous cars off the road after that tragedy, they're planning to bring them back, but with a much smaller scope, as The New York Times wrote in early December in an article that also reports that Uber's "autonomous car technology has faced considerable issues." When—and if—they return to testing in Pittsburgh, their testing area will take place on an approximately mile-long loop, with two people in the car, and they won't run them at night, over 25 miles per hour, or in bad weather. An Uber spokesperson also said, via email: "While we are working to get back on public roads, we would never compromise on safety in order to get there. As we have said many times before, our return is predicated on successfully passing our rigorous track tests and having our letter of authorization from the Pennsylvania Department of Transportation in hand."
A self-driving shuttle in Ohio.
Smart Columbus
Waymo
Chandler, Mesa, Tempe, and Gilbert, Arizona
Waymo began as an internal self-driving project from Google, and is now an Alphabet-owned company in its own right. They recently launched an autonomous taxi service in four cities in the Phoenix, Arizona area, which is only open to hundreds of people, according to the company; those people can use an app to summon a self-driving Chrysler Pacifica (which has two Waymo-employed humans up front) and then go somewhere in it, like Uber or Lyft.
Waymo One is an evolution of testing the company had already been doing in the Phoenix area, called the Waymo early rider program. A leader in the autonomous car space, Waymo has racked up more than 10 million miles of running autonomous cars on public roads, and billions of simulated miles, too.
Finally, others continue to work in the autonomous car industry, from the little to big. A self-driving shuttle began operations on December 10 on a small loop in Columbus, Ohio, for example. And of course, Tesla produces a semi-autonomous feature for its vehicles, called Autopilot, to assist drivers and even suggest making a lane change.
This article will be updated as news develops.