Gavin James to honour O'Riordan at Culture Night show
Gavin James will pay tribute to the late Dolores O'Riordan by performing a rendition of Cranberries hit Linger at an open-air concert as part of Culture Night with RTÉ.
James will perform his new single Glow at the event as well as honouring O'Riordan, who died in London in January, by putting his own spin on one of her most-loved songs.
The concert takes place at the National Museum of Ireland Collins Barracks on Friday September 21 as part of RTÉ's Culture Night programme.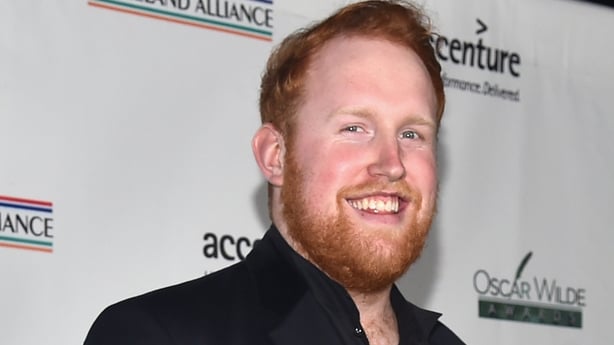 The free concert will also feature a mix of live music, theatre, comedy and poetry from established and emerging Irish talent.
James joins the line-up of artists, which also includes Villagers, the RTÉ Concert Orchestra, Stefanie Preissner, Waterford Whispers, Mick Flannery, Mango X Mathman, and many more.
For more information on Culture Night with RTÉ, visit www.rte.ie/culture.
Fantastic Beasts script made Eddie Redmayne sweat
Eddie Redmayne told RTÉ Entertainment that his palms were sweaty reading the script for Fantastic Beasts: The Crimes of Grindelwald, with the twists and turns making him need to read it a second time straight away.
Redmayne reprises his role as Newt Scamander in the follow-up to 2016's Fantastic Beasts and Where to Find Them, and he couldn't get over some of the "jaw-dropping" moments in the film.
"I literally got sweaty palms as I read the script and then I finished the script, took one massive deep breath, downed a glass of water and started all over again," Redmayne told RTÉ Entertainment.
"I was like, 'Is this real'. It's pretty jaw-dropping, isn't it?"
The first film was set in New York, The Crimes of Grindelwald sees matters move to Paris, and it's looking like the next instalment will be set in Rio de Janeiro, with JK Rowling tweeting that to her fans.
"Jo tweeted that the next one might be set in Rio de Janeiro so we found that out with the rest of the world, so Newt and Tina on the Copacabana Beach maybe?" Redmayne said before adding that he is "genuinely stalking JR Rowling on Twitter" in a bid for information.
Watch our full interview with Eddie Redmayne and Katherine Waterston:
We also sat down with Ezra Miller and Claudia Kim:
And Callum Turner, Alison Sudol and Dan Fogler: