How a water skiing stunt in 1963 made aviation history
Email Grafton hang-gliding pioneers: Boat driver Pat Crowe honoured 55 years on ABC North Coast By Catherine Marciniak
Posted September 09, 2018 05:30:00
Video: Grafton hang-gliding pioneers (ABC News) Map: Lismore 2480
Fifty-five years after the first flight of a hang-glider in a water skiing stunt on the Clarence River at Grafton in New South Wales, the boat driver Pat Crowe has been awarded the 2018 Hang Gliding Diploma by the Federation Aeronautique Internationale.
It's the culmination of 12 years of research by hang-glider pilot Graeme Henderson.
Mr Henderson was determined to prove that the very first flight of the modern delta wing hang-glider happened at Grafton.
The mission began when he saw a photograph of John Dickenson testing a half-size model of his new design for a kite.
"He wanted to build a flat kite and what he came up with just accidently, with a whole string of little inspirations, became the template for tens of thousands of hang-gliders around the world", Mr Henderson said.
The successful first flight was on September 8, 1963.
Photo: This photo of John Dickenson testing his half size model of his new kite design inspired Graeme Henderson to research the history of hang-gliding in Grafton. (Supplied: John Dickenson)
Paul Green, President of the Hang Gliding Federation of Australia, said that it was "a pivotal moment in aviation history, that took three men to make it happen".
"All of them were critical.
"John Dickenson's design was absolutely critical that was the start of it.
"The courage of Rod Fuller [the pilot] who had the courage to jump onto this thing, he must have had some trepidation.
"But it had to be controlled by the man driving the boat on the ground."
Breakthrough in modern hang-gliding
It could be argued that the history of hang-gliding goes back to sixth century AD China with men being tied to kites.
However, the first major development happened when Germany's Otto Lilienthal, known as the 'flying man', made and flew the world's first gliders in the 1890s.
"He was the first person to fly", Mr Henderson said.
Photo: Known as the "flying man", Germany's Otto Lilienthal built and flew the first gliders in the 1890s. (Wikimedia public domain. )
Otto Lilienthal made more 2,000 flights of 250 metres but was killed in 1896 in a glider accident, when he lost control and broke his neck.
"In those craft you hung basically by your arms and you moved your legs to shift the weight, and it's very ineffective and eventually that cost him", Mr Henderson said.
The invention of the flexible wing was the next significant development with NASA testing a design by aeronautical engineer Francis Rogallo as part of their research on space capsule recovery.
NASA didn't end up using the Rogallo design, but its simplicity did inspire hang-gliding pioneers like Mr Dickenson, who adapted the design for his stunt kite.
The breakthrough made by Mr Dickenson was his design for the pilot's control system.
"The pivotal moment for this form of aviation was when Mr Dickenson realized if you put a frame beneath the wing, and made it independent of the wing, then you could control movement around two axis, pitch and roll." Mr Green said.
Photo: This replica of John Dickenson's hang-glider was made by Graeme Henderson and like the original, the sails are made of the blue plastic used in growing bananas. (ABC North Coast: Catherine Marciniak)
The epiphany for this design came when Mr Dickenson was pushing his daughter on a swing and she asked him to swing her sideways.
"Everyone else had tried to versions of weight shift had swung the legs, but once you attach the harness to the centre of gravity and swing the whole weight of the pilot, suddenly the control problem was solved", Mr Henderson said.
Water ski stunt makes history
Mr Dickenson, Rod Fuller and Pat Crowe were all members of the Grafton Water Skiing Club and had a reputation for performing stunts at their carnivals.
Inspired by photos they'd seen in magazines of water skiers attached to kites being pulled behind speed boats, they decided to make some kites for their next carnival.
Photo: The Grafton Water Skiing Club were known for their stunts at their regular carnivals. (Supplied: Fuller family archive)
Mr Crowe and Mr Fuller unsuccessfully had a go at making flat kites. However, Mr Dickenson had a bigger vision.
"A kite flies because of the high pressure of air underneath it and that pushes it up into the air", Mr Crowe said.
"When you get the angle right and the balance right, it will sit there.
"John's idea was that it should actually fly."
When Mr Crowe arrived at the river to test Mr Dickenson's kite with the new triangular control system there had already been three failed attempts.
Mr Fuller, the pilot, said he would not go up with anyone but Mr Crowe behind the wheel of the boat.
When Mr Crowe opened the throttle, Mr Fuller lifted the nose of the kite and shot straight up, sitting over 40 metres above the water to the full length of the rope.
Photo: The first flight of Dickenson's glider with its new design for a control system took place on September 8, 1963 on the Clarence River at Grafton. (Supplied: Fuller family archive)
Mr Fuller was signalling Mr Crowe to bring him down, but Mr Crowe knew that this wasn't possible without putting Mr Fuller in danger of plummeting into the river.
"I couldn't slow the boat down too much because it could just suddenly stop, as if I hit a sandbar and if that happened l knew Rod would be in trouble", Mr Crowe said.
"The fall from that height is not real funny".
Then Mr Crowe was confronted with another challenge — the bridge across the Clarence River.
"I turned around in a big curve that took me past the face of the bridge and he slid out over the bridge, and I got him back over the far bank safely", Mr Crowe said.
By this time pilot Mr Fuller had relaxed into the flight, there was a small ripple in the sails and Mr Dickenson's new leverage system was giving him the control he needed to actually fly the kite.
Over the next few years with the help of his water-skiing mates, Mr Dickenson refined his design making it more lightweight and reliable.
He teamed up with Bill Moyes in Sydney and together they released an improved design to the world.
"The rest is history", Mr Henderson said.
Photo: Boat driver Pat Crowe had been interested in aviation since he was a young man. (Supplied: Pat Crowe)
Boat driver is celebrated
Fifty-five years after the flight, Mr Crowe has been awarded the 2018 Hang Gliding Diploma by the Federation Aeronautique Internationale for his role in making modern hang-gliding history.
Mr Crowe has had a love of aviation since he was a young boy flying model aeroplanes and he spent his national service in the air force as an engine fitter.
"He knew a thing or two about flying", Mr Dickenson said.
The inventor and the pilot have both previously been honoured for their contribution and Mr Green said the recognition of Mr Crowe was fitting.
"All three men are regarded by us in the world of hang-gliding as the holy trinity, but the success of the first flight depended on the boat driver.
"The whole future of hang-gliding was sitting up behind that boat driven by Pat Crowe , he had that package of the pilot up in the air, and he had to get him up, keep him up, turn him around and get him down.
"That was all up to the mastery and consummate skill of Pat Crowe."
Photo: Pat Crowe receives the 2018 Hang Gliding Diploma by the Federation Aeronautique Internationale for steering the first flight of the modern hang-glider from behind the wheel of his speed boat. (ABC North Coast: Catherine Marciniak)
Mr Crowe said he was extremely proud of what he and his mates achieved in what really was meant to be a one-off stunt.
"I'll always be very proud of what we managed to do here, and proud that it was here on our river, our beautiful river," Mr Crowe said.
Topics: science-and-technology, sport, air-transport, lismore-2480, grafton-2460
Contact Catherine Marciniak
More stories from New South Wales
O'Connell has no coaching master plan for the future
Paul O'Connell says he still has no grand plan for his future in coaching – unlike his former Munster and Ireland team mate Ronan O'Gara.
Following a stint in Paris with Racing 92, O'Gara is now working with Super Rugby side Crusaders in New Zealand and says one day he hopes to coach Ireland.
O'Connell is following in his footsteps, taking on a role with Top 14 side Stade Francais in Paris, though his future isn't mapped out as clearly yet.
"For me to go to Paris, I always wanted to live in France so for me this was a chance to travel, live in an amazing city, immerse myself in coaching and see is this what I want to do while learning a language and meeting some good people," said the former Ireland captain, speaking to RTÉ Radio 2FM's Game On.
"People don't seem to believe me when I say there's no real long-term plan in going to Paris."
O'Connell is working with Stade's forwards and line-out and his first season has started well with three wins out of four in France.
His family, wife Emily and children Paddy, Lola and Felix, haven't been able to join him yet as they haven't been able to find suitable accommodation so he is staying with Mike Prendergast, another Irishman on the club's coaching staff.
"It's difficult because there is a lot of apartment-living where the club is. We've decided we don't want to live in an apartment and we're trying to find a house, which is quite difficult. The family haven't arrived over yet, but it's great," he said.
O'Connell agreed to move from Munster to Toulon in 2015, but an injury suffered in that year's Rugby World Cup ended his playing career and scuppered that deal.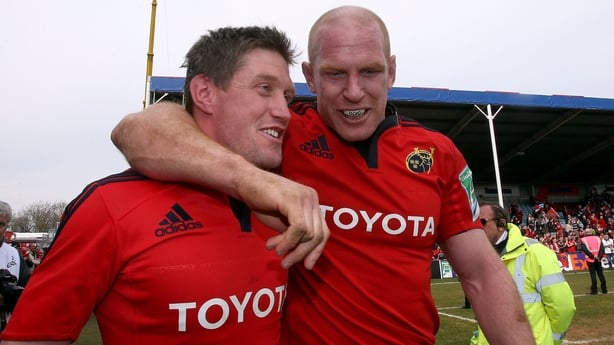 So he is grateful for this chance of living in a new culture, though he admits he's having trouble learning the language – mostly because he doesn't get enough opportunity to practice it.
"It's one of the reasons I'm over there, as much as the coaching. I've always wanted to learn the language," he said. "It's one of the reasons I was going to go over to Toulon towards the end of the season.
"The only problem is that English in the chosen language spoken in the coaching room because we have Heyneke Meyer, John McFarland, Peter de Villiers, so many of the staff speak English so I'm probably speaking too much English and it doesn't help me learn.
"I'm trying to work out as many ways as I can to speak French.
"I do classes in the club, one of the physios in the club, his dad used to work in IBM and is retired and actually teaches refugees French voluntarily and he does lessons with me over the phone.
"I listen to Coffee Break French – Johnny Sexton recommended him to me. I'm trying to hit it as many ways as I can and I'd love after Christmas to be able to coach as much in French as I can.
"I'd say I do about 10 per cent now and Peter de Veilliers translates, or else one of the players translates. It's difficult, but it is what it is and you just have to roll with it."