Jenna Dewan Is All Smiles At LAX In 1st Pics Since Channing Tatum & Jessie J Dating News
Jenna Dewan was all smiles at LAX on Thursday, October 11 following the news that her ex Channing Tatum is dating singer, Jessie J! Jenna seemed unfazed by the dating news just 6 months after her split with the actor! — See the first photos!
Channing who? …. Jenna Dewan, 37, was spotted at LAX looking fresh-faced and happy amid reports claiming her ex, Channing Tatum, 38, is dating Jessie J, 30. The actress and World Of Dance host appeared unfazed by the media frenzy surrounding her ex, donning a huge smile as she made her way through the airport. — See the first photo of Jenna after the news, below!
The brunette beauty looked casual and cool for her flight in blue jeans and a camel-colored, long-sleeve sweater. She wore a black cross body bag, and pointed, black boots. Jenna accessorized with some fashionable statement pieces — a gold metal designer belt and cool black shades with silver hardware. She wore her hair down with subtle waves, and even added a pop of color with a red/pink lip.
News about a romance between Channing and Jessie broke on October 11. However, the two have reportedly been seeing one another for two months. In fact, the actor and singer were first spotted together playing a round of mini golf in Seattle on October 6, according to a Twitter user. "Lol they were hella nice. Jessie came down and I was shook and then when I went to get them to play, Channing turned around and I was like 👀," the fan wrote, who also noted that the apparent new couple was with "a bodyguard and a few other people."
Jenna and Channing announced they were separating after nearly nine years of marriage, on April 2. "We have lovingly chosen to separate as a couple," the pair said in a joint statement, which was shared on their Twitter and Instagram pages. "There are no secrets nor salacious events at the root of our decision — just two best-friends realizing it's time to take some space and help each other live the most joyous, fulfilled lives as possible."
The two met on set of Step Up back in 2006, where they played lovers. Jenna and Channing later tied the knot in 2009, and welcomed their daughter, Everly, now 5, four years later.
In an interview after their split, Jenna reflected on the last year of her life, and also opened up about her new single status. "Everyone wants to hold on to what's in front of them, but when you open your mind, saying, 'I want what's best for myself and my daughter,' you have to be OK with however that looks," the World Of Dance host explained to Women's Health in the magazine's September cover story for its Global Naked Issue.
"I did a lot of work healing from the inside out, becoming more in touch with my womanly power. It was always, 'I'm a dancer,' or 'I'm married,' or 'I'm an actress.' Over the last couple of years, it became about learning about myself."
New York witches place hex on Brett Kavanaugh
The occult turned partisan on Saturday as a coven of New York witches placed a hex on US Supreme Court Justice Brett Kavanaugh.
Dozens attended the event at Brooklyn's Catland Books, which was also streamed online.
Organisers said the event was "an act of resistance and resilience".
A Catholic priest and exorcist in California, Father Gary Thomas, planned to counter the spell by saying prayers for the justice at Mass.
"This is a conjuring of evil – not about free speech," Father Thomas told the National Catholic Register.
Witches cast 'mass spell' against Trump
Dakota Bracciale, co-owner of Catland Books and one of the organisers of the event, said they would not share details or specifics of "the spells", but told the BBC the hex was "aimed at exposing Brett Kavanaugh for what he truly is, to cause him harm and see him undone".
Skip Facebook post by Catland
⚰️💀🔥🕯🗡🕳

Posted by Catland on Saturday, 20 October 2018
Report
End of Facebook post by Catland
Mr Kavanaugh's appointment to America's top court was confirmed despite him facing sexual assault allegations, something he denies.
Asked when the spells were expected to take effect or when they anticipated seeing the results, the organisers said "as soon as possible", adding: "There's not a firm timeline on these things."
They went on to say that part of its purpose was to provide "camaraderie, fellowship and support during tumultuous times".
Half of the proceeds are to be donated to charities, including the women's health group Planned Parenthood, the organisers' event page says.
Skip Facebook post 2 by Catland
Hex on Kavanaugh!

Posted by Catland on Saturday, 20 October 2018
Report
End of Facebook post 2 by Catland
Last year, Catland hosted "three consecutive rituals to hex Trump", with tickets to each of the events selling out, the owners said.
They added that press coverage of the rituals sparked a backlash, but that it was "nothing" compared with the scale of abuse following the announcement of their latest event focusing on Mr Kavanaugh.
"We have experienced a pretty severe amount of backlash in the form of hate mail and death threats," Dakota said.
However the previous rituals aimed at Mr Trump, they say, have proved successful.
"We feel the rituals were a success as they sought to expose Trump for what he is, and that has happened on many levels; from the Russia probe to the exposé on his finances to Stormy Daniels [the porn actress who says she had a sexual affair with Mr Trump in 2006]."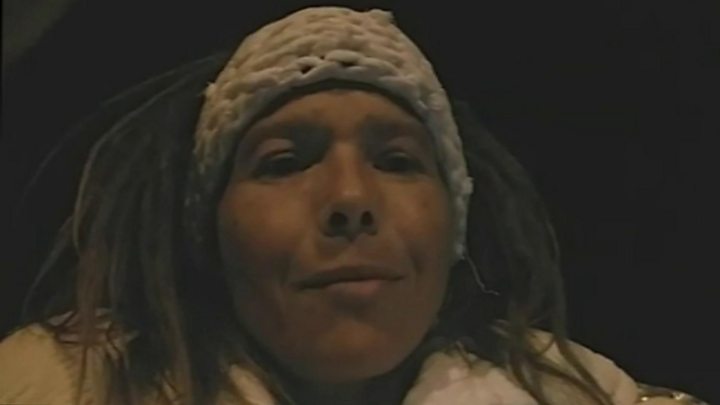 "Witchcraft is a practice, not a religion," Ms Bracciale explained. "It's what one does, not what one believes."
She said that followers of witchcraft see motivation in its history: "It has always been practiced by the most downtrodden, disenfranchised and oppressed peoples who have used it as a tool for survival… to be the arbiter of their own justice since it would be denied by the powers that be.
"[We see] the witch as a political figure who threatens and works to take down the patriarchy. This has been seen throughout history, but more recently in American society.
"We uphold this legacy which merges art, political theatre, religious iconology and socio-political resistance."