Jenna Dewan Is All Smiles At LAX In 1st Pics Since Channing Tatum & Jessie J Dating News
Jenna Dewan was all smiles at LAX on Thursday, October 11 following the news that her ex Channing Tatum is dating singer, Jessie J! Jenna seemed unfazed by the dating news just 6 months after her split with the actor! — See the first photos!
Channing who? …. Jenna Dewan, 37, was spotted at LAX looking fresh-faced and happy amid reports claiming her ex, Channing Tatum, 38, is dating Jessie J, 30. The actress and World Of Dance host appeared unfazed by the media frenzy surrounding her ex, donning a huge smile as she made her way through the airport. — See the first photo of Jenna after the news, below!
The brunette beauty looked casual and cool for her flight in blue jeans and a camel-colored, long-sleeve sweater. She wore a black cross body bag, and pointed, black boots. Jenna accessorized with some fashionable statement pieces — a gold metal designer belt and cool black shades with silver hardware. She wore her hair down with subtle waves, and even added a pop of color with a red/pink lip.
News about a romance between Channing and Jessie broke on October 11. However, the two have reportedly been seeing one another for two months. In fact, the actor and singer were first spotted together playing a round of mini golf in Seattle on October 6, according to a Twitter user. "Lol they were hella nice. Jessie came down and I was shook and then when I went to get them to play, Channing turned around and I was like ?," the fan wrote, who also noted that the apparent new couple was with "a bodyguard and a few other people."
Jenna and Channing announced they were separating after nearly nine years of marriage, on April 2. "We have lovingly chosen to separate as a couple," the pair said in a joint statement, which was shared on their Twitter and Instagram pages. "There are no secrets nor salacious events at the root of our decision — just two best-friends realizing it's time to take some space and help each other live the most joyous, fulfilled lives as possible."
The two met on set of Step Up back in 2006, where they played lovers. Jenna and Channing later tied the knot in 2009, and welcomed their daughter, Everly, now 5, four years later.
In an interview after their split, Jenna reflected on the last year of her life, and also opened up about her new single status. "Everyone wants to hold on to what's in front of them, but when you open your mind, saying, 'I want what's best for myself and my daughter,' you have to be OK with however that looks," the World Of Dance host explained to Women's Health in the magazine's September cover story for its Global Naked Issue.
"I did a lot of work healing from the inside out, becoming more in touch with my womanly power. It was always, 'I'm a dancer,' or 'I'm married,' or 'I'm an actress.' Over the last couple of years, it became about learning about myself."
Primary school tables: Poor pupils won't catch up for 50 years
As new primary school data is released, BBC analysis suggests it will take 50 years to close the achievement gap between England's rich and poor pupils.
If the pace of change remains the same as it has done since 2011, poor pupils will not catch up until 2070, it shows.
This year, 51% of the poorest pupils reached the expected level in their national end-of-primary school tests.
This compares with 70% of their better-off peers, leaving a gap of 19 percentage points
Readers can check how schools in their area have performed through the BBC's postcode search below.
Sorry, your browser does not support this tool.
Please visit the Department for Education.
English primary school tables
Compare schools in your area on the Department for Education website by entering your postcode or council in the box below
Please read our privacy notice Click to expand privacy notice.
The BBC uses the postcode you enter here to create a web link to the Department for Education website. The BBC is the data controller of the data you enter here. Please be aware that when you leave the BBC website you will be subject to the Department for Education's privacy policy. If you have any questions about how the BBC process data, please read our Privacy and Cookies Policy.
Department for Education website
If you can't see the postcode look up, click or tap here.
What's in the school league tables?
League tables are the shop window of every school, and parents often use them to help choose schools for their children.
They are based on the performance of pupils in each school in their end-of-primary national curriculum tests, known as Sats.
This year was the third time children sat the government's tougher tests, introduced in 2016.
The tables give a snapshot of how each school is performing in results and pupil progress but they also provide a huge amount of data on education at a national level.
The government has said the attainment of disadvantaged pupils is a key aim of its education policies.
The achievement gap has shrunk every year since 2011 but at a slow pace.
If this pace continues, the gap in attainment at this early age will not close until at least 2070, BBC analysis reveals.
To assess this gap, the government uses pupils' results in reading and maths tests.
These are ranked from best to worst as if they were the results of a race.
On average, poorer pupils rank worse. This difference in average ranking between poorer and better-off children is the disadvantage gap.
The current gap shows that poorer children would sit 2.9 places further back on average in a ranking of 20 poorer and 20 better-off children.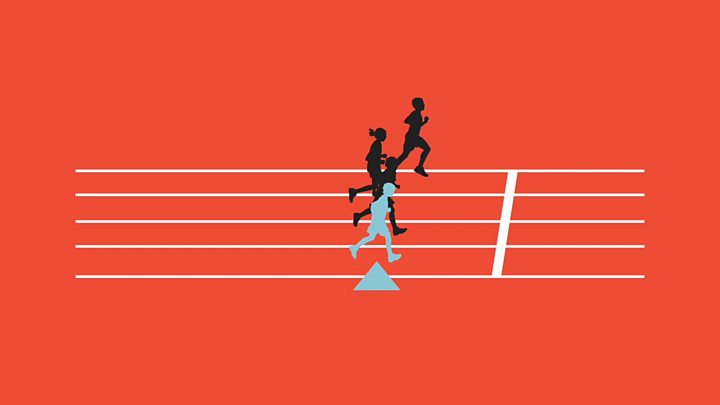 School Standards Minister Nick Gibb said: "Standards are rising in our schools, with 86% of schools now rated good or outstanding as of August 2018, compared to 68% in 2010 and these statistics show that the gap between disadvantaged pupils and their peers has closed by 13% since 2010."
In 2011, the disadvantage gap was 3.3 places, it is now 2.9 places, having closed by 13% or 0.4 places.
Mr Gibb added: "Every child, regardless of their background, deserves a high quality education and opportunity to fulfil their potential."
Children are counted as disadvantaged if they are eligible for the pupil premium, that is if they have been eligible for free school meals at any point during the past six years or have been in care continuously for at least six months.
Data published in July revealed 64% of pupils met the expected standard across all tests: reading, writing and mathematics – up from 61% the previous year.