Lancaster is happy at Leinster, insists Cullen
Stuart Lancaster and Leinster are in a very happy relationship "at the moment", according to Leo Cullen.
The former England boss, who departed the role in the wake of the 2015 World Cup pool exit, has been linked with a return to his homeland.
England are on the look-out for a coach to join their set-up after next year's World Cup and RFU interim chief executive Nigel Melville stated this week that Lancaster's history with the side would not rule him out of contention.
Asked if Lancaster, who has been commuting from England since taking the senior coach job at the province in 2016, had given any hints about his future intentions, Cullen said: "He's telling me he's very happy at the moment, anyway. That's all we can work on at the moment.
"Stuart has had a huge impact on us as group and we're all very happy at the moment the way the dynamic is working.
"We'd be hopeful [he'll be here next season], yes."
Cullen brings his European champions to Bath tomorrow for a Pool 1 clash on Saturday. He said that Jack Conan, Rory O'Loughlin, Dan Leavy and Jordan Larmour, who were all on the assessment list on Monday, are still in contention for selection.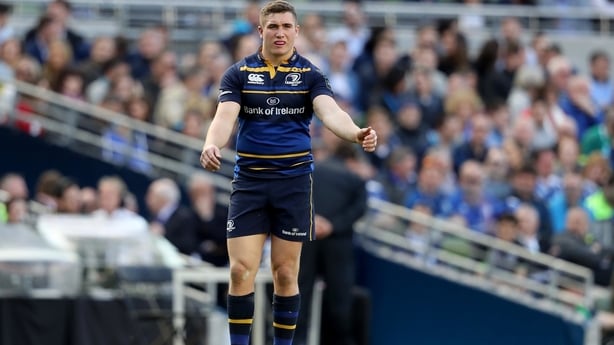 Leinster are favourites to take the points off a Bath side with just three wins from nine games in the Premiership.
However, Cullen admits that their reputation precedes them and that being European champions means that they are a prized scalp – as demonstrated by how Toulouse celebrated their victory in October.
He said: "A couple of games we've lost this season, [in the Pro14] against Scarlets, it was a big thing for them. We saw it against Toulouse. We need to understand that [the target] is there and figure out what our own motivations is going into the game.
"We understand what it feels like when we don't win the games. We've had a couple of reminders this year already what it's like when we lose and it's not particularly enjoyable."
Leinster will also have to deal with former coach Girvan Dempsey, now working with the English side.
Cullen said of his former colleague: "It's [his] knowledge of the way we are trying to play the game], the way we set up on both sides of the ball, in an attack and defence point of view, where we've been exposed and where we're potentially a little bit weak.
"Girv knows the players inside out so anyone who has that level of detail , you have to be very conscious of that.
"[But] sometimes even if teams know what's coming, they still have to be able to handle it."
Modric criticises Messi, Ronaldo for Ballon d'Or gala snub
Email Ballon d'Or winner Luka Modric criticises Lionel Messi, Cristiano Ronaldo for failing to attend gala
Posted December 16, 2018 12:03:06
Photo: Luka Modric's Champions League win with Real Madrid and World Cup run with Croatia, earned him the Ballon d'Or. (AP: Manu Fernandez) Map: Spain
Ballon d'Or winner Luka Modric has criticised Cristiano Ronaldo and Lionel Messi for choosing not to attend this month's ceremony where he was given the award, saying their decision was unfair to fellow players and voters.
Croatian captain Modric, who broke Messi and Ronaldo's decade-long stranglehold on the prestigious prize, said in a newspaper interview on Saturday the pair's absence from the gala in Paris on December 3 did not make sense.
External Link: BR football tweet: Real talk from @lukamodric10
"I cannot speak about why someone didn't turn up at an award ceremony, it's their choice," the Real Madrid midfielder told Croatian newspaper Sportske Novosti.
"It doesn't make sense, does it? It seems these votes and awards are only significant when they win.
"It's unfair to fellow players and voters who have nominated them in the past 10 years, as well as to football and the fans.
"However, people will act the way they think they should."
Juventus forward Ronaldo came second in the 2018 Ballon d'Or vote behind his old Real teammate Modric, while Messi was fifth, a ranking met with some consternation at both the Argentinian's club Barcelona and in the Catalan media.
Modric, who lifted a third successive Champions League title with Real last season and led Croatia to its first World Cup final, said Ronaldo and Messi were still the best two players around but added that it did not mean they should always be named best player each season.
Golden duo miss out
Ballon d'Or wins
Lionel Messi – 5 (2009, 2010, 2011, 2012, 2015)
Cristiano Ronaldo – 5 (2008, 2013, 2014, 2016, 2017)
Luka Modric – 1 (2018)
"In my opinion, things are very simple: Ronaldo and Messi are phenomenons [sic] who have been dominant in the past 10 years or so. They've been in a league of their own," Modric said.
"But we are talking about a season's accomplishments here and I guess it means something that votes by national team coaches, managers, football legends, journalists and fellow players have produced the same results."
The Croatian also offered the sarcastic suggestion:
"If the debate is going to be about how good a particular player is, the only course of action is to award all trophies to Messi and Ronaldo until they retire and scrap the voting."
External Link: Real Madrid news tweet: Luka Modric, what a year! #HalaMadrid
Reuters
Topics: sport, soccer, spain, italy, croatia