Larry Nassar: Michigan State University to pay $500m to abuse victims
Michigan State University has agreed to pay $500m (£371m) to gymnasts who were abused by ex-team doctor Larry Nassar.
The deal was announced by a California law firm representing 332 victims of Nassar, who assaulted women and girls under the guise of medical treatment.
The deal does not include any non-disclosure or confidentiality agreements, according to a statement from lawyers and the university.
It does not address allegations against other groups for which Nassar worked.
It does not address claims against USA Gymnastics, the US Olympic Committee, or the owners of the Texas facility where gymnasts trained, according to a statement from the California law firm of Manly, Stewart & Finaldi in Los Angeles.
According to the lawyers, $425m will be paid to the claimants, and another $75m would be set aside for any future allegations against Nassar, 54, and the university.
The lawyers' statement does not address how the money will be allocated to each of Nassar's accusers.
The 156 women who confronted a predator
Why are some US prison sentences so long?
"This historic settlement came about through the bravery of more than 300 women and girls who had the courage to stand up and refuse to be silenced," attorney John Manly said in the statement on Wednesday.
He added that it is their "hope" that "the legacy of this settlement" will serve to eradicate abuse in US sport.
The university's board chairman Brian Breslin also issued a written statement saying: "We are truly sorry to all the survivors and their families for what they have been through, and we admire the courage it has taken to tell their stories."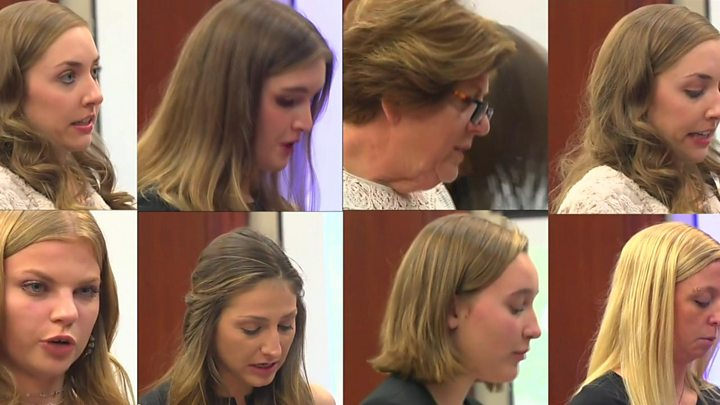 "We recognise the need for change on our campus and in our community around sexual assault awareness and prevention" he continued.
The president of USA Gymnastics, which oversees the US Olympic team, as well as the entire board of directors resigned after at least 156 women came forward to testify against the disgraced ex-doctor.
Earlier this year, the university's president and director of athletics resigned amid claims that school officials had been told of allegations against Nassar years ago but failed to act.
Michigan police apologise to Nassar victim
Former president Lou Anna Simon denied claims of a university cover-up as she stepped down on the same day that Nassar was sentenced for his crimes.
The settlement surpasses the $109m that Penn State University agree to pay in 2017 to settle claims by at least 35 people against American football coach Jerry Sandusky.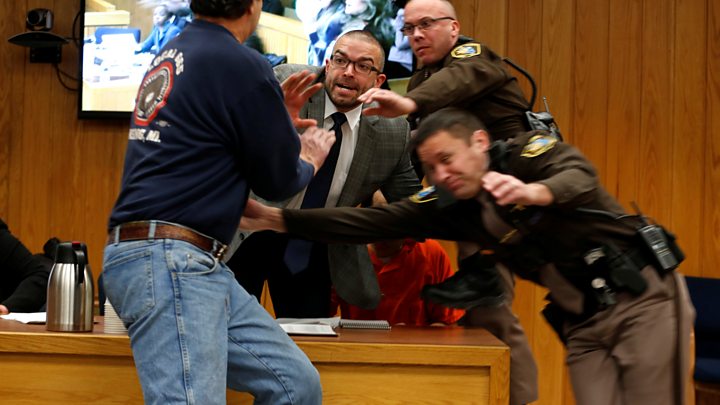 Nassar is currently being held in federal jail and will likely remain there for the rest of his life.
He is serving a 60-year sentence for child pornography. If he is ever released he faces up to 175 years in state jail for sexual assault.
Man in Salisbury 'illness' hoaxed Prince Charles
The man who prompted a major incident in Salisbury after apparently falling ill in a restaurant – six months after a nerve agent attack in the city – once hoaxed Prince Charles.
Alex King, 42, was admitted to hospital on Sunday with his wife, after reports they became unwell in Prezzo.
Police sources have told the BBC a hoax is likely to be one line of inquiry, and that until the man had been spoken to "we can't rule anything in or out".
No arrests have been made.
On Tuesday, Mr King's wife, Anna Shapiro, 30, told the Sun that the Russian state had poisoned her and her husband.
The paper reported it was "what security sources fear was a suspected rat poison attack".
Ms Shapiro is a model and an Israeli citizen of Russian heritage.
A spokesman for the Sun told the BBC: "Like any newspaper, we were keen to talk to those at the centre of the incident and give them the opportunity to share with the public their version of events."
The BBC was unable to contact the couple.
Separately, Wiltshire Police said on Wednesday: "This is now a routine investigation.
"The woman from the restaurant has been interviewed once and is likely to be spoken to again. The next step is to speak to the man involved."
Wiltshire Police earlier confirmed the pair were not exposed to any nerve agent and that it was not linking their illness with the recent poisonings in Salisbury and Amesbury.
"Given recent events in Salisbury, the reporting of an event requiring the evacuation of bars and restaurants by police officers in bio-hazard suits, and that requires tests for the presence of Novichok, is of obvious public interest," a spokesman for the Sun added.
Salisbury District Hospital said "both patients are now medically fit" and have been discharged from hospital.
It is understood that the couple also tested negative for any other poisons, including rat poison.
Royal prank
In 2006 Mr King carried out a "prank" on the Prince of Wales at a film premiere.
He inserted himself into an official line-up of stars being greeted by Prince Charles and was later interviewed by the media about his deception.
He claimed the "prank" was carried out as part of a £100,000 bet with his employer – the convicted fraudster Edward Davenport.
In 2004, Mr King pleaded guilty at London's Horseferry Road Magistrates' Court to three counts of distributing indecent photographs or pseudo-photographs of children.
Negative results
In a statement on Wednesday, Lorna Wilkinson, director of nursing at Salisbury District Hospital, said "given recent events" they had tested Mr King and Ms Shapiro for nerve agents, when they were admitted on Sunday evening.
"Tests on both patients came back negative," she said. "Both patients are now medically fit and there is no need for them to be in hospital."
"While this incident did not involve nerve agents, it was still clearly very stressful for our staff who, once again, demonstrated the very best of the NHS.
"I want to thank them for rising to the occasion yet again," she added.
On 4 March, Russian ex-spy Sergei Skripal and his daughter Yulia collapsed in Salisbury having been exposed to the nerve agent Novichok.
After weeks in hospital they were released, but in June, two Amesbury residents fell ill after being exposed to the same nerve agent. Dawn Sturgess, 44, later died.
The UK government has accused two Russian men, Alexander Petrov and Ruslan Boshirov, of attempting to kill the Skripals.
But in an interview on a Russian state-run news channel, they claimed to be tourists. Russia has denied any involvement in the poisoning.