Larry Nassar: Michigan State University to pay $500m to abuse victims
Michigan State University has agreed to pay $500m (£371m) to gymnasts who were abused by ex-team doctor Larry Nassar.
The deal was announced by a California law firm representing 332 victims of Nassar, who assaulted women and girls under the guise of medical treatment.
The deal does not include any non-disclosure or confidentiality agreements, according to a statement from lawyers and the university.
It does not address allegations against other groups for which Nassar worked.
It does not address claims against USA Gymnastics, the US Olympic Committee, or the owners of the Texas facility where gymnasts trained, according to a statement from the California law firm of Manly, Stewart & Finaldi in Los Angeles.
According to the lawyers, $425m will be paid to the claimants, and another $75m would be set aside for any future allegations against Nassar, 54, and the university.
The lawyers' statement does not address how the money will be allocated to each of Nassar's accusers.
The 156 women who confronted a predator
Why are some US prison sentences so long?
"This historic settlement came about through the bravery of more than 300 women and girls who had the courage to stand up and refuse to be silenced," attorney John Manly said in the statement on Wednesday.
He added that it is their "hope" that "the legacy of this settlement" will serve to eradicate abuse in US sport.
The university's board chairman Brian Breslin also issued a written statement saying: "We are truly sorry to all the survivors and their families for what they have been through, and we admire the courage it has taken to tell their stories."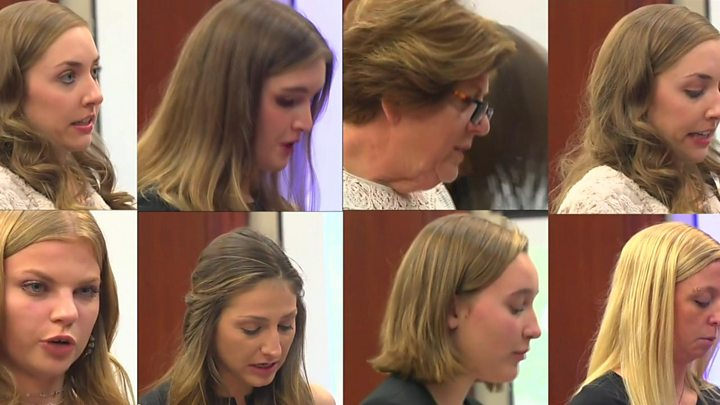 "We recognise the need for change on our campus and in our community around sexual assault awareness and prevention" he continued.
The president of USA Gymnastics, which oversees the US Olympic team, as well as the entire board of directors resigned after at least 156 women came forward to testify against the disgraced ex-doctor.
Earlier this year, the university's president and director of athletics resigned amid claims that school officials had been told of allegations against Nassar years ago but failed to act.
Michigan police apologise to Nassar victim
Former president Lou Anna Simon denied claims of a university cover-up as she stepped down on the same day that Nassar was sentenced for his crimes.
The settlement surpasses the $109m that Penn State University agree to pay in 2017 to settle claims by at least 35 people against American football coach Jerry Sandusky.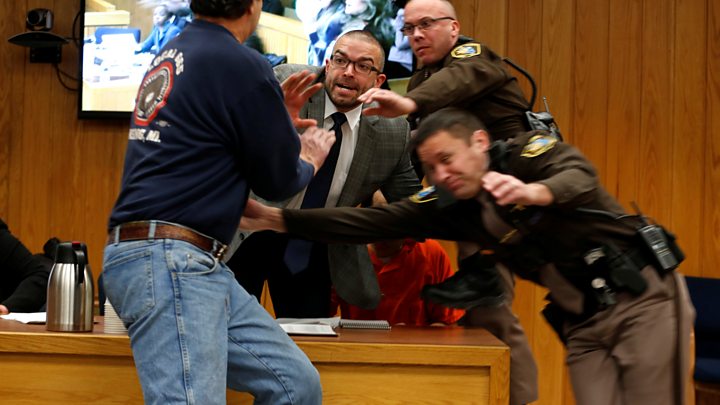 Nassar is currently being held in federal jail and will likely remain there for the rest of his life.
He is serving a 60-year sentence for child pornography. If he is ever released he faces up to 175 years in state jail for sexual assault.
Tiny & T.I.'s 'Heated' Fight After She Disses Him Over Wild Rants: Why She Won't Just 'Support' Him Blindly
Oh no! We're hearing that Tiny and T.I. got into an huge fight recently over his activism! Here's all the EXCLUSIVE details!
It turns out Tameka "Tiny" Harris, 42, and T.I., 37, got into a big blowout after Tiny revealed that unlike T.I., she didn't feel that Houston's restaurant should be shut down after an incident in which a security guard had to allegedly practically drag an African American woman out of the bathroom. There's been a lot of controversy over the unfortunate situation and many, including T.I. think race was a factor in the way the woman was treated. Tiny, however, doesn't agree and although she thinks the way the woman was allegedly physically handled wasn't right, she told TMZ she doesn't believe race was an issue since the security guard was also African American. Her reaction caused a lot of friction with T.I. and the rapper feels offended that she didn't back him or his movement to shut it down up."He was pretty heated that she'd say that to the press," a source close to T.I. and Tiny EXCLUSIVELY told HollywoodLife. "He's not telling her she can't have her own opinion but when he's out there trying to make a difference and get a movement going the last thing he needs is for his wife to be helping his enemies."
Tiny's known for speaking her mind about situations like these and although she most likely isn't doing it to spite T.I., he didn't feel too great when she didn't agree with his actions and with two big personalities such as theirs, things seemed to get pretty heated. "A lot of people were talking about how she dissed him and he took it very personally and had a lot of words for Tiny," the source continued. "Of course she had plenty to say back and it turned into an epic fight. Tip is so passionate about this cause, things can easily get intense. And Tiny is a firecracker, once she gets defensive she digs her heels in."
It definitely sounds like their arguments are just as passionate as their love for each other and although they may have had a disagreement this time, we're used to seeing them support each other whenever they get the chance if it's something they both believe in. "Tiny's usually his biggest supporter, but she's also not about to be told what to do," the source said. "She's very much her own woman and will do and say what she wants. That's one of the reasons T.I. loves her so much. It's her spark and her fire that really keeps him hooked. But it can also be explosive, like it was this week."
We'll be on the lookout to see where this situation progresses from here!