Lena Dunham Reveals Her Least Favorite Taylor Swift BF, While Seated Next To Jake Gyllenhaal's Sister
View Gallery View Gallery 16 Photos.
Taylor Swift's BFF, Lena Dunham, was put on the spot when asked to reveal her least favorite boyfriend of Taylor's during an interview — and she was seated next to one of Tay's ex's, Jake Gyllenhaal's, sister as she answered!
Well, this could have been incredibly awkward! Lena Dunham played a game of Plead the Fifth while on Watch What Happens Live with Andy Cohenon Oct. 10, and her final question came from one of her good friends, Andrew Rannells, who asked Lena who her least favorite boyfriend of Taylor Swift's was. Lena could have plead the fifth, as she answered her other two questions, but she wanted to go for the full trifecta and answer all three. It was host Andy Cohen who pointed out that Maggie Gyllenhaal, the sister of one of Taylor's exes, Jake Gyllenhaal, was sitting right next to Lena as the other guest on the show.
Luckily, Jake wasn't Lena's answer. "I want to do right by her on this question," Lena explained. "My least favorite was Calvin Harris because he was petty in public, and who needs to do that?" Lena is, of course, referring to the drama that went down between Calvin and Taylor after their breakup in 2016, when she started dating Tom Hiddleston. Following the split, news broke that Taylor had written Calvin's hit song, "This Is What You Came For," and he was not happy about how the story came out. "I figure if you're happy in your new relationship you should focus on that," Calvin tweeted. "Instead of trying to tear your ex bf down for something to do." YIKES!
During the WWHL interview, Lena also dished on Taylor's decision to come forward about her political views for the first time (the singer recently voiced her support for Tennessee's Democratic Senate and House of Representative candidates). "That was really amazing," Lena gushed. "I'm always proud of Taylor. Not only is she an amazing friend to me on a personal level, but she's an amazing friend to lots of people in the world. She felt it was time for her to talk about politics, and I never judged her for considering that a private domain, but I think she chose a really, really powerful time to speak out and I'm so moved and honored to be her friend."
Primary school tables: Poor pupils won't catch up for 50 years
As new primary school data is released, BBC analysis suggests it will take 50 years to close the achievement gap between England's rich and poor pupils.
If the pace of change remains the same as it has done since 2011, poor pupils will not catch up until 2070, it shows.
This year, 51% of the poorest pupils reached the expected level in their national end-of-primary school tests.
This compares with 70% of their better-off peers, leaving a gap of 19 percentage points
Readers can check how schools in their area have performed through the BBC's postcode search below.
Sorry, your browser does not support this tool.
Please visit the Department for Education.
English primary school tables
Compare schools in your area on the Department for Education website by entering your postcode or council in the box below
Please read our privacy notice Click to expand privacy notice.
The BBC uses the postcode you enter here to create a web link to the Department for Education website. The BBC is the data controller of the data you enter here. Please be aware that when you leave the BBC website you will be subject to the Department for Education's privacy policy. If you have any questions about how the BBC process data, please read our Privacy and Cookies Policy.
Department for Education website
If you can't see the postcode look up, click or tap here.
What's in the school league tables?
League tables are the shop window of every school, and parents often use them to help choose schools for their children.
They are based on the performance of pupils in each school in their end-of-primary national curriculum tests, known as Sats.
This year was the third time children sat the government's tougher tests, introduced in 2016.
The tables give a snapshot of how each school is performing in results and pupil progress but they also provide a huge amount of data on education at a national level.
The government has said the attainment of disadvantaged pupils is a key aim of its education policies.
The achievement gap has shrunk every year since 2011 but at a slow pace.
If this pace continues, the gap in attainment at this early age will not close until at least 2070, BBC analysis reveals.
To assess this gap, the government uses pupils' results in reading and maths tests.
These are ranked from best to worst as if they were the results of a race.
On average, poorer pupils rank worse. This difference in average ranking between poorer and better-off children is the disadvantage gap.
The current gap shows that poorer children would sit 2.9 places further back on average in a ranking of 20 poorer and 20 better-off children.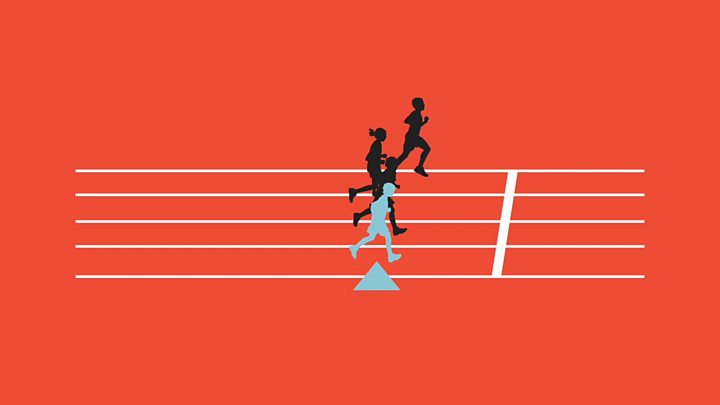 School Standards Minister Nick Gibb said: "Standards are rising in our schools, with 86% of schools now rated good or outstanding as of August 2018, compared to 68% in 2010 and these statistics show that the gap between disadvantaged pupils and their peers has closed by 13% since 2010."
In 2011, the disadvantage gap was 3.3 places, it is now 2.9 places, having closed by 13% or 0.4 places.
Mr Gibb added: "Every child, regardless of their background, deserves a high quality education and opportunity to fulfil their potential."
Children are counted as disadvantaged if they are eligible for the pupil premium, that is if they have been eligible for free school meals at any point during the past six years or have been in care continuously for at least six months.
Data published in July revealed 64% of pupils met the expected standard across all tests: reading, writing and mathematics – up from 61% the previous year.