Man in Salisbury 'illness' hoaxed Prince Charles
The man who prompted a major incident in Salisbury after apparently falling ill in a restaurant – six months after a nerve agent attack in the city – once hoaxed Prince Charles.
Alex King, 42, was admitted to hospital on Sunday with his wife, after reports they became unwell in Prezzo.
Police sources have told the BBC a hoax is likely to be one line of inquiry, and that until the man had been spoken to "we can't rule anything in or out".
No arrests have been made.
On Tuesday, Mr King's wife, Anna Shapiro, 30, told the Sun that the Russian state had poisoned her and her husband.
The paper reported it was "what security sources fear was a suspected rat poison attack".
Ms Shapiro is a model and an Israeli citizen of Russian heritage.
A spokesman for the Sun told the BBC: "Like any newspaper, we were keen to talk to those at the centre of the incident and give them the opportunity to share with the public their version of events."
The BBC was unable to contact the couple.
Separately, Wiltshire Police said on Wednesday: "This is now a routine investigation.
"The woman from the restaurant has been interviewed once and is likely to be spoken to again. The next step is to speak to the man involved."
Wiltshire Police earlier confirmed the pair were not exposed to any nerve agent and that it was not linking their illness with the recent poisonings in Salisbury and Amesbury.
"Given recent events in Salisbury, the reporting of an event requiring the evacuation of bars and restaurants by police officers in bio-hazard suits, and that requires tests for the presence of Novichok, is of obvious public interest," a spokesman for the Sun added.
Salisbury District Hospital said "both patients are now medically fit" and have been discharged from hospital.
It is understood that the couple also tested negative for any other poisons, including rat poison.
Royal prank
In 2006 Mr King carried out a "prank" on the Prince of Wales at a film premiere.
He inserted himself into an official line-up of stars being greeted by Prince Charles and was later interviewed by the media about his deception.
He claimed the "prank" was carried out as part of a £100,000 bet with his employer – the convicted fraudster Edward Davenport.
In 2004, Mr King pleaded guilty at London's Horseferry Road Magistrates' Court to three counts of distributing indecent photographs or pseudo-photographs of children.
Negative results
In a statement on Wednesday, Lorna Wilkinson, director of nursing at Salisbury District Hospital, said "given recent events" they had tested Mr King and Ms Shapiro for nerve agents, when they were admitted on Sunday evening.
"Tests on both patients came back negative," she said. "Both patients are now medically fit and there is no need for them to be in hospital."
"While this incident did not involve nerve agents, it was still clearly very stressful for our staff who, once again, demonstrated the very best of the NHS.
"I want to thank them for rising to the occasion yet again," she added.
On 4 March, Russian ex-spy Sergei Skripal and his daughter Yulia collapsed in Salisbury having been exposed to the nerve agent Novichok.
After weeks in hospital they were released, but in June, two Amesbury residents fell ill after being exposed to the same nerve agent. Dawn Sturgess, 44, later died.
The UK government has accused two Russian men, Alexander Petrov and Ruslan Boshirov, of attempting to kill the Skripals.
But in an interview on a Russian state-run news channel, they claimed to be tourists. Russia has denied any involvement in the poisoning.
Primary school tables: Poor pupils won't catch up for 50 years
As new primary school data is released, BBC analysis suggests it will take 50 years to close the achievement gap between England's rich and poor pupils.
If the pace of change remains the same as it has done since 2011, poor pupils will not catch up until 2070, it shows.
This year, 51% of the poorest pupils reached the expected level in their national end-of-primary school tests.
This compares with 70% of their better-off peers, leaving a gap of 19 percentage points
Readers can check how schools in their area have performed through the BBC's postcode search below.
Sorry, your browser does not support this tool.
Please visit the Department for Education.
English primary school tables
Compare schools in your area on the Department for Education website by entering your postcode or council in the box below
Please read our privacy notice Click to expand privacy notice.
The BBC uses the postcode you enter here to create a web link to the Department for Education website. The BBC is the data controller of the data you enter here. Please be aware that when you leave the BBC website you will be subject to the Department for Education's privacy policy. If you have any questions about how the BBC process data, please read our Privacy and Cookies Policy.
Department for Education website
If you can't see the postcode look up, click or tap here.
What's in the school league tables?
League tables are the shop window of every school, and parents often use them to help choose schools for their children.
They are based on the performance of pupils in each school in their end-of-primary national curriculum tests, known as Sats.
This year was the third time children sat the government's tougher tests, introduced in 2016.
The tables give a snapshot of how each school is performing in results and pupil progress but they also provide a huge amount of data on education at a national level.
The government has said the attainment of disadvantaged pupils is a key aim of its education policies.
The achievement gap has shrunk every year since 2011 but at a slow pace.
If this pace continues, the gap in attainment at this early age will not close until at least 2070, BBC analysis reveals.
To assess this gap, the government uses pupils' results in reading and maths tests.
These are ranked from best to worst as if they were the results of a race.
On average, poorer pupils rank worse. This difference in average ranking between poorer and better-off children is the disadvantage gap.
The current gap shows that poorer children would sit 2.9 places further back on average in a ranking of 20 poorer and 20 better-off children.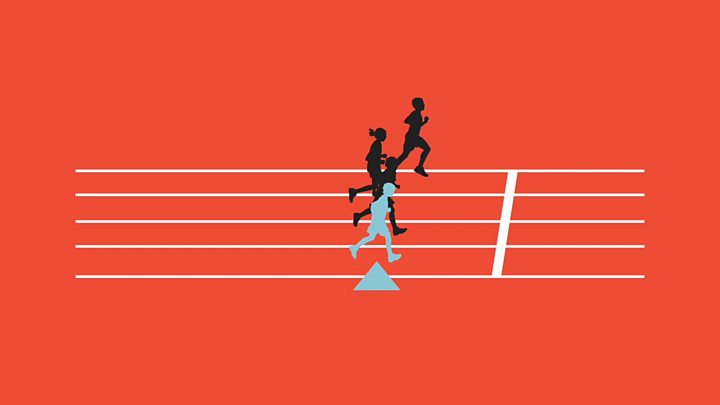 School Standards Minister Nick Gibb said: "Standards are rising in our schools, with 86% of schools now rated good or outstanding as of August 2018, compared to 68% in 2010 and these statistics show that the gap between disadvantaged pupils and their peers has closed by 13% since 2010."
In 2011, the disadvantage gap was 3.3 places, it is now 2.9 places, having closed by 13% or 0.4 places.
Mr Gibb added: "Every child, regardless of their background, deserves a high quality education and opportunity to fulfil their potential."
Children are counted as disadvantaged if they are eligible for the pupil premium, that is if they have been eligible for free school meals at any point during the past six years or have been in care continuously for at least six months.
Data published in July revealed 64% of pupils met the expected standard across all tests: reading, writing and mathematics – up from 61% the previous year.