Nick Jonas, Priyanka Chopra recall 'magical' wedding
Actress Priyanka Chopra and American singer Nick Jonas have opened up on their wedding, saying it was "highly emotional" and "truly magical".
Last weekend, the Bollywood superstar and singer and actor tied the knot with two lavish ceremonies, to reflect their different backgrounds, in a royal Indian palace in front of friends and family.
The newlyweds now appear on the front cover of US publication People, where they spoke about their emotionally charged wedding weekend.
Priyanka Chopra and Nick Jonas Open Up About Their 'Emotional' Wedding: 'It Was All the Tears' https://t.co/UPKtNS1GDM pic.twitter.com/i36fJKEDcc

— People (@people) December 4, 2018
36-year-old Chopra told the magazine: "Every girl dreams of being a princess on her wedding day. But I never had a plan about what I wanted it to be."
Nick Jonas suggested that they opt for two ceremonies in India to celebrate their different backgrounds.
"It melted my heart," Chopra shared. "Being able to have two big weddings, in India, with our closest family and friends was unbelievably special."
"I love that our wedding was a religious mash-up," she added. "We took beautiful traditions that we both grew up with and personalized them in a way that made sense for us.
"It's been incredible to find the commonalities between our beliefs and figuring out how to blend them in a respectful and meaningful way."
This was truly magical. @PriyankaChopra @Peoplehttps://t.co/UPSDxtrthF pic.twitter.com/03VHgVOckm

— Nick Jonas (@nickjonas) December 4, 2018
The actress said she could not hold back the tears.
"It was all tears. All tears", she said. "I could not hold it in. I think I was nervous and scared.
"But as soon as the curtains opened, and I saw his face it was just like everything settled and I knew I was making the best decision of my life."
And forever starts now…♥️ @nickjonas
Our Wedding: https://t.co/tZH0Yk4Hwc pic.twitter.com/WLOiVojhT7

— PRIYANKA (@priyankachopra) December 4, 2018
Meanwhile, 26-year-old singer and actor Nick Jonas said: "The emotions were running high during the ceremonies, I think especially during the Western wedding for me.
"You know, you think your whole life about that moment. Honestly, I could not have imagined it would be as perfect as it was. It was highly emotional."
One of the most special things that our relationship has given us is a merging of families who love and respect each other's faiths and cultures. And so planning our wedding with an amalgamation of both was so so amazing. pic.twitter.com/KcTD5D4MAw

— Nick Jonas (@nickjonas) December 1, 2018
On Friday, Chopra and Jonas held a traditional Mehendi ceremony, a pre-wedding ritual where they both received henna tattoos. They later took part in a Sangeet, where both families wore traditional clothing and performed elaborate dances.
A day later they were married in a Western ceremony on the lawn of the Umaid Bhawan Palace in Jodhpur before exchanging vows again during a Hindu wedding on Sunday.
Guests included Nick Jonas's brother Joe Jonas and his fiancée, British actress and Game of Thrones star Sophie Turner.
The couple – who both wore designs by Ralph Lauren for the wedding – ended the three-day event with a Bidaai, where the bride's family blesses her life with her new husband.
Jonas and Chopra started dating earlier this year and confirmed their engagement in August.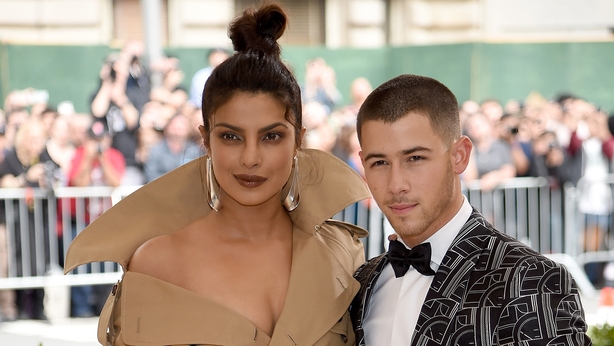 Chopra, who won the Miss World pageant in 2000, is one of Bollywood's most famous stars and one of the few to have achieved success in the West.
She starred in the ABC thriller series Quantico and has released songs with US chart-toppers including Pitbull and The Chainsmokers.
Jonas first found success as a child, as the frontman of The Jonas Brothers with his two siblings.
Sandra Bullock wants more complex mothers in movies
Sandra Bullock – who plays a reluctant mother in dystopian horror Bird Box – reckons unconventional female roles needed to become more common.
In the film, Bullock fights an unseen monster which has decimated the world's population. Whoever sees it is driven to kill themselves, and those that survive use blindfolds when they go outside.
Bird Box charts Malorie (Bullock) as she leads her two children down a treacherous river path blindfolded to a place she hopes will keep them safe.
The actress said the complexities of motherhood had not yet been properly examined by the film industry, and that she hoped the Susanne Bier-directed film could go some way to correcting this.
She told the Press Association: "Something that I knew, I didn't necessarily learn it, the way motherhood has been represented on film needed to not just change, it needed to expand because the complexities of being a mum, I don't think, have not been fully represented cinematically.
"And Malorie is someone who is not a natural parent, or at least you think so. This is not someone who has a natural inclination to be mum, not the desire, the drive, or the want.
"And you go, 'This is not a good representation of a mother'. But you go, 'Is it really not?' Because she fights. She is using everything she knows and understands to save these little creatures' lives. Her fear is driving her.
"I learned that we need to start showing women in a more complex fashion when it comes to motherhood, the same we need to show men in a more complex fashion when it comes to those who are incredibly maternal and who are very demonstrative and loving and hopeful with their kids.
"It's happening all over the world but we are just not seeing enough of it on film."
Bullock, who has two adopted children, added that she had struggled with the film's portrayal of motherhood, which had left her feeling "hopeless".
She added that playing an apparently uncaring mother had made her feel uncomfortable but it had been important to shatter the "fairytale" idea that all women are natural mothers.
The 54-year-old said: "What was odd was that it was more uncomfortable for me to play Malorie in her flashbacks, when she is pregnant, when she is sort of disconnected from the idea of being a mum. I felt hopeless. I felt weak in a way.
"We have got to stop thinking about this idea, which comes from a very fairytale makeup, of what a family looks like, what a partnership looks like, what a mother looks like, what a father looks like.
"That's what I loved so much about this [film]. It was just people being there for each other, loving each other at the worst of times. You know, where they came from, what they look like or what their past was had no bearing on their current situation."
Bird Box will become available on Netflix on December 21.