Oskar Gröning: 'Bookkeeper of Auschwitz' dies at 96
A former Nazi SS guard who was known as the "Bookkeeper of Auschwitz" has died aged 96, German media report.
In 2015 Oskar Gröning was sentenced to four years' imprisonment, but never began his prison sentence due to a series of appeals.
He died in a hospital on Friday, according to Spiegel Online.
The pensioner was convicted of being an accessory to the murder of 300,000 Jews at the camp in Nazi-occupied Poland.
His job at Auschwitz was to itemise money and valuables taken from new arrivals, who were then killed or subjected to slave labour.
Though a court doctor found that he was fit for prison with appropriate medical supervision, his jail term was repeatedly delayed by ill-health and requests for clemency.
Convicted Auschwitz guard asks for mercy
Profile: Oskar Gröning, 'bookkeeper of Auschwitz'
Auschwitz inmate's notes from hell finally revealed
The former Nazi officer began work at Auschwitz at the age of 21. During his trial, he said he had witnessed mass killings, but denied any direct role in the genocide.
Addressing the judges, he said: "I ask for forgiveness. I share morally in the guilt – but whether I am guilty under criminal law, you will have to decide."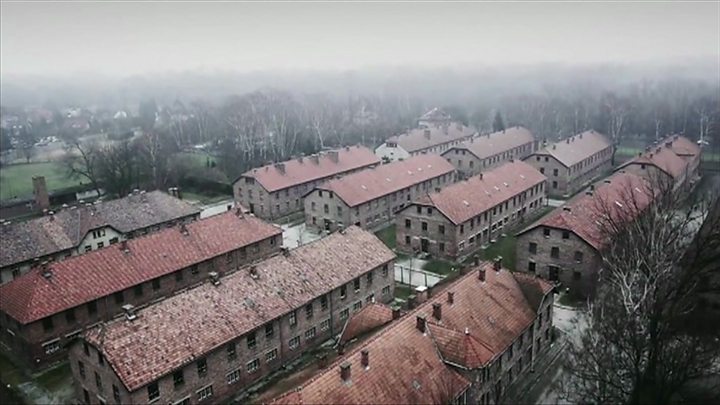 He was convicted although there was no evidence linking him to specific killings.
Presiding Judge Franz Kompisch said Gröning was part of the "machinery of death" that helped the camp function smoothly.
Gröning's trial was considered a landmark case for Germany, where many former SS officers have walked free because there was no evidence linking them to individual deaths.
German broadcaster DW says Gröning will probably prove the last Nazi war criminal to have faced trial.
Fewer than 50 of the estimated 6,500 Auschwitz guards who survived the war were ever convicted.
Dr Efraim Zuroff, chief Nazi-hunter at the Simon Wiesenthal Center – a Holocaust research group – said Gröning's death was "unfortunate, at least on a symbolic level".
"Without at least symbolic justice, these trials – as important as they are – lose an important part of their significance," he said.
"Their victims never had any appeals, nor did their tormentors have any mercy. Consequently these perpetrators don't deserve either."
Convicted SS guard Hanning dies before prison
The Tattooist of Auschwitz – and his secret love
The Holocaust: Who are the missing million?
From bank clerk to Nazi
Gröning was born in 1921 in Lower Saxony in Germany, and his mother died when he was four.
His father was a proud nationalist, angry about the way Germany was treated under the peace settlement signed after World War One. That resentment increased when his textile business went bankrupt in 1929.
Gröning joined the Hitler Youth, and at 17 began training as a bank clerk. When war broke out, he wanted to follow in his grandfathers' footsteps and join an "elite" German army unit.
He signed up to the Waffen SS and arrived in Auschwitz in 1942.
When the war was over, Gröning slipped into a quiet life in Lüneburg Heath, Lower Saxony, where he worked in a glass-making factory.
Decades later, when he heard people denying the Holocaust had ever happened, he was moved to break his silence. He was one of very few former concentration camp guards to do so.
"I saw the gas chambers. I saw the crematoria," he told the BBC in the 2005 documentary Auschwitz: the Nazis and the "Final Solution".
Primary school tables: Poor pupils won't catch up for 50 years
As new primary school data is released, BBC analysis suggests it will take 50 years to close the achievement gap between England's rich and poor pupils.
If the pace of change remains the same as it has done since 2011, poor pupils will not catch up until 2070, it shows.
This year, 51% of the poorest pupils reached the expected level in their national end-of-primary school tests.
This compares with 70% of their better-off peers, leaving a gap of 19 percentage points
Readers can check how schools in their area have performed through the BBC's postcode search below.
Sorry, your browser does not support this tool.
Please visit the Department for Education.
English primary school tables
Compare schools in your area on the Department for Education website by entering your postcode or council in the box below
Please read our privacy notice Click to expand privacy notice.
The BBC uses the postcode you enter here to create a web link to the Department for Education website. The BBC is the data controller of the data you enter here. Please be aware that when you leave the BBC website you will be subject to the Department for Education's privacy policy. If you have any questions about how the BBC process data, please read our Privacy and Cookies Policy.
Department for Education website
If you can't see the postcode look up, click or tap here.
What's in the school league tables?
League tables are the shop window of every school, and parents often use them to help choose schools for their children.
They are based on the performance of pupils in each school in their end-of-primary national curriculum tests, known as Sats.
This year was the third time children sat the government's tougher tests, introduced in 2016.
The tables give a snapshot of how each school is performing in results and pupil progress but they also provide a huge amount of data on education at a national level.
The government has said the attainment of disadvantaged pupils is a key aim of its education policies.
The achievement gap has shrunk every year since 2011 but at a slow pace.
If this pace continues, the gap in attainment at this early age will not close until at least 2070, BBC analysis reveals.
To assess this gap, the government uses pupils' results in reading and maths tests.
These are ranked from best to worst as if they were the results of a race.
On average, poorer pupils rank worse. This difference in average ranking between poorer and better-off children is the disadvantage gap.
The current gap shows that poorer children would sit 2.9 places further back on average in a ranking of 20 poorer and 20 better-off children.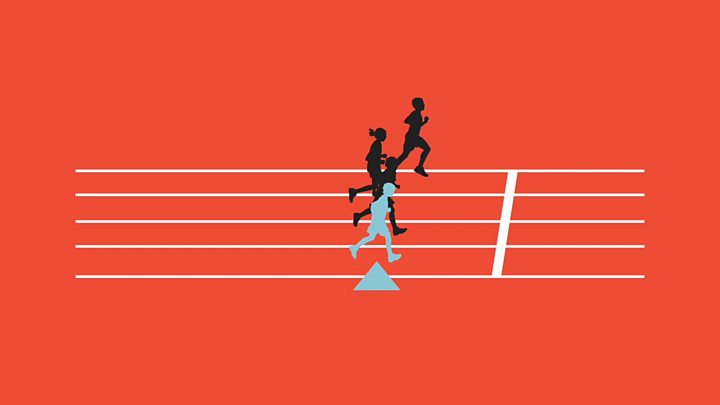 School Standards Minister Nick Gibb said: "Standards are rising in our schools, with 86% of schools now rated good or outstanding as of August 2018, compared to 68% in 2010 and these statistics show that the gap between disadvantaged pupils and their peers has closed by 13% since 2010."
In 2011, the disadvantage gap was 3.3 places, it is now 2.9 places, having closed by 13% or 0.4 places.
Mr Gibb added: "Every child, regardless of their background, deserves a high quality education and opportunity to fulfil their potential."
Children are counted as disadvantaged if they are eligible for the pupil premium, that is if they have been eligible for free school meals at any point during the past six years or have been in care continuously for at least six months.
Data published in July revealed 64% of pupils met the expected standard across all tests: reading, writing and mathematics – up from 61% the previous year.