Oskar Gröning: 'Bookkeeper of Auschwitz' dies at 96
A former Nazi SS guard who was known as the "Bookkeeper of Auschwitz" has died aged 96, German media report.
In 2015 Oskar Gröning was sentenced to four years' imprisonment, but never began his prison sentence due to a series of appeals.
He died in a hospital on Friday, according to Spiegel Online.
The pensioner was convicted of being an accessory to the murder of 300,000 Jews at the camp in Nazi-occupied Poland.
His job at Auschwitz was to itemise money and valuables taken from new arrivals, who were then killed or subjected to slave labour.
Though a court doctor found that he was fit for prison with appropriate medical supervision, his jail term was repeatedly delayed by ill-health and requests for clemency.
Convicted Auschwitz guard asks for mercy
Profile: Oskar Gröning, 'bookkeeper of Auschwitz'
Auschwitz inmate's notes from hell finally revealed
The former Nazi officer began work at Auschwitz at the age of 21. During his trial, he said he had witnessed mass killings, but denied any direct role in the genocide.
Addressing the judges, he said: "I ask for forgiveness. I share morally in the guilt – but whether I am guilty under criminal law, you will have to decide."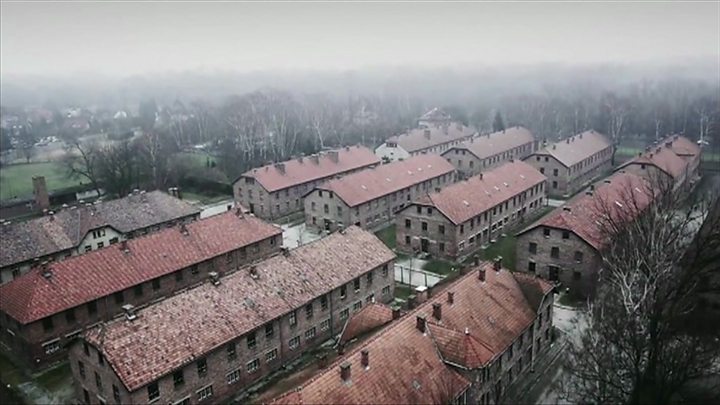 He was convicted although there was no evidence linking him to specific killings.
Presiding Judge Franz Kompisch said Gröning was part of the "machinery of death" that helped the camp function smoothly.
Gröning's trial was considered a landmark case for Germany, where many former SS officers have walked free because there was no evidence linking them to individual deaths.
German broadcaster DW says Gröning will probably prove the last Nazi war criminal to have faced trial.
Fewer than 50 of the estimated 6,500 Auschwitz guards who survived the war were ever convicted.
Dr Efraim Zuroff, chief Nazi-hunter at the Simon Wiesenthal Center – a Holocaust research group – said Gröning's death was "unfortunate, at least on a symbolic level".
"Without at least symbolic justice, these trials – as important as they are – lose an important part of their significance," he said.
"Their victims never had any appeals, nor did their tormentors have any mercy. Consequently these perpetrators don't deserve either."
Convicted SS guard Hanning dies before prison
The Tattooist of Auschwitz – and his secret love
The Holocaust: Who are the missing million?
From bank clerk to Nazi
Gröning was born in 1921 in Lower Saxony in Germany, and his mother died when he was four.
His father was a proud nationalist, angry about the way Germany was treated under the peace settlement signed after World War One. That resentment increased when his textile business went bankrupt in 1929.
Gröning joined the Hitler Youth, and at 17 began training as a bank clerk. When war broke out, he wanted to follow in his grandfathers' footsteps and join an "elite" German army unit.
He signed up to the Waffen SS and arrived in Auschwitz in 1942.
When the war was over, Gröning slipped into a quiet life in Lüneburg Heath, Lower Saxony, where he worked in a glass-making factory.
Decades later, when he heard people denying the Holocaust had ever happened, he was moved to break his silence. He was one of very few former concentration camp guards to do so.
"I saw the gas chambers. I saw the crematoria," he told the BBC in the 2005 documentary Auschwitz: the Nazis and the "Final Solution".
Storm Ali: Clean-up begins after severe winds lash UK
A huge clean-up operation is under way after Storm Ali battered parts of the UK with winds of up to 100mph.
Two people died, thousands of homes were without power and lorries overturned during the severe winds.
In Scotland, efforts are continuing through the night to clear railway lines and in Northern Ireland engineers are working to restore energy supplies.
A yellow warning for wind for parts of England and Wales is in force from 18:00 BST on Thursday.
The Met Office said gusts of up to 65mph were possible in some places, as strong winds were likely to develop cross parts of Wales and south west England during Thursday evening.
A yellow warning for rain is in place until 22:00 for northern England and Wales.
Ali is the UK's first named storm of the season.
Ali, Idris, Lily: Why do storms have names?
A history of UK named storms
Scotland cleans up after storm
Train operators including ScotRail, LNER and Virgin Trains have warned of possible disruption on Thursday morning in the aftermath of Storm Ali.
Virgin Trains said delays, alterations and cancellations on services from Edinburgh and Glasgow to London Euston were expected because of damage to overhead lines.
LNER said "multiple trees" had been blown onto the railway, resulting in disruption for trains travelling in north east England and into Scotland.
NIE Networks in Northern Ireland said its engineers were working through the night to restore energy supplies.
On Wednesday, a woman died after the caravan she was in was blown off a cliff in the Irish Republic.
It is understood the woman who was killed in County Galway was a tourist in her 50s who had been staying at a campsite in Claddaghduff.
A man in his 20s was killed and another in his 40s was injured, after a tree fell on them at the gates of Slieve Gullion Forest Park, near Newry, County Armagh.
The men were working on behalf of Northern Ireland Water.
One person was injured after being blown over by high winds outside the new V&A Dundee museum, which was later closed.
Five hundred cruise passengers and crew were stranded in Greenock after severe weather broke their ship's mooring lines. Tugs were called in to assist the Nautica.
A 102mph gust was recorded on the Tay Road Bridge between Dundee and Fife at 15:00.
Have you been affected by Storm Ali? Share your pictures, video and experiences by emailing haveyoursay@bbc.co.uk.
Please include a contact number if you are willing to speak to a BBC journalist. You can also contact us in the following ways:
WhatsApp: +447555 173285
Tweet: @BBC_HaveYourSay
Send pictures/video to yourpics@bbc.co.uk
Upload your pictures/video here
Send an SMS or MMS to 61124 or +44 7624 800 100
Please read our terms and conditions and privacy policy
Or use the form below
Your contact details Name (optional) Your E-mail address (required) Town & Country (optional) Your telephone number (optional) Comments (required)
If you are happy to be contacted by a BBC journalist please leave a telephone number that we can contact you on. In some cases a selection of your comments will be published, displaying your name as you provide it and location, unless you state otherwise. Your contact details will never be published. When sending us pictures, video or eyewitness accounts at no time should you endanger yourself or others, take any unnecessary risks or infringe any laws. Please ensure you have read the terms and conditions.
Terms and conditions
The BBC's Privacy Policy