Oskar Gröning: 'Bookkeeper of Auschwitz' dies at 96
A former Nazi SS guard who was known as the "Bookkeeper of Auschwitz" has died aged 96, German media report.
In 2015 Oskar Gröning was sentenced to four years' imprisonment, but never began his prison sentence due to a series of appeals.
He died in a hospital on Friday, according to Spiegel Online.
The pensioner was convicted of being an accessory to the murder of 300,000 Jews at the camp in Nazi-occupied Poland.
His job at Auschwitz was to itemise money and valuables taken from new arrivals, who were then killed or subjected to slave labour.
Though a court doctor found that he was fit for prison with appropriate medical supervision, his jail term was repeatedly delayed by ill-health and requests for clemency.
Convicted Auschwitz guard asks for mercy
Profile: Oskar Gröning, 'bookkeeper of Auschwitz'
Auschwitz inmate's notes from hell finally revealed
The former Nazi officer began work at Auschwitz at the age of 21. During his trial, he said he had witnessed mass killings, but denied any direct role in the genocide.
Addressing the judges, he said: "I ask for forgiveness. I share morally in the guilt – but whether I am guilty under criminal law, you will have to decide."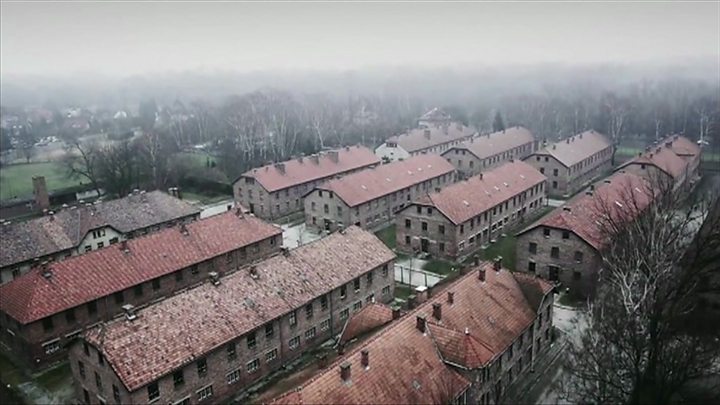 He was convicted although there was no evidence linking him to specific killings.
Presiding Judge Franz Kompisch said Gröning was part of the "machinery of death" that helped the camp function smoothly.
Gröning's trial was considered a landmark case for Germany, where many former SS officers have walked free because there was no evidence linking them to individual deaths.
German broadcaster DW says Gröning will probably prove the last Nazi war criminal to have faced trial.
Fewer than 50 of the estimated 6,500 Auschwitz guards who survived the war were ever convicted.
Dr Efraim Zuroff, chief Nazi-hunter at the Simon Wiesenthal Center – a Holocaust research group – said Gröning's death was "unfortunate, at least on a symbolic level".
"Without at least symbolic justice, these trials – as important as they are – lose an important part of their significance," he said.
"Their victims never had any appeals, nor did their tormentors have any mercy. Consequently these perpetrators don't deserve either."
Convicted SS guard Hanning dies before prison
The Tattooist of Auschwitz – and his secret love
The Holocaust: Who are the missing million?
From bank clerk to Nazi
Gröning was born in 1921 in Lower Saxony in Germany, and his mother died when he was four.
His father was a proud nationalist, angry about the way Germany was treated under the peace settlement signed after World War One. That resentment increased when his textile business went bankrupt in 1929.
Gröning joined the Hitler Youth, and at 17 began training as a bank clerk. When war broke out, he wanted to follow in his grandfathers' footsteps and join an "elite" German army unit.
He signed up to the Waffen SS and arrived in Auschwitz in 1942.
When the war was over, Gröning slipped into a quiet life in Lüneburg Heath, Lower Saxony, where he worked in a glass-making factory.
Decades later, when he heard people denying the Holocaust had ever happened, he was moved to break his silence. He was one of very few former concentration camp guards to do so.
"I saw the gas chambers. I saw the crematoria," he told the BBC in the 2005 documentary Auschwitz: the Nazis and the "Final Solution".
Meek Mill Honors XXXTentacion At BET Awards By Wearing A Hoodie With Slain Rapper's Face
While performing at the BET Awards, Meek Mill honored the slain rapper by wearing a hoodie bearing XXXTentacion's image. Jamie Foxx also mourned, saying that black men dying in the street is unacceptable.
Less than a week after XXXTentacion was gunned down, Meek Mill, 31, made sure to honor the slain 20-year-old rapper at the BET Awards. Meek, who made his first post-prison award show appearance during the June 24 broad, debuted a new song detailing the struggles of black people in America — specifically how black men and women are disproportionately imprisoned. That alone would make Meek's performance noteworthy, but as he rapped about the struggles, fans saw that he wore a hoodie bearing XXXtentacion's face. Without saying a word, Meek paid tribute to the young rapper, whose life was cut short.
Later in the show, host Jamie Foxx also weighed in on XXXTentacion's death after he was featured in In Memoriam segment, saying that people shouldn't get desensitized to the fact that a 20-year-old black man was gunned down. "We don't even trip anymore. We don't even adjust our satellite just a bit…If you can in your music, if you can in your entertainment, sneak a message in there…We all have to figure out a way to not get used to [this]," Jamie said, after telling the audience that "no matter where you start, you have an opportunity to change."
XXXTentaction, born Jahseh Dwayne Onfroy, was shot and killed on June 18 outside Riva Motorsport in Deerfield Beach, Florida. He was leaving the motorcycle dealership in his BMW when allegedly, two men approached him and "demanded property." After a struggle, Onfroy was shot in the neck. He was rushed to the hospital, but it was too late. He was pronounced dead at 5:30 PM ET, less than two hours after the alleged incident. Authorities arrested Dedrick D. Williams, 22, and charged him with murder. There are reportedly warrants out for three more suspects involved in Onfroy's murder.
Shortly after the news of his death broke, tributes from XXXtentacion's fellow hip-hop stars came pouring in. "rest in peace," Kanye West tweeted, while including a picture of Onfroy. "I never told you how much you inspired me when you were here thank you for existing." "This got me f*cked up," J. Cole tweeted. "RIP X. Enormous talent and limitless potential and a strong desire to be a better person. God bless his family, friends and fans." R.I.P @xxxtentacion," Jidenna tweeted. "No one can be so self-righteous that they are happy when a youth dies. The young still have the capability to reform. God bless the kids. #xxxtentacion."
Ok but this xxxtentacion hoodie Meek Mill has on… HE WON TONIGHT! #BETAwards pic.twitter.com/UFy0Q4PuGo

— Ya fav 🌹 (@amourmaddii) June 25, 2018
"No matter where you start you have an opportunity to change" — Jamie Foxx on @xxxtentacion #BETAwards

— Gerrick D. Kennedy (@GerrickKennedy) June 25, 2018
Jidenna caught flak for his support, as he seemed to be uplifting XXXTentacion, a rapper who once said he almost killed a cellmate at a juvenile detention center because he was "looking at me" and XXX "thought he was gay," according to the Daily Beast. In addition to the homophobia, XXXTentacion has been accused of domestic violence. In 2016, he was arrested with aggravated assault and battery and false imprisonment of his then pregnant girlfriend, Geneva Ayala. In October 2016, he allegedly assaulted Geneva for fifteen minutes straight, according to a Miami New Times report about his violent history. He allegedly punched, slapped, elbowed, strangled, and head-butted Geneva in a jealous rage. When she begged onlookers to take her to the hospital, XXXTentaction allegedly forbade it and held her against her will for two days. She escaped on Oct. 8, 2016 and he was arrested shortly afterward. XXXTentacion was awaiting trial over these charges at the time of his death.