RTÉ Guide interview with Tom Murphy in 2014
Playwright Tom Murphy reckoned he would have been a gardener or a singer if his writing career had not taken off.
Donal O'Donoghue met Tom Murphy in 2014 for an RTÉ Guide interview which we reproduce on the occasion of the the playwright's sad passing.
For more than half a century, the playwright Tom Murphy has been holding a mirror up to society and to himself. Donal O'Donoghue from the RTÉ Guide met the writer in 2014 on the eve of his new work, Brigit.
"If I wasn't a writer I'd have been a gardener," says Tom Murphy. The playwright is in his Dublin home. French windows are open to a well-appointed garden and pale autumn light fills the room. In one corner lies a pile of clothes, the washing which he has dutifully brought inside as rain is in the air. "I also thought I could be a singer but I would not have had the discipline," he says. But there is music in his work – most overtly in The Gigli Concert, most rapturously in Bailegangaire – as it is in the man himself. Indeed listening back to this interview, the cadences of Murphy's voice are counterpointed by the sounds of his surrounds: wind chimes in the room, birdsong in the garden.
In his 80th year, the writer looks younger, his hardy-handsome features belying age and adversity. "People tell me that but I don't feel it," he says with a wry smile. In any case Murphy seems to have been with us forever, his plays performed professionally for over half a century, ever since the curtain went up on A Whistle in the Dark at the Theatre Royal Stratford East in London in 1961.
Apart from Brian Friel, no other living Irish playwright can hold a candle to Tom Murphy and few would dare. And he is still working, albeit slower now: his latest play Brigit, a companion piece to Bailegangaire, arriving some five years after The Last Days of a Reluctant Tyrant.
He sits at a low table: on it is a book about the voice and the actor and a glass of half drunk white wine. His shirt is open to the chest and he exudes a vitality at odds with his fractured voice ("I'm seeing a speech therapist"). Before we begin he apologises that what he has to say might have already been said to the man from The Irish Times the previous day. "We talked about my grandmother," he says, handing me a black and white photograph of a formidable-looking woman. This is Honor Lawless, the inspiration for Mommo in Bailegangaire. For years he thought her beautiful until one day a friend said she looked like a cross between John Wayne and Pope John Paul II. "He was spot on," Murphy laughs.
Tom Murphy is a man of the West, born in Tuam in 1935. He was one of ten children, his parents from small farming stock, yet he was a townie or 'urbanite' as he puts it. He talks about the 'accidence' of birth and the 'blood knot' of family: issues addressed in his first full-length play, the raw and savage A Whistle in the Dark, in which an emigrant Irish family batters itself to death.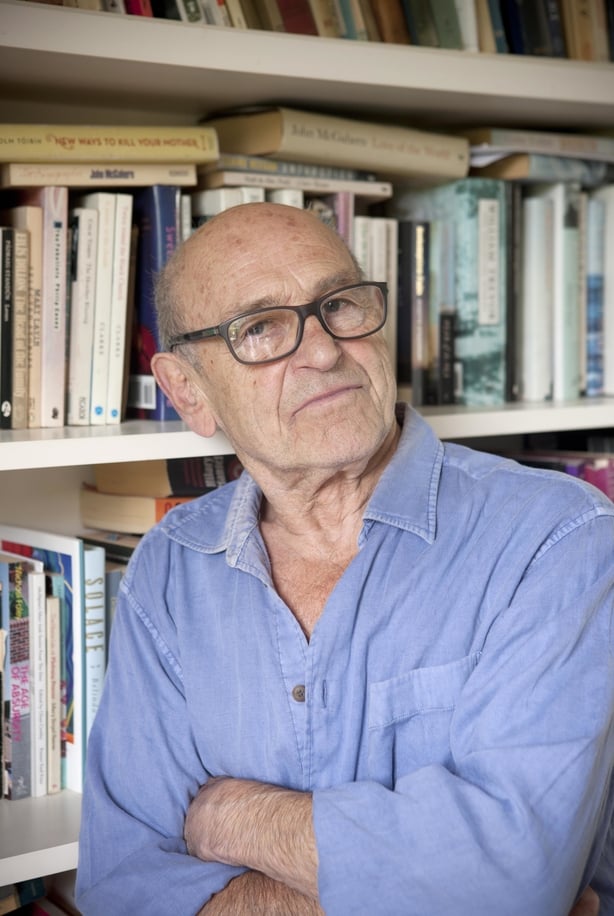 "Do I have anything in common with any member of my family other than coming out of the same womb and my father supplying, and I'm not being smart, the fertiliser for an egg?" he asks. "Would I have been a friend of those people? I think A Whistle in the Dark is all over it. I think that I anticipated my mind in that play."
A dog wanders into the room. "Jane, my wife calls her Charly, but she's so dainty I call her Charlene," says Murphy. On the wall is a picture of his three children. He is also a grandfather and then there's his other offspring, his 26 plays and single novel. In 2001, the Abbey celebrated Murphy by staging six of his best-known works and more recently, in 2013, Druid gave us the DruidMurphy cycle, raising a glass to one of its own. The writer talks about his revelatory collaborations with the Galway-based company, suggesting reasons they work so well together, like a complementary strand of DNA.
"The idiom I use is West of Ireland and particular to that neck of the woods," he says, "and I would say cunning too, he laughs. We share cunning, Garry (Hynes of Druid) and I."
He talks of what is required for writing. "Concentration, tenacity, there's something else… (he searches in vain for the word). Maybe rage? For a time he had it in spades and it still fires him, just as it was there in his first work, On The Outside (1959) which he wrote in collaboration with Noel O'Donoghue. He says his good friend was "desperate to be a writer" but was too intelligent for such a path.
"Intelligence marked O'Donoghue from first to last and intelligence can block you creatively," he says. His own definition as a writer was accidental just as his declaration was hesitant. "I call myself a writer now but as recently as 20 years ago I would stumble over that question, 'What do you do?' I don't think, and this is not false modesty, that I am intelligent."
What he has is a wisdom that captivates and compels. It is such that you could spend the afternoon listening to him. I make a fair stab at hanging around until he politely tells me he has a physiotherapy appointment. "That's about as much work as I'll do today," he says as we walk to the door. But a fire still burns within as he continues to prune and fine-tune his plays, with The Gigli Concert due at the Gate next year and The Wake for the Abbey in 2016.
"I feel privileged having a practical opportunity to make my last will and testament on the plays," he says of this refining process, a man whose life work was always to conduct the musical and magical out the chaos and callousness of the everyday."
Donal O'Donoghue
Biffy Clyro resurrect MTV Unplugged
Biffy Clyro bassist James Johnston tells us about the recording of the band's new album, MTV Unplugged: Live at Roundhouse London, and re-launching the iconic TV series.
Why the Roundhouse? Well, it was tempting to do it at home in Scotland, but it might have turned into a rammy!
It might have been hard to keep people settled. It might have just got out-of-hand crazy. The Roundhouse is such an iconic venue; it's such a great room for music over the decades.
Before our big night, we looked back at some of the MTV Unpluggeds from the past.
One thing we did notice was that a lot of them were filmed in TV studios. Although that often came across alright, we just felt we were capturing a moment instead of sort of making a TV show. I think the Roundhouse, with the geometry of the room and the kind of industrial look of the room, combined with the organic look of the stage set – with the tree and all the plants and everything – it's a nice little marriage.
There were so many great Unpluggeds.
I've got to mention Pearl Jam as being a really important band to me. George Michael's was another one and I enjoyed REM's. But, really, it has to be Nirvana. I think the way they did an about turn as a band and went from this kind of visceral, loud and angry punk rock band to being really tender and soft and beautiful – you can hear Kurt's voice breaking up. There's a ruggedness about Nirvana's MTV Unplugged performance. It's slightly ragged; it's certainly not perfect technically, but it has a charm.
Nirvana's MTV Unplugged opened the world for us in terms of listening to acoustic guitars.
I know it sounds crazy, but when we were that age it was all about punk rock and loud guitars. Even through Nirvana's Unplugged it taught us to open our ears a little bit. We hadn't heard a lot of those songs; we certainly hadn't heard them played in that way. I hadn't heard about the Meat Puppets. I didn't know about the Bowie song. I didn't know the Lead Belly song. The way they presented themselves onstage, there was no representation – it was just them!
We were a little bit freaked out when it led up to our Unplugged.
Going back and watching all these life-changing moments for us, we thought, 'How are we going to replicate that? How are we going to do that?!' Slowly we realised we didn't have to try and do that. In fact, we shouldn't try and do that. We just had to do what we do. There's no point in us trying to be Nirvana – we stopped doing that a long time ago! It was a real pleasure, a real honour. We can't really say what a big honour it was for us. A huge moment.
I remember being really nervous.
We tried to play it down but we were supremely nervous. Playing in that room, in the round with the audience all the way around us and not being really able to hear what we were playing for the first few songs – we were looking at each other trying to keep time! It was such a buzz. I think after a couple of songs you start to settle down and you can finally take a look up and look 'round at the room and get a feel for it. And what we could feel was just an energy from the audience and a lot of warmth and a lot of love – people willing us to do well. That was something that was really sweet. It was an incredible night – just to hear people singing the words back to us with all that passion.
If people say the MTV Unplugged is a celebration of our resilience as a band, well, we've worked hard.
It doesn't always feel like it because we've enjoyed it. We did tour and work hard and released records for a long time under the radar where nobody really cared. I guess the difference was that we did care. We were having fun so it didn't feel like we were working hard.
It's only when somebody else points it out to you that you start to think about the number of shows, the number of hotel rooms and travelling you've done.
It kind of gives you strength, because you're reminded, 'Well, we've done that'. Not to quote ourselves, but no one can take that away from us. There were many times starting out where slowly but surely friends' bands – contemporaries – would not be able to keep going. Whether it was because families were involved or work problems or just things weren't really happening for the band. We definitely count ourselves lucky to be doing it after all this time.
We're really proud that our songs soundtracked people growing up.
That's all you want. You want your songs to be a part of people's lives, to be a part of their memories and a part of key moments in their lives. I think a song like Machines, which is all about finding strength and finding a way forward through a difficult moment in your life, I think that can sort of really resonate with people and give them hope. I think that song especially means so much to so many people.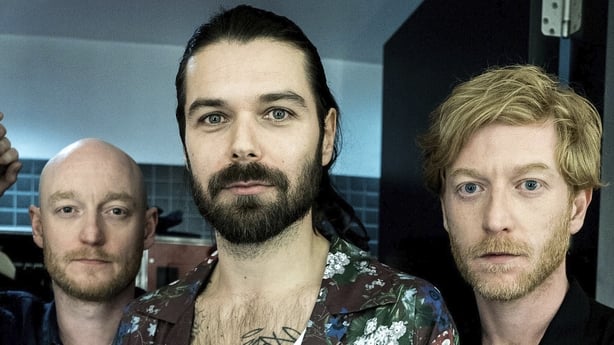 There's a lot left on the bucket list. There's still so much to do.
Doing the Unplugged show opens your eyes a little bit. It breaks that cycle of spending 18 months making an album and then spending 18 months touring it. It's easy to get into that cycle and repeat it. We're trying a few different things. We're in the middle of soundtracking a movie.
The movie hasn't been shot yet: we're going to do the music first and they're going to play the music while they're shooting the movie!
The director's called Jamie Adams and he doesn't really have scripts for his movies; he has what he calls 'scriptments'. There's not really dialogue. He spends a few weeks with the actors, workshopping the movie and working out the scenes. So the music's going to have a real influence on the story and vice versa. Simon's [Neill, singer-guitarist] talked to Jamie an awful lot about the story of the movie and he's incorporating that in the lyrics. That's a really exciting thing to be in the middle of. I guess we could really mess this guy's movie up, but our intention is not to do that!
We're starting our Unplugged tour in Dublin because we thought we'd start at the top.
We've got a long history with Dublin. It would take me all day and I'd forget half of the venues we played in the city – that's how many times we've been over. We've always had such a joy there. To start in Dublin, on a Saturday night, it really is the benchmark for a good gig. That'll set the standard really high for the rest of the tour. I think it's a great place to start, and a nice place to spend a few days in the lead-up to the tour!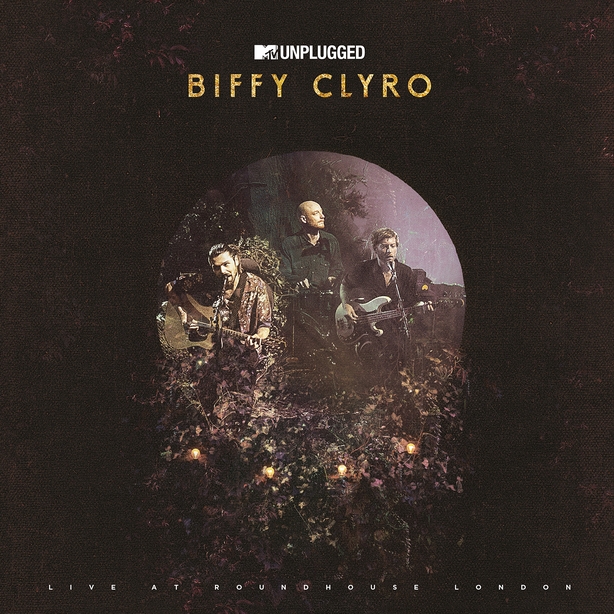 MTV Unplugged: Live at Roundhouse London is out now on 14th Floor/Warner Music – check MTV for listings. Biffy Clyro begin their Unplugged tour with a sold-out show at the Helix in Dublin on Saturday September 15.