RTÉ Guide interview with Tom Murphy in 2014
Playwright Tom Murphy reckoned he would have been a gardener or a singer if his writing career had not taken off.
Donal O'Donoghue met Tom Murphy in 2014 for an RTÉ Guide interview which we reproduce on the occasion of the the playwright's sad passing.
For more than half a century, the playwright Tom Murphy has been holding a mirror up to society and to himself. Donal O'Donoghue from the RTÉ Guide met the writer in 2014 on the eve of his new work, Brigit.
"If I wasn't a writer I'd have been a gardener," says Tom Murphy. The playwright is in his Dublin home. French windows are open to a well-appointed garden and pale autumn light fills the room. In one corner lies a pile of clothes, the washing which he has dutifully brought inside as rain is in the air. "I also thought I could be a singer but I would not have had the discipline," he says. But there is music in his work – most overtly in The Gigli Concert, most rapturously in Bailegangaire – as it is in the man himself. Indeed listening back to this interview, the cadences of Murphy's voice are counterpointed by the sounds of his surrounds: wind chimes in the room, birdsong in the garden.
In his 80th year, the writer looks younger, his hardy-handsome features belying age and adversity. "People tell me that but I don't feel it," he says with a wry smile. In any case Murphy seems to have been with us forever, his plays performed professionally for over half a century, ever since the curtain went up on A Whistle in the Dark at the Theatre Royal Stratford East in London in 1961.
Apart from Brian Friel, no other living Irish playwright can hold a candle to Tom Murphy and few would dare. And he is still working, albeit slower now: his latest play Brigit, a companion piece to Bailegangaire, arriving some five years after The Last Days of a Reluctant Tyrant.
He sits at a low table: on it is a book about the voice and the actor and a glass of half drunk white wine. His shirt is open to the chest and he exudes a vitality at odds with his fractured voice ("I'm seeing a speech therapist"). Before we begin he apologises that what he has to say might have already been said to the man from The Irish Times the previous day. "We talked about my grandmother," he says, handing me a black and white photograph of a formidable-looking woman. This is Honor Lawless, the inspiration for Mommo in Bailegangaire. For years he thought her beautiful until one day a friend said she looked like a cross between John Wayne and Pope John Paul II. "He was spot on," Murphy laughs.
Tom Murphy is a man of the West, born in Tuam in 1935. He was one of ten children, his parents from small farming stock, yet he was a townie or 'urbanite' as he puts it. He talks about the 'accidence' of birth and the 'blood knot' of family: issues addressed in his first full-length play, the raw and savage A Whistle in the Dark, in which an emigrant Irish family batters itself to death.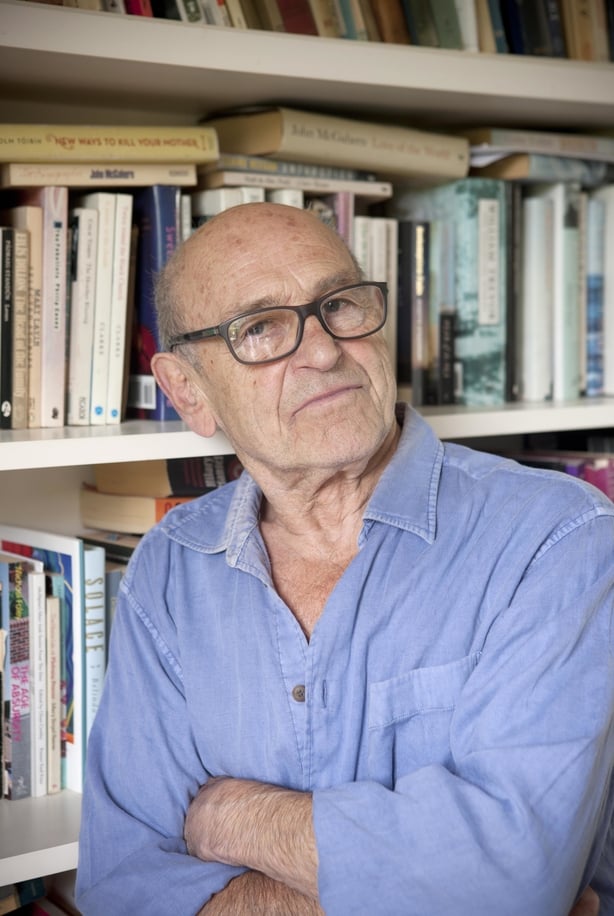 "Do I have anything in common with any member of my family other than coming out of the same womb and my father supplying, and I'm not being smart, the fertiliser for an egg?" he asks. "Would I have been a friend of those people? I think A Whistle in the Dark is all over it. I think that I anticipated my mind in that play."
A dog wanders into the room. "Jane, my wife calls her Charly, but she's so dainty I call her Charlene," says Murphy. On the wall is a picture of his three children. He is also a grandfather and then there's his other offspring, his 26 plays and single novel. In 2001, the Abbey celebrated Murphy by staging six of his best-known works and more recently, in 2013, Druid gave us the DruidMurphy cycle, raising a glass to one of its own. The writer talks about his revelatory collaborations with the Galway-based company, suggesting reasons they work so well together, like a complementary strand of DNA.
"The idiom I use is West of Ireland and particular to that neck of the woods," he says, "and I would say cunning too, he laughs. We share cunning, Garry (Hynes of Druid) and I."
He talks of what is required for writing. "Concentration, tenacity, there's something else… (he searches in vain for the word). Maybe rage? For a time he had it in spades and it still fires him, just as it was there in his first work, On The Outside (1959) which he wrote in collaboration with Noel O'Donoghue. He says his good friend was "desperate to be a writer" but was too intelligent for such a path.
"Intelligence marked O'Donoghue from first to last and intelligence can block you creatively," he says. His own definition as a writer was accidental just as his declaration was hesitant. "I call myself a writer now but as recently as 20 years ago I would stumble over that question, 'What do you do?' I don't think, and this is not false modesty, that I am intelligent."
What he has is a wisdom that captivates and compels. It is such that you could spend the afternoon listening to him. I make a fair stab at hanging around until he politely tells me he has a physiotherapy appointment. "That's about as much work as I'll do today," he says as we walk to the door. But a fire still burns within as he continues to prune and fine-tune his plays, with The Gigli Concert due at the Gate next year and The Wake for the Abbey in 2016.
"I feel privileged having a practical opportunity to make my last will and testament on the plays," he says of this refining process, a man whose life work was always to conduct the musical and magical out the chaos and callousness of the everyday."
Donal O'Donoghue
EastEnders set revamp goes £27 million over budget
The BBC's project to rebuild the set of EastEnders will now cost £27 million more than originally planned.
The original budget for the refurbishment of the soap's set was fixed at £59.7 million in 2015, but the revised budget is now £86.7 million.
The completion date has been pushed back two-and-a-half years, from October 2020 to May 2023.
A report from the UK's National Audit Office (NAO) said a lack of expertise, over-optimism regarding costs and delays in construction led to the 45% budget increase for the project.
The BBC said the project was "large" and "complex" and added that there had been "challenges on the way".
The project – which is called E20 – will see the original 1984 set of the soap in Hertfordshire being rebuilt and expanded.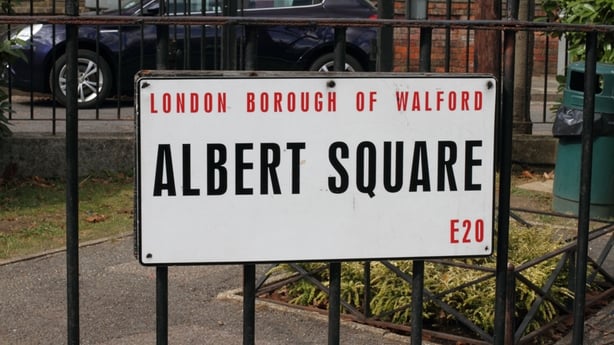 The set was only supposed to be used for two years but has lasted for 34. This has led to problems with health and safety, continual investments in refurbishments and the inability to shoot in high-definition due to the decaying set.
"The show remains one of the BBC's flagship programmes and yet is filming from a set that is no longer fit for purpose," the BBC said in a statement.
"The new set will be suitable for HD filming for the first time and extend Walford to better reflect modern East End London.
"It's a large, complex project which has already delivered many other vital improvements at BBC Elstree Centre but like any building work of this scale there have been challenges on the way, including construction market issues beyond our control and from working on a brownfield site.
"As the NAO recognises we've already made improvements and are keeping the project under close scrutiny."
The new EastEnders set will include a "Front Lot" replicating Albert Square and the traditional set, and a "Back Lot", which will include new Walford outdoor locations and will be made to look more like the streets of 21st-century London.
The NAO concluded in its report: "The BBC will not be able to deliver value for money on the E20 programme in the way that it envisaged in 2015.
"Disappointingly, some of the reasons for this were built into E20 at the outset and could have been addressed earlier."
EastEnders airs on RTÉ One and BBC One on Mondays, Tuesdays, Thursdays and Fridays.
Click here for more on the soaps.
Catch up on EastEnders on the RTÉ Player.