Silk Road lawyer to defend WikiLeaks in court
By Alexander J Martin, technology reporter
The lawyer who represented the man behind darknet market Silk Road is to defend WikiLeaks against a lawsuit from the Democratic National Committee (DNC) connected to Russian interference in the 2016 election.
Joshua Dratel has notified the judge overseeing the DNC's federal lawsuit against WikiLeaks that he would be representing the controversial organisation in court.
In a statement tweeted by WikiLeaks, Mr Dratel said: "The lawsuit against WikiLeaks is entirely without merit, and this case presents critical First Amendment issues that we look forward to litigating."
In a federal lawsuit filed in Manhattan, the DNC alleged that top Trump campaign officials conspired with the Russian government and its military spy agency to hurt Hillary Clinton and tilt the election in Mr Trump's favour by hacking Democratic Party computers.
The US president's campaign has dismissed the case as frivolous and predicted it will be dismissed in due course.
Russia "mounted a brazen attack on American democracy", the DNC claims, alleging that thousands of documents and emails were extracted from DNC computers in the hack.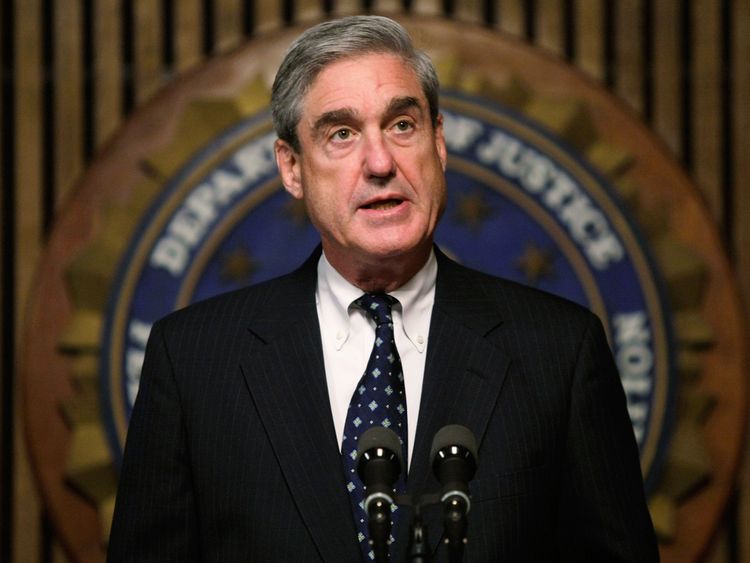 During the course of the election, WikiLeaks published emails stolen from the DNC, and reports have suggested that the organisation and Julian Assange actively sought to co-ordinate its releases with members of the Trump campaign.
In August, WikiLeaks published a letter from the US senate committee investigating Russian election interference, asking Julian Assange to give evidence.
It comes as Special Counsel Robert Mueller's investigation into alleged collusion between Donald Trump's presidential campaign and Russia continues.
Despite comments appearing to support WikiLeaks made on the campaign trail, Donald Trump declined to continue to support Assange after becoming president.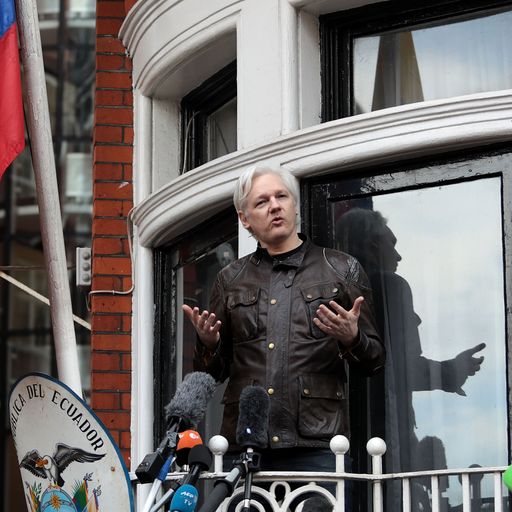 Assange 'must eventually leave embassy'
Ecuador's president said that the WikiLeaks chief situation must end
The letter follows an indictment in the US accusing 12 Russian military intelligence officers of hacking into the DNC and Clinton campaign and stealing emails which were published by WikiLeaks.
More from Science & Tech
Emergency landing for astronauts as rocket fails

Seven times when space rocket launches have failed

Why Uber is appealing against drivers' rights

THC and CBD levels 'identical across cannabis strains', researchers say

Chinese 'spy' charged with stealing US secrets after arrest in Belgium

Workers urge Amazon boss Jeff Bezos to restore share schemes
Although the indictment does not specifically name WikiLeaks, the activities of "Organisation 1" that are described in the legal filing match those of the organisation.
WikiLeaks denied that the emails were provided to it by a hostile intelligence agency and instead encouraged a conspiracy theory in which they were provided by Seth Rich, a DNC employee and the victim of an unsolved murder.
World's oldest bird, aged 68, lays another egg
By Philip Whiteside, international news reporter
The world's oldest known bird is set to become a mother again – after raising at least 30 other youngsters.
Wisdom the albatross has laid another egg at her nest site in Midway Atoll National Wildlife refuge on a tiny island about 1,200 miles northwest of Hawaii, in the Pacific Ocean.
Biologists believe Wisdom is at least 68 years old, forcing them to re-evaluate the age which they expected albatrosses to live to.
Albatross mate for life, but will recouple if a partner dies. The current age of her mate Akeakamai is not known, but the pair have been together since 2006.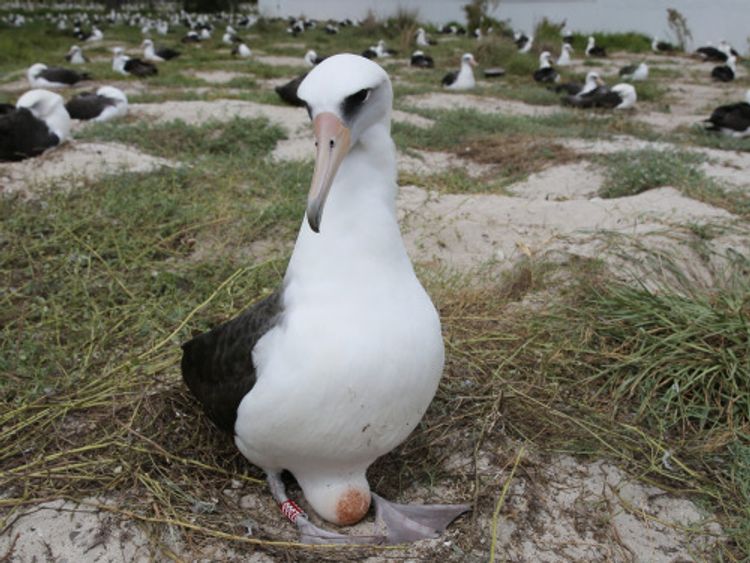 "She first appeared back at her traditional nest site on November 29 and biologists on Midway have confirmed that she has laid an egg," a statement from the US Fish and Wildlife Service Pacific Region said.
"Wisdom and her mate Akeakamai return to the same nest site on Midway Atoll each year. Biologists call this type of behavior 'nest site fidelity'."
Albatross lay a single egg and incubate it for just over two months before they spend another five months rearing it to fledgling status after it hatches.
During that time, Wisdom and Akeakamai will take it in turns to sit on the egg or tend to the chick as the other searches for food at sea.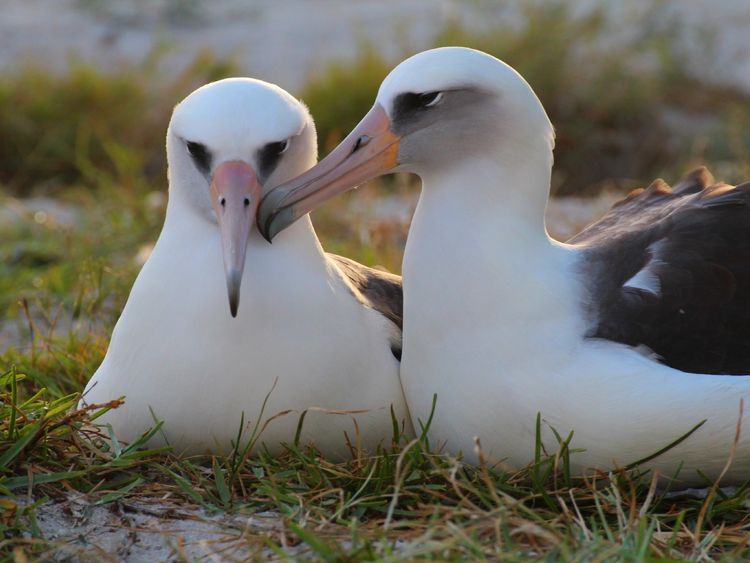 It is thought that Wisdom, a Laysan albatross, has reared between 30 and 36 chicks in her life.
The chick she produced in 2001 was observed just a few feet away from her in 2017, providing further evidence that albatross offspring return to their parents as they get older.
"Midway Atoll's habitat doesn't just contain millions of birds, it contains countless generations and families of albatrosses," said Kelly Goodale, US Fish and Wildlife Service Refuge biologist.
"If you can imagine when Wisdom returns home she is likely surrounded by what were once her chicks and potentially their chicks. What a family reunion!"
The USFWS says nearly 70% of the world's Laysan albatross and almost 40% of black-footed albatross rely on the reserve.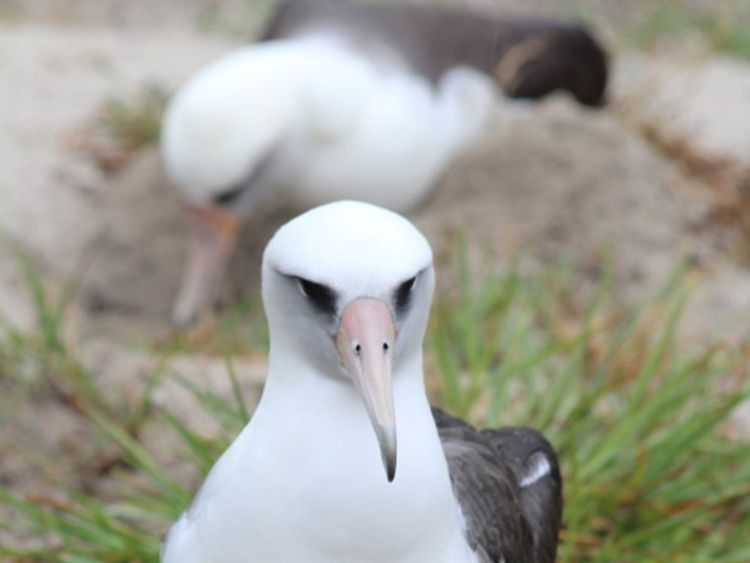 There are around three million birds on the atoll, about 1.2 million of which are albatross – providing a crucial refuge for the birds, most species of which are at risk due to loss of habitat, ocean plastic and commercial fishing practices, according to the WWF.
Wisdom was first ringed in 1956 at a time when Midway Island was a strategic outpost for the US Navy.
The biologist who ringed her then rediscovered her 46 years later in 2002 while surveying an area he had previously visited.
It was because she was a fully developed adult bird when he first saw her that he was able to determine her minimum age.
In 2006, she was seen again and from that point, after her age was recognised, she began to be monitored regularly.
More from Sky Ocean Rescue
Plastic recycling: Business leaders demand UK stops sending waste to developing world

Dead whale had 115 plastic cups in its belly

Rare shark nursery off Ireland revealed by undersea camera

Large shark nursery found near coral reef off Irish coast

'My tongue was falling apart'

Prince Charles 'programmed' William and Harry to pick up rubbish
While the Laysan albatross does not have the wingspan of the wandering albatross – the largest wingspan of any bird – like other species they spend most of their lives in flight over the oceans.
It is thought Wisdom has travelled more than three million miles in her lifetime.