Spieth feeling positive as he chases first win of year
Jordan Spieth has emphasised how positive he is feeling about his game ahead of this week's AT&T Byron Nelson in his native Dallas, declaring that "everything is starting to fall in place".
Spieth, yet to win a tournament in 2018, last month came joint-third at the Houston Open, then third at the Masters.
And he shot a seven-under 65 on Saturday at the Players Championship before dropping down the leaderboard on Sunday.
The 24-year-old three-time major and 11-time PGA Tour winner told a pre-tournament press conference: "I feel as good about my game right now as I have this entire year and even a lot of last year, so I feel like good things are coming.
"I've stayed the course, had a lot of patience recently. Everything is starting to fall in place.
"Everyone goes through kind of peaks and valleys with different parts of their game. I got a little off in set up in alignment with short game shots and putting, and (I'm) really starting to progress nicely, starting to see my lines better. Whether putts have gone in or not I've had better strokes.
"I was very comfortable on Sunday with Tiger (Woods).
"I felt like I didn't get a lot of good numbers. I had a lot of in between numbers on shots, and some putts that were… The speed was a little off or the line was a little off.
"But I was as comfortable as I've been in a pretty relatively uncomfortable type of situation this entire year, including even playing well at the Masters."
Spieth – who competed aged 16 in the 2010 edition of the tournament after writing to its chairman asking to be considered for a sponsor exemption, and finished tied for 16th – is a member at Trinity Forest Golf Club, a new venue for the event.
And he added: "Obviously (with) this course I feel like I'm at an advantage."
The press conference also saw Spieth asked for his thoughts on the United States Supreme Court overturning a federal law that effectively banned betting on sporting contests in every state apart from Nevada, paving the way for the other states to legalise sports gambling.
He said: "It's a very significant day in sport, for that to be overturned.
"I know the PGA Tour has stepped in and there are stricter policies for us and our teams regarding releasing information, and obviously we can't gamble ourselves on our sport, whether it's passed or not.
"People call gambling a vice. Now that you've made it legal and more open, it's kind of a personal decision I guess.
"I'm not very educated on it, but I imagine it will boost the economy of the states that allow it."
O'Connell has no coaching master plan for the future
Paul O'Connell says he still has no grand plan for his future in coaching – unlike his former Munster and Ireland team mate Ronan O'Gara.
Following a stint in Paris with Racing 92, O'Gara is now working with Super Rugby side Crusaders in New Zealand and says one day he hopes to coach Ireland.
O'Connell is following in his footsteps, taking on a role with Top 14 side Stade Francais in Paris, though his future isn't mapped out as clearly yet.
"For me to go to Paris, I always wanted to live in France so for me this was a chance to travel, live in an amazing city, immerse myself in coaching and see is this what I want to do while learning a language and meeting some good people," said the former Ireland captain, speaking to RTÉ Radio 2FM's Game On.
"People don't seem to believe me when I say there's no real long-term plan in going to Paris."
O'Connell is working with Stade's forwards and line-out and his first season has started well with three wins out of four in France.
His family, wife Emily and children Paddy, Lola and Felix, haven't been able to join him yet as they haven't been able to find suitable accommodation so he is staying with Mike Prendergast, another Irishman on the club's coaching staff.
"It's difficult because there is a lot of apartment-living where the club is. We've decided we don't want to live in an apartment and we're trying to find a house, which is quite difficult. The family haven't arrived over yet, but it's great," he said.
O'Connell agreed to move from Munster to Toulon in 2015, but an injury suffered in that year's Rugby World Cup ended his playing career and scuppered that deal.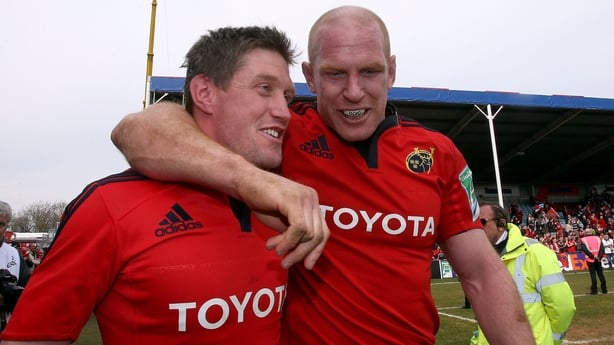 So he is grateful for this chance of living in a new culture, though he admits he's having trouble learning the language – mostly because he doesn't get enough opportunity to practice it.
"It's one of the reasons I'm over there, as much as the coaching. I've always wanted to learn the language," he said. "It's one of the reasons I was going to go over to Toulon towards the end of the season.
"The only problem is that English in the chosen language spoken in the coaching room because we have Heyneke Meyer, John McFarland, Peter de Villiers, so many of the staff speak English so I'm probably speaking too much English and it doesn't help me learn.
"I'm trying to work out as many ways as I can to speak French.
"I do classes in the club, one of the physios in the club, his dad used to work in IBM and is retired and actually teaches refugees French voluntarily and he does lessons with me over the phone.
"I listen to Coffee Break French – Johnny Sexton recommended him to me. I'm trying to hit it as many ways as I can and I'd love after Christmas to be able to coach as much in French as I can.
"I'd say I do about 10 per cent now and Peter de Veilliers translates, or else one of the players translates. It's difficult, but it is what it is and you just have to roll with it."