Steve Corica takes over Sydney FC, vows to re-sign top talent
Email Sydney FC head coach Steve Corica vows to secure club's top talent By Patrick Galloway
Updated May 16, 2018 20:56:53
Photo: Steve Corica says re-signing the club's overseas playing talent is a top priority. (ABC News: Patrick Galloway) Related Story: Victory hands Sydney FC extra-time heartbreak to reach grand final Related Story: 'Greatest A-League goal ever': McGree lights up finals with stupendous scorpion kick Map: Sydney 2000
For 14 years, Steve Corica has been part of Sydney FC — first as a player, then a captain and then an assistant coach as the Sky Blues rose to become an A-League powerhouse.
Now, 12 years after scoring the winning goal in the 2006 A-League Grand Final, Corica has been appointed as the man to succeed Graham Arnold and take over a club at the height of its power.
The first thing on the 45-year-old's to-do list is to secure the club's top playing talent, including the likes of striker Bobo and midfielder Milos Ninkovic.
"I am pretty sure those signatures will be coming in the next week or so," Corica said.
Ensuring the continued service of these players — along with Johnny Warren Medal winner Adrian Mierzejewski — could play a big part in his success as a coach in the A-League next season.
"There is a lot of pressure but I am used to it, I know the expectations of the club and what they want to achieve," he said.
"I have got belief in what I am trying to achieve here in the club."
External Link: Andrew Griffits tweet
In the past two A-League seasons, the Sky Blues have claimed back-to-back premierships, an FFA Cup, a grand final win and lost only five games in the process.
Sydney FC chairman Scott Barlow said Corica's appointment will help the club build on what it has already achieved.
"We have been very successful the past few seasons," he said.
"We didn't want a coach that was going to come in and go back to the drawing board."
Not one to flinch at taking on a challenge, Corica admitted there was not a lot of room for improvement in the Sky Blues' set-up but he feels his tutelage under Arnold has put him in a strong position.
"We want to keep things going in the same direction," he said.
"You want to win trophies, this club expects to win trophies.
"We missed out last year in the Grand Final so that's the motivation — expectations are high, the players know that."
Corica's debut season in charge will see the Sky Blues play at a number of temporary venues, with the Sydney Football Stadium unavailable due to renovations.
Photo: Corica says his time as a player and an assistant coach under Graham Arnold has put him in a strong position to lead the team. (Sergio Dionisio: AAP)
As for the club's playing style, don't expect that to change either.
"Entertaining, winning, is very important," he said.
"As a player I wanted to do that, entertain and make the fans feel good about coming to the game."
"I am looking forward to a successful period at the club," he said, adding his relationship with the club's supporter group has always been strong.
"The Cove has always been behind me — as an assistant I have always had a great rapport with them and I don't expect anything to change."
Topics: sport, soccer, sydney-2000, nsw
First posted May 16, 2018 19:35:17
More stories from New South Wales
Rose feeling on top of the world
It took a while for Justin Rose to get over his disappointment at losing the BMW Championship on a playoff, but moving to world number one helped.
Rose heads into this weekend's FedEx Cup season-finale Tour Championship in Atlanta, Georgia, at the top of golf's rankings.
His recent second placed finish, losing a Monday playoff to Keegan Bradley in Aronimink, was enough to see him climb to the highest rung on the ladder, which was some consolation.
"I knew after I signed my card after the playoff started, it was enough to be number one," he said. "But a playoff is a playoff, and they're over really quickly; if you make a mistake, it's not like you have time to recover.
"So yeah, obviously it was disappointing to finish the tournament that way.
"One of the things I'm proud of last week was the putt I hit to win the tournament. My last putt was a great putt that didn't drop.
"You've got to look at things sometimes in a positive light, so I feel like I did a lot right, just the playoff, I'd like just to leave it there. That wasn't great."
The Englishman says that the reaction he received following defeat to the news that he'd made the top of the rankings helped to cheer him up.
"The reaction on my phone; you can always judge it on your phone," he explained. "If you win a Major, your phone blows up; you win a tournament, you get a nice bunch of messages.
"And getting to world number one, my phone blew up again. You can kind of gauge it from the response really of your wider network. It was a big moment for sure. I've enjoyed it."
We did it Dad…. World Number 1⃣ Thank you so much to my family, friends & everybody that has helped me achieve this incredible goal. Also, my sponsors @TaylorMadeGolf @adidasGolf @Hublot @Mastercard @ZurichNAnews @MorganStanley @LamkinGrips Thank you! #Team🌹 pic.twitter.com/geZgcpTR7U

— Justin Rose (@JustinRose99) September 10, 2018
He continued: "I've been able to have just a glass of champagne over the weekend with a couple close friends and try to just mark it, saying this is fun, this is a moment we've worked hard for, but also you realize that life goes on at home.
"The kids were happy for five minutes and then they're on to the next thing, so nothing changes at home. I'm still number two or three there," he smiled.
Rose could be overtaken in the rankings this weekend by the likes of Brooks Koepka or Dustin Johnson, but he is determined to finish the year top of the pile.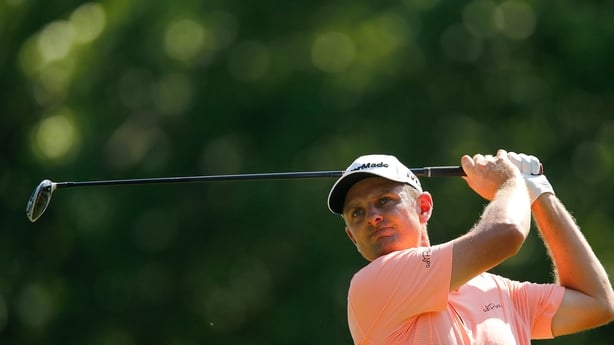 He said: "It's really tight up top. It could easily switch this week. I just feel that if I go to two or three this week, if Dustin and Brooks both play well, I have an opportunity the week after and British Masters, and going to China and Turkey.
"There's going to be opportunities to get back there. So I'd love to end the year number one. I'd say that's a goal.
"I think if I lose it between now and then, I'm not going to lose any sleep over it because it is so tight at the top. Literally, if I finish seventh this week and Brooks finishes sixth, he'll go to number one, so it is that tight
"If I were going to talk about my career, I'd say Justin Rose, Major champion, Olympic gold medalist, world number one.
"That's the three things I would choose to say. Not necessarily in that order maybe, but that's how I would just simplify my career. Those would be the top three."