Tamera Mowry's Sister Tia Drops Everything To Help After Horrific Death Of Niece In Shooting
Here's what Tia Mowry is doing to help her twin Tamara process the tragic news that she lost her 18-year-old niece, Alaina Housley, in the shooting at Thousand Oaks on Nov. 7, which HL has EXCLUSIVELY learned.
The Real co-host Tia Mowry, 40, is rushing to her twin sister Tamara Housley-Mowry's side. Tamara and her husband, Adam Housley, confirmed this afternoon that their 18-year-old niece, Alaina Housley, was one of the 12 victims who lost their lives in the shooting at Borderline Bar & Grill in Thousand Oaks, California, on Nov. 7. Tia also confirmed the news with a heartbreaking tweet on Nov. 8, writing, "Our sweet Alaina Housley is gone. We love you. We are devastated." Understandably, "Tamera and her family are so shaken and devastated over this tragedy," a source EXCLUSIVELY shares with HollywoodLife. "They're still trying to wrap their heads around it." Horrified people nationwide are trying to wrap their heads around the shooting, as Thousand Oaks was rated the third safest city in the United States in 2018. But Tia wants to do everything possible to help Tamara and her mourning sister's family.
"Tamera is such a family girl and is supporting her husband and his family through this, and Tia of course is doing anything she can as well," our source continues. The bond you saw on Sister, Sister, the '90s sitcom that propelled the twins' acting careers, wasn't just for television. "Tia and Tamera are as close as sister possibly could be, and talk upwards of five times a day," our source reveals. With that said, "they'd each drop anything for the other which is exactly what happened." And Tia is recruiting help from her husband of 10 years, Cory Hardrict.
"Tia and husband Cory will do anything they can to help Tamera and Adam," our source goes on. "Adam is also very close with his family." After news of the shooting broke, Adam, who was a former Fox News correspondent, asked his Twitter followers for prayers. When one fan asked for what reason, he replied, "My niece. A beautiful soul." Adam is an alumni of Pepperdine University, the university which Alaina was attending. The whole family is reeling from the loss, as our source adds that "their brother Taj as well was effected by this news as the three of them are extremely close."
Our sweet Alaina Housely is gone. We love you. We are devastated.

— Tia Mowry (@TiaMowry) November 8, 2018
"The husbands and kids are all very tight knit and close as well and trying to get through this," our source tells us. "It's affecting the entire family and even their friends as well. They're very shaken up." And these sentiments reflect the official statement which Tamara and her husband released. "Our hearts are broken. We just learned that our niece Alaina was one of the victims of last night's shooting at Borderline bar in Thousand Oaks," the married couple told Us Weekly. "Alaina was an incredible young woman with so much life ahead of her and we are devastated that her life was cut short in this manner. We thank everyone for your prayers and ask for privacy at this time."
Like her sister's husband, Tia took to social media to ask for help before the whereabouts of Alaina were known. "Alaina Housely we are praying. We love u! If you know anything or any information please let us know. We love you," she wrote, accompanied by a throwback photo of her, Tamera and Alaina at a wedding. We are praying for the Housley family's loss.
California fires: Winds propel fires as death toll rises
Strong winds have been fuelling California's deadly fires as search-and-rescue teams begin the grim task of searching for bodies among the ashes.
Winds of up to 40mph (64km/h) are expected throughout Tuesday in the state's south, where the Woolsey Fire is threatening some 57,000 homes.
Firefighters in the north are still battling the Camp Fire, which has left at least 42 people dead.
Meanwhile, two new fires began in the south on Monday.
They started within minutes of each other. The smaller of the two has since been put out, news agency Reuters reports.
In pictures: Wildfire rages in Malibu
Watch: Aerial footage shows devastation
'Three minutes separated me from death'
In the north, the Camp Fire, which has destroyed more than 7,600 homes, surpassed the 1933 Griffith Park disaster to become the deadliest in California's history after 13 more bodies were found, bringing the total killed to 42. The earlier tragedy left 31 dead.
Many more people are said to be unaccounted for, with coroner-led search teams preparing to comb the largely incinerated town of Paradise on Tuesday.
Three portable morgues, specialist dog units, forensic anthropologists and a "disaster mortuary" have been requested to help with the operation, Butte County Sheriff Kory Honea told reporters on Monday.
Further south, the Woolsey Fire has so far killed two people as it damaged beach resorts including Malibu, a favourite with the rich and famous – bringing the state-wide death toll to 44.
Around 9,000 firefighters have been tackling the fires, with 16 other states sending crew and resources to help.
More than 300,000 locals have been forced to flee their homes across California.
US President Donald Trump has declared a "major disaster" in the state, making federal aid available to affected residents.
Authorities are investigating the cause of the wildfires.
What's the latest on the Camp Fire?
Paradise and its surrounding areas bore the brunt of the Camp Fire – the largest blaze – which started in a nearby forest on Thursday.
Some bodies were found in gutted cars that were overrun by the fast-moving fire, as residents scrambled to evacuate overnight.
Sorrell Bobrink, a Paradise resident who managed to drive away with her child, told BBC World Service radio she was first woken up and alerted by a phone call from a friend.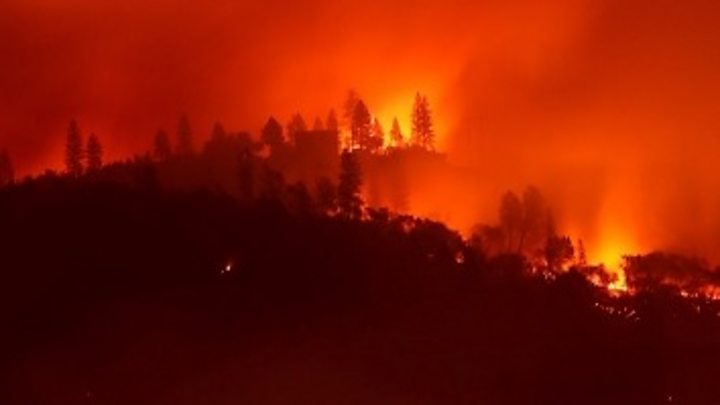 She described the scene as "exactly like any apocalyptic movie I have ever seen" and said she did not know if she was driving towards death or out of harm's way as the sky blackened.
"I had to drive through the fire – it was awful. It was probably the most awful experience I will have in my life," she told the Newsday programme.
"It was traumatising, we will be traumatised for a long time. My whole community was traumatised – I can't watch the videos anymore because I actually went through it."
Animals caught in wildfire destruction
The photos not from the California fires
Watch: Long battle against California wildfires
Watch: Why California wildfires are so deadly
Many of the victims are believed to have been elderly residents or people with mobility issues who would find evacuating more difficult.
Forensic experts are stepping up their search in the ruins of Paradise, but officials warn that finding the bodies could take weeks.
Dogs are being brought in by local police to try and locate the dead, and two mobile army morgues will be used to help identify them.
The fire has burned around 125,000 acres (50,500 hectares) and is about 30% contained, fire officials said.
What about further south?
The separate Woolsey Blaze started on Thursday near Thousand Oaks, about 40 miles (64km) north-west of central Los Angeles.
It has consumed nearly 94,000 acres and destroyed around 435 buildings, officials said. It is around 35% contained, up slightly from earlier in the day. The smaller Hill Fire, nearby, has scorched 4,530 acres and is reportedly about 90% contained.
Luxury homes in Malibu and other beach communities are among the properties destroyed.
The nearby city of Calabasas, home to well-known celebrities, remains under a mandatory evacuation order.
Celebrity homes destroyed by wildfires
Kim K dedicates award to firefighters
Why are the fires so bad?
Historically, California's "wildfire season" started in summer and ran into early autumn, but experts have warned that the risk is now year-round.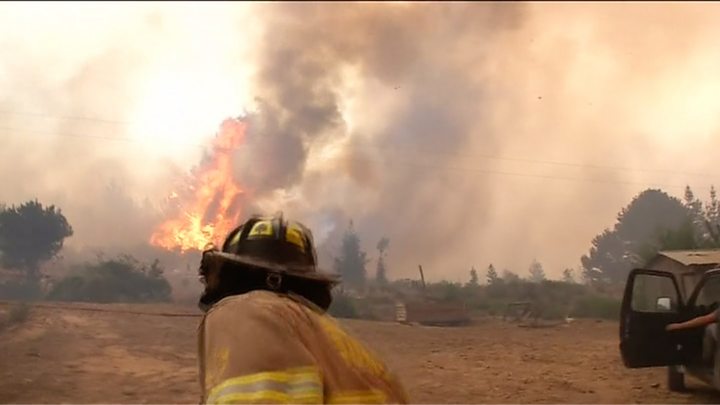 The California Public Utilities Commission is investigating what sparked the latest blazes – amid reports electrical companies may have suffered malfunctions near the sources shortly before the fires began.
Low humidity, warm Santa Ana winds, and dry ground after a rain-free month have produced a prime fire-spreading environment.
The state's 40-million-strong population also helps explain the fires' deadliness. That number is almost double what it was in the 1970s, and people are living closer to at-risk forest areas.
And then there's climate change. Recent years have produced record-breaking temperatures, earlier springs, and less reliable rainfall.
The experts who start fires to study them
Why can't California control its wildfires?
Citing the role of a warming climate, California Governor Jerry Brown declared: "This is not the new normal, this is the new abnormal."
Have you been affected by the wildfires? If it is safe to do so please get in touch. Email haveyoursay@bbc.co.uk.
Please include a contact number if you are willing to speak to a BBC journalist. You can also contact us in the following ways:
WhatsApp: +44 7555 173285
Tweet: @BBC_HaveYourSay
Send pictures/video to yourpics@bbc.co.uk
Or Upload your pictures/video here
Text an SMS or MMS to 61124 or +44 7624 800 100
Please read our terms & conditions and privacy policy
Or use the form below
Your contact details Name (optional) Your E-mail address (required) Town & Country (optional) Your telephone number (optional) Comments (required)
If you are happy to be contacted by a BBC journalist please leave a telephone number that we can contact you on. In some cases a selection of your comments will be published, displaying your name as you provide it and location, unless you state otherwise. Your contact details will never be published. When sending us pictures, video or eyewitness accounts at no time should you endanger yourself or others, take any unnecessary risks or infringe any laws. Please ensure you have read the terms and conditions.
Terms and conditions
The BBC's Privacy Policy