Taoiseach Leo Varadkar leads Late Late Show line-up
Taoiseach Leo Varadkar leads the line-up on Friday night's Late Late Show, with other guests including music superstar Michael Buble, country king Daniel O'Donnell, as well as comedian and author David Walliams.
The Fine Gael leader will join Ryan Tubridy to talk about the highs and lows of his first 18 months as Ireland's youngest ever Taoiseach.
After taking time out to look after his family when his son was diagnosed with cancer, Michael Bublé is back performing with a new album and a tour on the way.
He'll be telling Ryan what the last few years have been like for him and his family, why he describes his new album as "baby making music" and how rumours of his retirement were greatly exaggerated.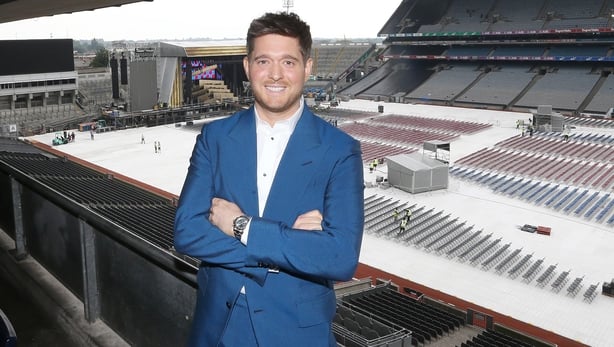 Comedian David Walliams found fame with Little Britain and as a judge on Britain's Got Talent. But 10 years ago he turned his hand to writing children's books, going on to sell 26 million copies worldwide.
He'll be chatting to Ryan about the inspiration for his books and fatherhood, as well as his love for Simon Cowell.
Donegal's most famous son Daniel O'Donnell will be in studio to chat about coming home for Christmas to spend time with his wife Majella.
He'll be telling viewers about singing for the Pope and venturing very far out of his comfort zone as he and Majella travelled across America for their next road trip.
And we will be meeting the final three celebrities who will be tripping the light fantastic across the Dancing With The Stars ballroom floor.
The Late Late Show airs this Friday, December 7th, RTÉ One, at 9.35pm.
Sandra Bullock wants more complex mothers in movies
Sandra Bullock – who plays a reluctant mother in dystopian horror Bird Box – reckons unconventional female roles needed to become more common.
In the film, Bullock fights an unseen monster which has decimated the world's population. Whoever sees it is driven to kill themselves, and those that survive use blindfolds when they go outside.
Bird Box charts Malorie (Bullock) as she leads her two children down a treacherous river path blindfolded to a place she hopes will keep them safe.
The actress said the complexities of motherhood had not yet been properly examined by the film industry, and that she hoped the Susanne Bier-directed film could go some way to correcting this.
She told the Press Association: "Something that I knew, I didn't necessarily learn it, the way motherhood has been represented on film needed to not just change, it needed to expand because the complexities of being a mum, I don't think, have not been fully represented cinematically.
"And Malorie is someone who is not a natural parent, or at least you think so. This is not someone who has a natural inclination to be mum, not the desire, the drive, or the want.
"And you go, 'This is not a good representation of a mother'. But you go, 'Is it really not?' Because she fights. She is using everything she knows and understands to save these little creatures' lives. Her fear is driving her.
"I learned that we need to start showing women in a more complex fashion when it comes to motherhood, the same we need to show men in a more complex fashion when it comes to those who are incredibly maternal and who are very demonstrative and loving and hopeful with their kids.
"It's happening all over the world but we are just not seeing enough of it on film."
Bullock, who has two adopted children, added that she had struggled with the film's portrayal of motherhood, which had left her feeling "hopeless".
She added that playing an apparently uncaring mother had made her feel uncomfortable but it had been important to shatter the "fairytale" idea that all women are natural mothers.
The 54-year-old said: "What was odd was that it was more uncomfortable for me to play Malorie in her flashbacks, when she is pregnant, when she is sort of disconnected from the idea of being a mum. I felt hopeless. I felt weak in a way.
"We have got to stop thinking about this idea, which comes from a very fairytale makeup, of what a family looks like, what a partnership looks like, what a mother looks like, what a father looks like.
"That's what I loved so much about this [film]. It was just people being there for each other, loving each other at the worst of times. You know, where they came from, what they look like or what their past was had no bearing on their current situation."
Bird Box will become available on Netflix on December 21.