Trump ex-campaign chief Manafort 'strikes plea deal'
Former Trump campaign chairman Paul Manafort has agreed a plea deal to avoid a second trial, US media report.
According to court documents, he has agreed to plead guilty on Friday to two criminal counts in the investigation by Special Counsel Robert Mueller.
Manafort was convicted last month on eight counts of fraud, bank fraud and failing to disclose banks accounts.
It was the first criminal trial arising from the justice department's probe into alleged Russian election meddling.
However, the charges only relate to Manafort's political consulting with pro-Russian politicians in Ukraine, largely pre-dating his role with the Trump campaign.
Manafort: Trump's former campaign chair
What did we learn from Manafort trial?
Manafort: The man who helped Trump win
Manafort, 69, was a key figure in Mr Trump's inner circle, but the president has since sought to distance himself from his former adviser.
The charges in the second trial were set to include money laundering, conspiring to defraud the US, witness tampering and failing to register as a foreign agent. Jury selection was due to start on Monday.
According to the court documents cited by US media, Manafort will plead guilty to one count of conspiracy against the US and one count of conspiracy to obstruct justice when he makes a court appearance on Friday.
In the first trial, Manafort was accused of using 31 foreign bank accounts in three different countries to evade taxes on millions of dollars.
Prosecutors presented evidence of Manafort's luxurious lifestyle, saying it was only possible because of his bank and tax fraud.
President Trump has branded the Mueller investigation a "witch hunt" and insisted there was no collusion between his team and Russia.
US homeless fundraiser: GoFundMe campaign 'based on a lie'
The US protagonists in a viral fundraising campaign for a homeless man have been charged with theft by deception and conspiracy.
Kate McClure and Mark D'Amico raised more than $400,000 (£313,000) for homeless ex-marine Johnny Bobbitt.
But in August, Mr Bobbitt launched legal action against the couple, claiming he did not get his fair share.
Now, prosecutors in New Jersey say Mr Bobbitt was complicit in the alleged plot. All three face the same charges.
A lawyer for Mr D'Amico, 39 and Ms McClure, 28, declined to comment, according to US media.
What did the prosecutors say?
At Thursday's press conference, Burlington County Prosecutor Scott Coffina said the story "that drove this fundraiser might seem too good to be true. Unfortunately, it was".
"The entire campaign was predicated on a lie," he added.
The prosecutors believe the campaign was concocted a month before it was launched.
The campaign text had said that Mr Bobbitt had used "his last $20" to help Ms McClure when her car broke down in 2017.
Mr Bobbitt remains in custody, and the couple were released pending a court date on 24 December.
The three face potential sentences of five to 10 years for the second-degree crimes.
Skip Instagram post by johnnys__journey
View this post on Instagram

The @prestonandsteveshow was one of the best experiences I've had in my life. They couldn't of been more gracious and kind. I'll be listening to their podcasts on the road! @this_is_mark @k8_the_gr8_____

A post shared by Johnny Bobbitt Jr. (@johnnys__journey) on
Report
End of Instagram post by johnnys__journey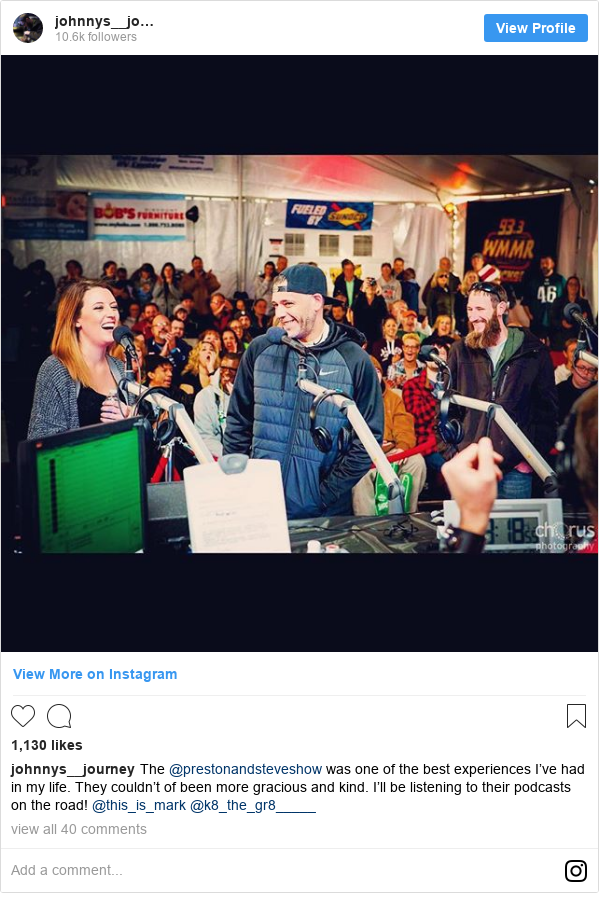 What was the original campaign?
Mr Bobbitt and the couple first came to prominence in November 2017 when Ms McClure launched a crowdfunding GoFundMe campaign, which, they said, was to re-pay the debt of a homeless man who came to her aid at the side of a road.
A photograph of Ms McClure and Mr Bobbitt, a veteran and drug addict who had lived on the streets for several years, standing on the side of the road, fronted the fundraising campaign.
More than 14,000 people donated, many inspired by the story's details, such as Mr Bobbitt instructing Ms McClure to lock her car doors before he returned with a can of petrol.
Officials said on Thursday they believe the photo was staged after the three met previously when Ms McClure and Mr D'Amico visited a casino near an underpass where Mr Bobbitt spent time.
When did things go wrong?
The relationship between the three soured in August when Mr Bobbitt brought legal action against the couple, alleging they were using the funds as their personal "piggy bank" to fund an extravagant lifestyle.
US homeless man sues couple over $400,000 fundraiser money
After exceeding their original fundraising goal of $10,000, they bought clothing and a new camper van for Mr Bobbitt, but later reportedly asked him to remove it from outside their property.
Ms McClure and Mr D'Amico told their online supporters the money would go to two financial trusts for Mr Bobbitt, as well as a lawyer and a financial adviser to help him manage all the money.
"Every dollar he ever touched was used for drugs," Mr D'Amico told NBC in a nationally televised interview in August.
Life at an open-air drug camp in Philadelphia
Investigators claimed the three originally made up the story to make people feel bad and compel donors to contribute to a cause.
What happened to the money?
Net proceeds for Ms McClure and Mr D'Amico amounted to more than $367,000 (£287,000) and were spent on a car, holidays, high-end handbags and casino gambling, Mr Coffina said.
The prosecutor said that Mr Bobbitt received about $75,000 (£58,000).
In thousands of text messages read by police, the couple had discussed financial woes, inability to pay bills and debts, and Mr D'Amico said he hoped to raise more money by pursuing a book deal about the story.
Expressing sympathy for Mr Bobbitt's homelessness, the prosecutor nonetheless accused the veteran of being "fully complicit" in the campaign, promoting it in several media appearances and appearing in the original photograph.
Mr Bobbitt posted a similar story on Facebook in 2012 about helping a woman who had run out of petrol, officials say, but that "full responsibility" should be ascribed to all three.
In a statement to CNN, a spokesman for the crowdfunding site Go Fund Me confirmed donors who contributed to the campaign would receive a refund.
By Georgina Rannard, UGC & Social News