Trump: We'll see if North Korea summit still on
Donald Trump has thrown fresh doubt over a planned US summit with North Korea next month, saying "we'll have to see".
The US President said whatever happens, he will still insist on the denuclearisation of North Korea.
Speaking at the White House at a meeting with the President of Uzbekistan, he said the US has not "heard anything" about threats to cancel the summit.
"We haven't been notified at all," Mr Trump said.
"We haven't seen anything. We haven't heard anything.
"We will see what happens."
:: North v South: A tale of two Koreas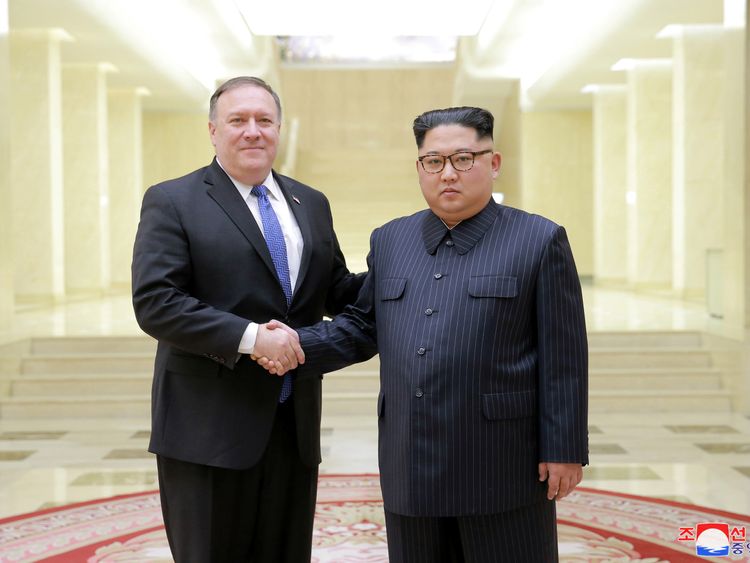 Mr Trump's security adviser John Bolton said the odds are still in favour of the summit going ahead, he told Fox News Radio.
Early on Wednesday morning North Korea threatened to pull out of the first ever summit with the US, planned for 12 June in Singapore.
The North said it has no interest in a summit based on "one-sided" demands to give up its nuclear weapons.
First vice foreign minister Kim Kye Gwan said that if the US "corners us and unilaterally demands we give up nuclear weapons we will no longer have an interest in talks and will have to reconsider whether we will accept the upcoming DPRK-US summit".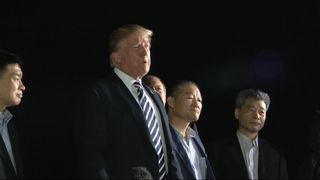 His threat came after the North scrapped high-level talks with South Korea hours before they were due to start on Wednesday, blaming the South's military drills with the US, which began on Friday.
White House press secretary Sarah Sanders said earlier on Wednesday htat preparations for the summit were ongoing despite the cancellation of the South Korean talks.
She said Mr Trumpm is "hopeful" the meeting will still take place.
"If it doesn't we'll continue the maximum pressure campaign that's been ongoing," she told Fox and Friends.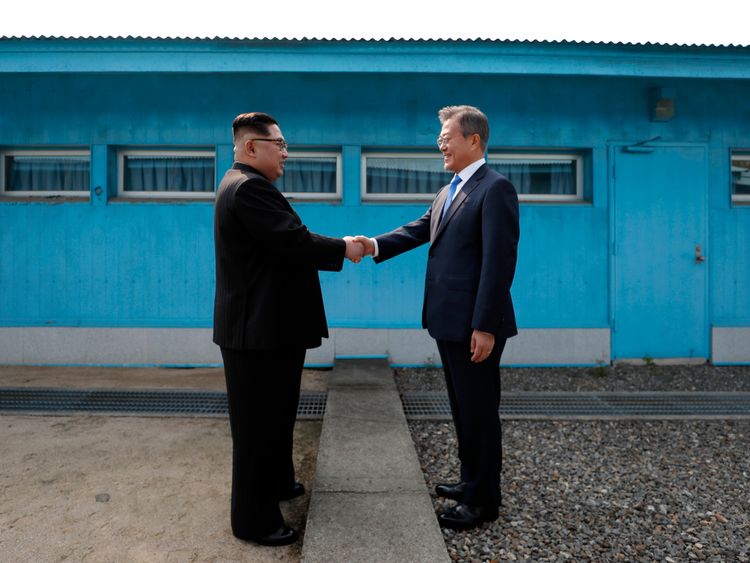 Kim Kye Gwan said the fate of the summit and relations between North Korea and the US "would be clear" if Washington spoke of a Libya-style denuclearisation for the North.
Mr Trump would also remain a "failed president" if he followed in the steps of his predecessors, the statement added.
Kim Kye Gwan appeared to be responding to recent comments from Mr Trump's security adviser John Bolton and others suggesting that North Korea should follow the "Libyan model" of nuclear disarmament.
Libya cut its nuclear programme in exchange for the easing of sanctions.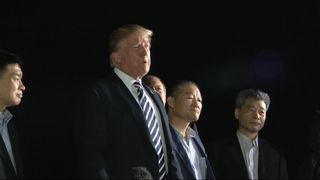 North Korea, however, sees the gruesome death of Libya's leader Muammar Gaddafi in 2011 as justification for its own nuclear development amid what it describes as US threats.
If the US-North Korea summit was to be cancelled, it would be frustrating and embarrassing for Mr Trump, who had promised to make it a "very special moment for world peace".
It will also be a blow to optimism inspired by last month's historic meeting between Mr Kim and South Korea's leader President Moon Jae-in.
At the meeting, the first between the two countries in 11 years, Mr Kim pledged a "new history".
More from World
Major eruption of Hawaii's Kilauea is 'imminent'

Theresa May calls for independent inquiry into 'tragic' Gaza deaths

Art dealer discovers unknown Rembrandt missed by Christie's

Gaza: A portrait of grief after day of deadly violence

Israeli snipers and shifting rules of engagement

Anwar Ibrahim freed from jail after pardon from new Malaysian PM Mahathir Mohamad
A joint statement said the two had confirmed their goal of achieving "a nuclear-free Korean peninsula through complete denuclearisation".
The statement did not provide any new specific ideas on how to achieve the objective, however.
Primary school tables: Poor pupils won't catch up for 50 years
As new primary school data is released, BBC analysis suggests it will take 50 years to close the achievement gap between England's rich and poor pupils.
If the pace of change remains the same as it has done since 2011, poor pupils will not catch up until 2070, it shows.
This year, 51% of the poorest pupils reached the expected level in their national end-of-primary school tests.
This compares with 70% of their better-off peers, leaving a gap of 19 percentage points
Readers can check how schools in their area have performed through the BBC's postcode search below.
Sorry, your browser does not support this tool.
Please visit the Department for Education.
English primary school tables
Compare schools in your area on the Department for Education website by entering your postcode or council in the box below
Please read our privacy notice Click to expand privacy notice.
The BBC uses the postcode you enter here to create a web link to the Department for Education website. The BBC is the data controller of the data you enter here. Please be aware that when you leave the BBC website you will be subject to the Department for Education's privacy policy. If you have any questions about how the BBC process data, please read our Privacy and Cookies Policy.
Department for Education website
If you can't see the postcode look up, click or tap here.
What's in the school league tables?
League tables are the shop window of every school, and parents often use them to help choose schools for their children.
They are based on the performance of pupils in each school in their end-of-primary national curriculum tests, known as Sats.
This year was the third time children sat the government's tougher tests, introduced in 2016.
The tables give a snapshot of how each school is performing in results and pupil progress but they also provide a huge amount of data on education at a national level.
The government has said the attainment of disadvantaged pupils is a key aim of its education policies.
The achievement gap has shrunk every year since 2011 but at a slow pace.
If this pace continues, the gap in attainment at this early age will not close until at least 2070, BBC analysis reveals.
To assess this gap, the government uses pupils' results in reading and maths tests.
These are ranked from best to worst as if they were the results of a race.
On average, poorer pupils rank worse. This difference in average ranking between poorer and better-off children is the disadvantage gap.
The current gap shows that poorer children would sit 2.9 places further back on average in a ranking of 20 poorer and 20 better-off children.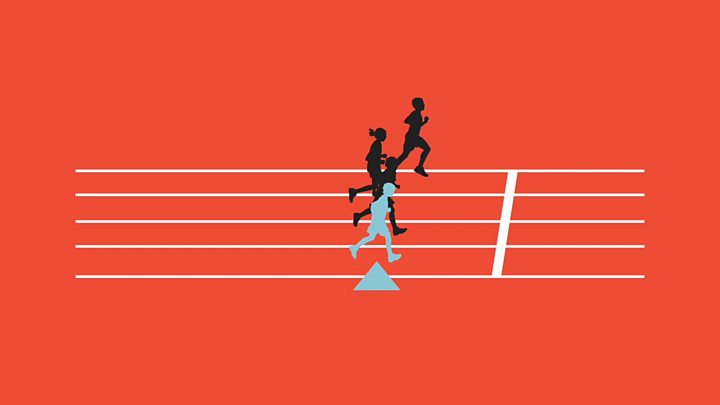 School Standards Minister Nick Gibb said: "Standards are rising in our schools, with 86% of schools now rated good or outstanding as of August 2018, compared to 68% in 2010 and these statistics show that the gap between disadvantaged pupils and their peers has closed by 13% since 2010."
In 2011, the disadvantage gap was 3.3 places, it is now 2.9 places, having closed by 13% or 0.4 places.
Mr Gibb added: "Every child, regardless of their background, deserves a high quality education and opportunity to fulfil their potential."
Children are counted as disadvantaged if they are eligible for the pupil premium, that is if they have been eligible for free school meals at any point during the past six years or have been in care continuously for at least six months.
Data published in July revealed 64% of pupils met the expected standard across all tests: reading, writing and mathematics – up from 61% the previous year.