Trump: We'll see if North Korea summit still on
Donald Trump has thrown fresh doubt over a planned US summit with North Korea next month, saying "we'll have to see".
The US President said whatever happens, he will still insist on the denuclearisation of North Korea.
Speaking at the White House at a meeting with the President of Uzbekistan, he said the US has not "heard anything" about threats to cancel the summit.
"We haven't been notified at all," Mr Trump said.
"We haven't seen anything. We haven't heard anything.
"We will see what happens."
:: North v South: A tale of two Koreas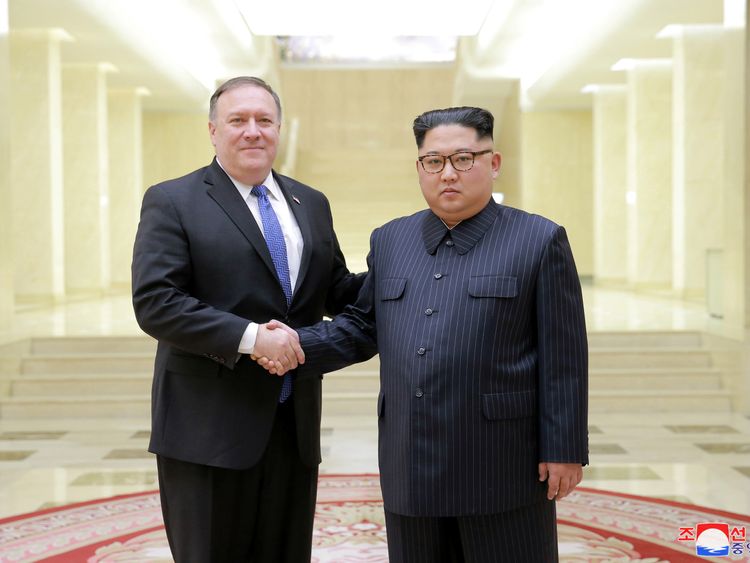 Mr Trump's security adviser John Bolton said the odds are still in favour of the summit going ahead, he told Fox News Radio.
Early on Wednesday morning North Korea threatened to pull out of the first ever summit with the US, planned for 12 June in Singapore.
The North said it has no interest in a summit based on "one-sided" demands to give up its nuclear weapons.
First vice foreign minister Kim Kye Gwan said that if the US "corners us and unilaterally demands we give up nuclear weapons we will no longer have an interest in talks and will have to reconsider whether we will accept the upcoming DPRK-US summit".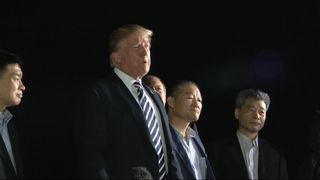 His threat came after the North scrapped high-level talks with South Korea hours before they were due to start on Wednesday, blaming the South's military drills with the US, which began on Friday.
White House press secretary Sarah Sanders said earlier on Wednesday htat preparations for the summit were ongoing despite the cancellation of the South Korean talks.
She said Mr Trumpm is "hopeful" the meeting will still take place.
"If it doesn't we'll continue the maximum pressure campaign that's been ongoing," she told Fox and Friends.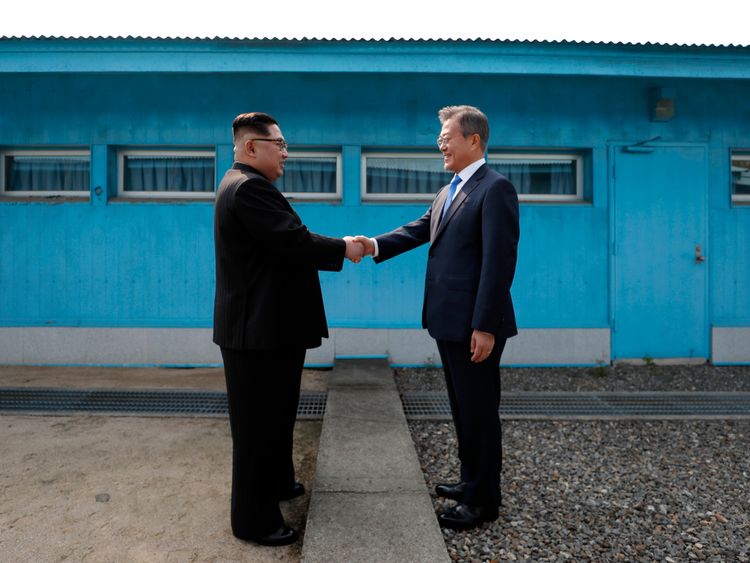 Kim Kye Gwan said the fate of the summit and relations between North Korea and the US "would be clear" if Washington spoke of a Libya-style denuclearisation for the North.
Mr Trump would also remain a "failed president" if he followed in the steps of his predecessors, the statement added.
Kim Kye Gwan appeared to be responding to recent comments from Mr Trump's security adviser John Bolton and others suggesting that North Korea should follow the "Libyan model" of nuclear disarmament.
Libya cut its nuclear programme in exchange for the easing of sanctions.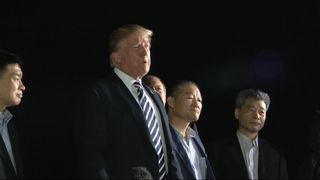 North Korea, however, sees the gruesome death of Libya's leader Muammar Gaddafi in 2011 as justification for its own nuclear development amid what it describes as US threats.
If the US-North Korea summit was to be cancelled, it would be frustrating and embarrassing for Mr Trump, who had promised to make it a "very special moment for world peace".
It will also be a blow to optimism inspired by last month's historic meeting between Mr Kim and South Korea's leader President Moon Jae-in.
At the meeting, the first between the two countries in 11 years, Mr Kim pledged a "new history".
More from World
Major eruption of Hawaii's Kilauea is 'imminent'

Theresa May calls for independent inquiry into 'tragic' Gaza deaths

Art dealer discovers unknown Rembrandt missed by Christie's

Gaza: A portrait of grief after day of deadly violence

Israeli snipers and shifting rules of engagement

Anwar Ibrahim freed from jail after pardon from new Malaysian PM Mahathir Mohamad
A joint statement said the two had confirmed their goal of achieving "a nuclear-free Korean peninsula through complete denuclearisation".
The statement did not provide any new specific ideas on how to achieve the objective, however.
Tiny & T.I.'s 'Heated' Fight After She Disses Him Over Wild Rants: Why She Won't Just 'Support' Him Blindly
Oh no! We're hearing that Tiny and T.I. got into an huge fight recently over his activism! Here's all the EXCLUSIVE details!
It turns out Tameka "Tiny" Harris, 42, and T.I., 37, got into a big blowout after Tiny revealed that unlike T.I., she didn't feel that Houston's restaurant should be shut down after an incident in which a security guard had to allegedly practically drag an African American woman out of the bathroom. There's been a lot of controversy over the unfortunate situation and many, including T.I. think race was a factor in the way the woman was treated. Tiny, however, doesn't agree and although she thinks the way the woman was allegedly physically handled wasn't right, she told TMZ she doesn't believe race was an issue since the security guard was also African American. Her reaction caused a lot of friction with T.I. and the rapper feels offended that she didn't back him or his movement to shut it down up."He was pretty heated that she'd say that to the press," a source close to T.I. and Tiny EXCLUSIVELY told HollywoodLife. "He's not telling her she can't have her own opinion but when he's out there trying to make a difference and get a movement going the last thing he needs is for his wife to be helping his enemies."
Tiny's known for speaking her mind about situations like these and although she most likely isn't doing it to spite T.I., he didn't feel too great when she didn't agree with his actions and with two big personalities such as theirs, things seemed to get pretty heated. "A lot of people were talking about how she dissed him and he took it very personally and had a lot of words for Tiny," the source continued. "Of course she had plenty to say back and it turned into an epic fight. Tip is so passionate about this cause, things can easily get intense. And Tiny is a firecracker, once she gets defensive she digs her heels in."
It definitely sounds like their arguments are just as passionate as their love for each other and although they may have had a disagreement this time, we're used to seeing them support each other whenever they get the chance if it's something they both believe in. "Tiny's usually his biggest supporter, but she's also not about to be told what to do," the source said. "She's very much her own woman and will do and say what she wants. That's one of the reasons T.I. loves her so much. It's her spark and her fire that really keeps him hooked. But it can also be explosive, like it was this week."
We'll be on the lookout to see where this situation progresses from here!