What's on? TV highlights for Thursday December 6
The final season of Fortitude is here, as is the last episode of Julia Davis' Sally4Ever, while there are documentaries about a missing Dubai princess and a priest with motor neurone disease who walks the country . . .
Pick of the Day
Fortitude, 9.00pm, Sky Atlantic & NOW TV
Here's your chance to take a final visit to Fortitude, where Hell has frozen over for a short third season.
The concluding chapter of the Arctic chiller is a four-parter, as the remaining inhabitants find their fates thrown to the freezing winds.
As Oslo despatches two new officers to attempt to make some sense of the anarchy in Fortitude, Dan Anderssen (Richard Dormer) continues his descent into madness, bringing him head to head with the grief-stricken Michael Lennox (Dennis Quaid).
If you want to binge-watch the lot, all episodes from season 3 are available on demand from today, while seasons 1 and 2 are also available on Sky Box Sets & NOW TV.
New or Returning Shows
Escape from Dubai: the Mystery of the Missing Princess, 9.00pm, BBC Two
In February 2018, the 32-year-old daughter of the ruler of Dubai boarded a boat and set sail for India with a plan to start a new life in America.
But within days her boat was stormed by Indian commandos – she was captured and presumably returned to Dubai. No one has heard from her since.
This documentary pieces together Princess Latifa's life and reveals how she had been planning the escape for more than seven years.
The Supervet at Christmas, 8.00pm, Channel 4
Among the animals in crisis at Christmas, Tatiana, a one-year-old crossbreed puppy, is brought in to see if The Supervet, Professor Noel Fitzpatrick, can do anything to correct her severely deformed front legs.
But only time will tell if she will respond to such major surgery in time to enjoy the special festive treat Angie has in store: Christmas stockings for all of the family's dogs!
Ending Tonight
Sally4Ever, 10.00pm, Sky Atlantic & NOW TV
Can't wait to see what happens to the vulnerable Sally in this final installment of Julia Davis's comedy that simply refuses to take the less embarrassing options.
The set-up sees newly married Sally and Emma bump into the one and only Sean Bean, the actor fella. Meanwhile, a case of suspected food poisoning turns into something rather unexpected.
New Girl, 9.30pm, E4
In the last-ever episode of the long-running sitcom starring the hugely annoying Zooey Deschanel, the gang get ready to say an emotional farewell to the loft apartment, and take a tour down memory lane with a look back at their time together that includes a final round of True American.
A Hotel for the Super Rich and Famous, 8.00pm, BBC One
As this look at the opulent Corinthia Hotel in London concludes, its restaurant isn't doing well and needs a big-name chef to compete with its rivals.
Tom Kerridge, the British chef most famous for his two Michelin-starred restaurants in Marlow, 28 miles outside of London, takes on the job, which will mark his first restaurant in London.
Random Acts, 12.00am, Channel 4
Mae Martin hosts late-night short films featuring what's been described as 'brilliant, beautiful, bewildering, dirty, dangerous and disruptive art' from musicians, writers, animators, artists and other random creative types.
In this episode, Lily Cole and Lily McMenamy are the super cast in a model utopia, there's a top five list of some of the strangest animated creations, and the series finishes with the end of the world.
Don't Miss
Walking the Walk, 10.15pm, RTÉ One
In March 2018, Fr Tony Coote, a charismatic Dublin priest, was diagnosed with Motor Neurone Disease. He immediately decided to walk the length of Ireland, to raise awareness and funds for sufferers.
This documentary follows his inspirational journey, as he comes to terms with the condition's dramatic impact and leads a growing army of supporters 550km from Letterkenny to Ballydehob.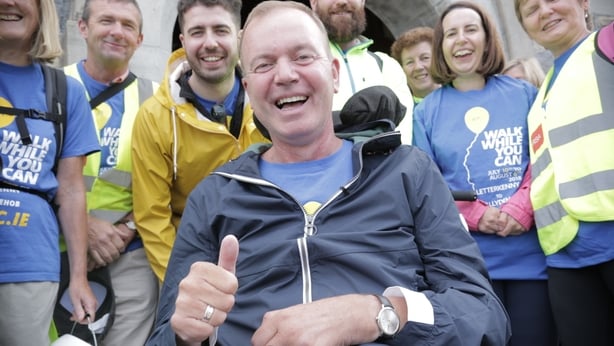 Click here for full TV listings
Sandra Bullock wants more complex mothers in movies
Sandra Bullock – who plays a reluctant mother in dystopian horror Bird Box – reckons unconventional female roles needed to become more common.
In the film, Bullock fights an unseen monster which has decimated the world's population. Whoever sees it is driven to kill themselves, and those that survive use blindfolds when they go outside.
Bird Box charts Malorie (Bullock) as she leads her two children down a treacherous river path blindfolded to a place she hopes will keep them safe.
The actress said the complexities of motherhood had not yet been properly examined by the film industry, and that she hoped the Susanne Bier-directed film could go some way to correcting this.
She told the Press Association: "Something that I knew, I didn't necessarily learn it, the way motherhood has been represented on film needed to not just change, it needed to expand because the complexities of being a mum, I don't think, have not been fully represented cinematically.
"And Malorie is someone who is not a natural parent, or at least you think so. This is not someone who has a natural inclination to be mum, not the desire, the drive, or the want.
"And you go, 'This is not a good representation of a mother'. But you go, 'Is it really not?' Because she fights. She is using everything she knows and understands to save these little creatures' lives. Her fear is driving her.
"I learned that we need to start showing women in a more complex fashion when it comes to motherhood, the same we need to show men in a more complex fashion when it comes to those who are incredibly maternal and who are very demonstrative and loving and hopeful with their kids.
"It's happening all over the world but we are just not seeing enough of it on film."
Bullock, who has two adopted children, added that she had struggled with the film's portrayal of motherhood, which had left her feeling "hopeless".
She added that playing an apparently uncaring mother had made her feel uncomfortable but it had been important to shatter the "fairytale" idea that all women are natural mothers.
The 54-year-old said: "What was odd was that it was more uncomfortable for me to play Malorie in her flashbacks, when she is pregnant, when she is sort of disconnected from the idea of being a mum. I felt hopeless. I felt weak in a way.
"We have got to stop thinking about this idea, which comes from a very fairytale makeup, of what a family looks like, what a partnership looks like, what a mother looks like, what a father looks like.
"That's what I loved so much about this [film]. It was just people being there for each other, loving each other at the worst of times. You know, where they came from, what they look like or what their past was had no bearing on their current situation."
Bird Box will become available on Netflix on December 21.