Why Kylie Jenner Would 'Absolutely Love' To Have Another Baby With Travis Scott
Sounds like the KarJenner clan isn't done growing! Kylie may have just given birth to Stormi eight months ago, but a source tells us she's already excited to get started on a second.
Does this mean Stormi Webster might be getting a sibling soon? The eight-month-old is too cute for words, and rumor has it her parents Kylie Jenner, 21, and Travis Scott, 26, are ready for a second. "Kylie would absolutely love to have another baby with Travis, but she wouldn't be terribly disappointed if it doesn't happen sometime soon," a source close to the couple told Hollywoodlife.com EXCLUSIVELY. "Kylie definitely wants to have more children at some point and she's having a lot of fun practicing with Travis in the meantime. However, she realizes a baby will come when the time is right and knows that whatever is meant to be, will be." Sounds like the right attitude!
Basically, Kylie isn't stressing. Instead, the insider added that she's "enjoying every second being a new mom to Stormi. Kylie loves the fact that she comes from a big family and how close she is with all of her sisters. She really wants to give Stormi that same experience and would love to give her a little brother or sister." This scoop comes just a couple of days after the makeup mogul admitted in a YouTube collab with James Charles, 19, that she wanted to have seven girls. That's right! It's a big fam or bust, for Kylie and Travis — but she wants all little ladies first. "I want like seven girls, then maybe I'll consider a boy," she admitted.
It's so sweet to see these two planning for their future — and it sure sounds like a fun one! Judging by their sweet social media posts with their daughter over the last eight months, they love being her mom and dad. Here's to hoping round two comes sooner rather than later!
Primary school tables: Poor pupils won't catch up for 50 years
As new primary school data is released, BBC analysis suggests it will take 50 years to close the achievement gap between England's rich and poor pupils.
If the pace of change remains the same as it has done since 2011, poor pupils will not catch up until 2070, it shows.
This year, 51% of the poorest pupils reached the expected level in their national end-of-primary school tests.
This compares with 70% of their better-off peers, leaving a gap of 19 percentage points
Readers can check how schools in their area have performed through the BBC's postcode search below.
Sorry, your browser does not support this tool.
Please visit the Department for Education.
English primary school tables
Compare schools in your area on the Department for Education website by entering your postcode or council in the box below
Please read our privacy notice Click to expand privacy notice.
The BBC uses the postcode you enter here to create a web link to the Department for Education website. The BBC is the data controller of the data you enter here. Please be aware that when you leave the BBC website you will be subject to the Department for Education's privacy policy. If you have any questions about how the BBC process data, please read our Privacy and Cookies Policy.
Department for Education website
If you can't see the postcode look up, click or tap here.
What's in the school league tables?
League tables are the shop window of every school, and parents often use them to help choose schools for their children.
They are based on the performance of pupils in each school in their end-of-primary national curriculum tests, known as Sats.
This year was the third time children sat the government's tougher tests, introduced in 2016.
The tables give a snapshot of how each school is performing in results and pupil progress but they also provide a huge amount of data on education at a national level.
The government has said the attainment of disadvantaged pupils is a key aim of its education policies.
The achievement gap has shrunk every year since 2011 but at a slow pace.
If this pace continues, the gap in attainment at this early age will not close until at least 2070, BBC analysis reveals.
To assess this gap, the government uses pupils' results in reading and maths tests.
These are ranked from best to worst as if they were the results of a race.
On average, poorer pupils rank worse. This difference in average ranking between poorer and better-off children is the disadvantage gap.
The current gap shows that poorer children would sit 2.9 places further back on average in a ranking of 20 poorer and 20 better-off children.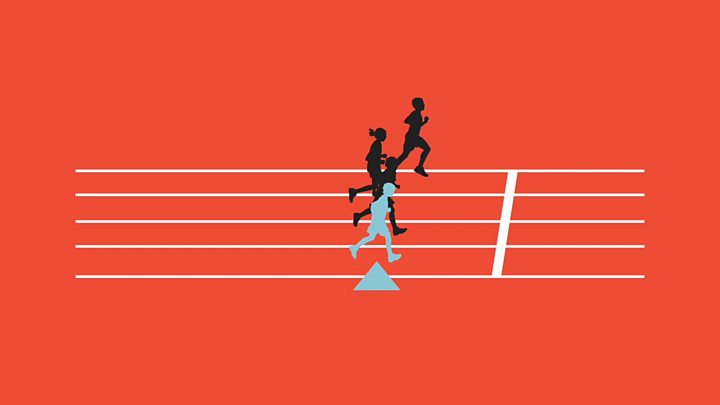 School Standards Minister Nick Gibb said: "Standards are rising in our schools, with 86% of schools now rated good or outstanding as of August 2018, compared to 68% in 2010 and these statistics show that the gap between disadvantaged pupils and their peers has closed by 13% since 2010."
In 2011, the disadvantage gap was 3.3 places, it is now 2.9 places, having closed by 13% or 0.4 places.
Mr Gibb added: "Every child, regardless of their background, deserves a high quality education and opportunity to fulfil their potential."
Children are counted as disadvantaged if they are eligible for the pupil premium, that is if they have been eligible for free school meals at any point during the past six years or have been in care continuously for at least six months.
Data published in July revealed 64% of pupils met the expected standard across all tests: reading, writing and mathematics – up from 61% the previous year.