Why Uber is appealing against drivers' rights
By Alexander J Martin, technology reporter
Uber drivers went on strike for 24 hours on Tuesday complaining that, two years after a court ruling granting them statutory workers' rights, the company has still not implemented them.
Although not all of the ride-hailing company's drivers went on strike, members and supporters of the Independent Workers Union of Great Britain (IWGB) were not using the app over the strike period.
Declaring that "the app is the picket line" and urging passengers to shun the company over the same period, the drivers gathered outside the company's offices to demand fairer pay and treatment in line with the 2016 ruling.
Uber has not had to implement the ruling because it is currently in the process of appealing – although another hearing is due to take place at the end of this month.
The case has been brought by IWGB members James Farrar and Yaseen Aslam. Both of them are Uber drivers, and they are being represented by Jason Galbraith-Marten QC and Sheryn Omeri of Cloisters Chambers.
Tom Gillie, another barrister at Cloisters Chambers but one who is not active in the case, told Sky News: "Uber will argue… that the employment tribunal ought to have found in 2016 that Uber London Limited (the holder of the private hire vehicle operator's licence for Uber in London) acts as nothing more than a booking agent for the drivers, that is that Uber London Limited works for the drivers.
"The drivers' case is that this is a complete distortion of the reality in which Uber is clearly the entity selling the rides provided by drivers and controls the drivers in a variety of ways."
These include "interviewing and recruiting drivers, excluding them from accessing passenger information [and] requiring drivers to accept jobs whenever they are logged on to the Uber app".
Uber also sets the "default route for each journey, fixing the fare paid by the passenger and subjecting drivers to a performance management system through its five-star rating system", said Mr Gillie.
He explained: "These and other facts demonstrate that in every sense, the drivers are working for Uber and are therefore entitled to basic employment protections such as minimum wage and holiday pay."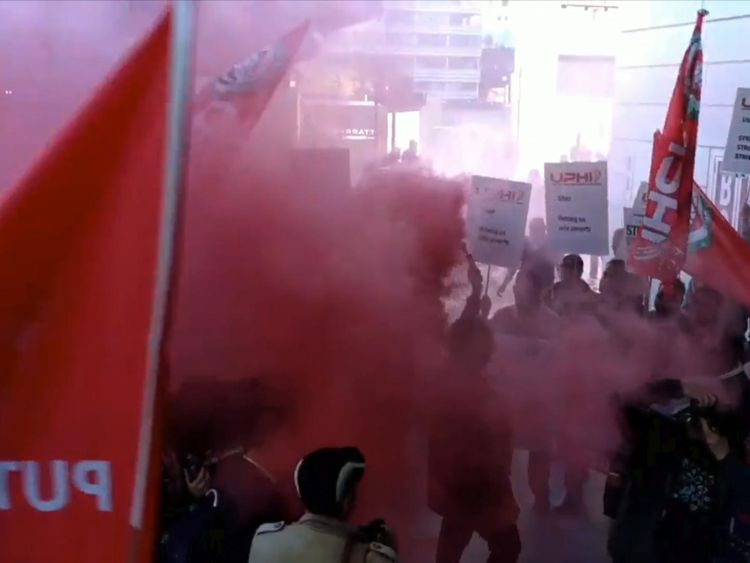 Explaining the company's position, an Uber representative claimed that almost all taxi and private hire drivers have been classed as self-employed for decades.
They claimed that, with Uber, drivers have more control than in any other private hire operator and many other forms of independent work.
Uber argued that the main reason drivers use Uber is because they value the freedom to choose if, when, and where they drive.
The company cited a survey by academics at the University of Oxford which suggested 81% of drivers preferred to remain independent contractors rather than employees, although this was not the standard set by the court ruling.
In a statement, the company said: "Over the last few months we've introduced dozens of new features, including sickness, injury, maternity and paternity protections.
"We continue to look at ways to help drivers increase their earnings and our door is always open if anyone wants to speak to us about any issues they're having."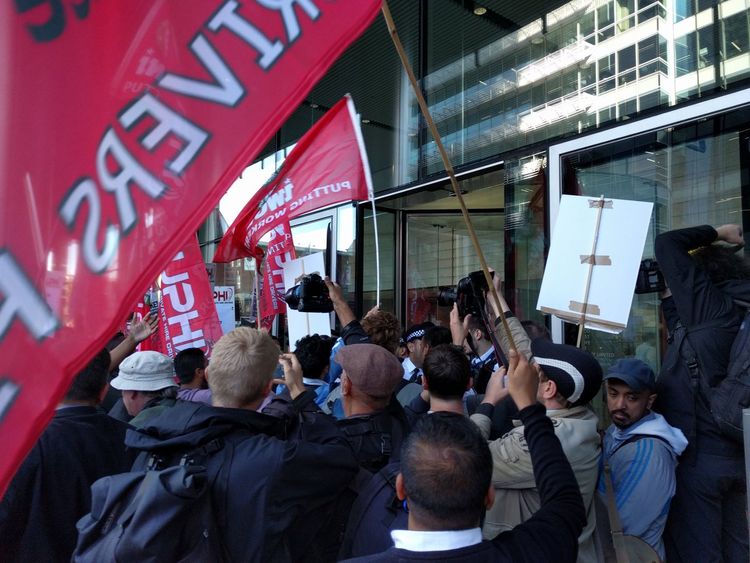 Speaking during the demonstration outside Uber's London offices, Mr Farrar told Sky News that Uber was only paying heed to complaints ahead of an initial public offering (IPO) next year.
He said: "Uber has done just about enough, or what it thinks is just about enough, to keep the investors happy while it heads for an IPO next year.
"The trouble with these so-called benefits is that they're fleeting and they can be taken away or they can be given to some people and not to others, and we really don't have any say.
More from Uber
Uber drivers stage 24 hour strike over employee rights

Uber drivers set to go on strike across UK today

Uber to focus on bikes and scooters over cars for short trips

London mayor Sadiq Khan seeks powers to cap Uber driver numbers in capital

Uber shuts down self-driving trucks division to focus on autonomous cars

Uber driver 'live streamed passengers kissing and being sick'
"What we want is our statutory rights, not just some fiddling around the edges. We want Uber to obey the law, give us our statutory rights, to be paid fairly and to have holiday pay.
"If they want to give extra benefits on top of that, that's fantastic, but they can't offer these marginal benefits in lieu of proper worker rights and obeying the law."
Where to find self-driving cars on the road right now
Self-driving BMW 5 series vehicles.
Aptiv
Headlines abound about self-driving cars, but there's a big difference between reading about them and seeing one, replete with all its sensors, on the street. Or, for that matter, taking a ride in one. While you may have heard about companies such as Uber working on autonomous vehicles, plenty of other outfits are making progress and running their cars in states like California, Michigan, and Pennsylvania. Here's an evolving round-up of what's going on with self-driving cars on public roads, from Aptiv to Waymo.
Aptiv
Las Vegas, Boston, Pittsburgh, Singapore
The name "Aptiv" might not ring a bell, but if you visit Las Vegas, you could ride in one of their autonomous vehicles after hailing a Lyft. They first began offering rides in their cars during the Consumer Electronics Show in January, 2018, and the program has grown from there. The company currently has 30 autonomous cars on the roads in Sin City; they cruise around 20 hours a day, seven days a week. Aptiv says they've completed more than 25,000 trips and hauled around more than 50,000 passengers, and while the vehicles are autonomous, a real human sits behind the wheel and in the passenger seat, too. Aptiv—which purchased self-driving car company nuTonomy last year—also tests their cars in Boston, Pittsburgh, and Singapore.
Aurora
Palo Alto, San Francisco, and Pittsburgh
Like Aptiv, Aurora may not be a familiar name, but the company is developing its own self-driving technology while working with Volkswagen, Hyundai, and Byton. Their self-driving VW e-Golfs and Lincoln MKZs are on the streets of Palo Alto, San Francisco, and Pittsburgh—with two vehicle operators on board, too.
Cruise
San Francisco; Scottsdale, Arizona and Orion, Michigan
General Motors has owned autonomous car company Cruise since 2016, and their gen-three autonomous Chevy Bolts are the roads of San Francisco, Scottsdale, Arizona, and Orion, Michigan. (The Bolt is Chevy's all-electric vehicle, and not to be confused with their hybrid Volt, which they recently put out to the asphalt pasture.) These self-driving Bolts have safety drivers behind the wheel, and in San Francisco, they're part of an internal ridesharing program, called Cruise Anywhere, for over a 1,000 employees who can use hail one to catch a ride. Cruise and General Motors have also made a splash by revealing their generation-four concept vehicle, a Bolt that has no steering wheel or pedals.
A self-driving van in Texas.
Drive.ai
Drive.ai
Frisco and Arlington, Texas
Like Aptiv and Aurora, the name Drive.ai may not be familiar, but they're already offering a self-driving service in two places in Texas: Frisco and Arlington. Both of those towns are in the Dallas, Fort Worth area, and both services use self-driving vans and safety drivers to shuttle people around in a specific, geofenced region. The service in Arlington is the more public of the two—so if you're visiting Arlington, you could summon a self-driving van, for free, via an app or through a kiosk. The vans even have signs on them to let pedestrians know what they're doing.
A Ford Fusion Hybrid.
Ford
Ford
Dearborn, Miami, and Pittsburgh
Ford is working with a company called Argo AI for its self-driving cars. The company has autonomous vehicles on the road in Dearborn, Michigan, and Miami and Pittsburgh; they also plan to expand into Washington, DC in 2019. Those cars also have two safety personnel on board—one behind the wheel, and one in the passenger seat.
The automaker has also been working with Dominos, Postmates, and Walmart to explore the intersection of self-driving cars and business deliveries; interestingly, those cars are designed to look like self-driving cars, but actually are just regular ol' vehicles with humans driving them. These fake self-driving tests are so the company can learn about logistics and human-car interactions at the pick-up and drop-off points.
Finally, it has been eying a 2021 launch in Miami and Washington, DC, for an autonomous commercial service that would carry people and goods.
Uber
Planning to return to Pittsburgh
Uber, through its internal Advanced Technologies Group, was ploughing ahead on self-driving cars—and then one of their vehicles hit, and killed, a pedestrian in Tempe, Arizona. While they yanked their autonomous cars off the road after that tragedy, they're planning to bring them back, but with a much smaller scope, as The New York Times wrote in early December in an article that also reports that Uber's "autonomous car technology has faced considerable issues." When—and if—they return to testing in Pittsburgh, their testing area will take place on an approximately mile-long loop, with two people in the car, and they won't run them at night, over 25 miles per hour, or in bad weather. An Uber spokesperson also said, via email: "While we are working to get back on public roads, we would never compromise on safety in order to get there. As we have said many times before, our return is predicated on successfully passing our rigorous track tests and having our letter of authorization from the Pennsylvania Department of Transportation in hand."
A self-driving shuttle in Ohio.
Smart Columbus
Waymo
Chandler, Mesa, Tempe, and Gilbert, Arizona
Waymo began as an internal self-driving project from Google, and is now an Alphabet-owned company in its own right. They recently launched an autonomous taxi service in four cities in the Phoenix, Arizona area, which is only open to hundreds of people, according to the company; those people can use an app to summon a self-driving Chrysler Pacifica (which has two Waymo-employed humans up front) and then go somewhere in it, like Uber or Lyft.
Waymo One is an evolution of testing the company had already been doing in the Phoenix area, called the Waymo early rider program. A leader in the autonomous car space, Waymo has racked up more than 10 million miles of running autonomous cars on public roads, and billions of simulated miles, too.
Finally, others continue to work in the autonomous car industry, from the little to big. A self-driving shuttle began operations on December 10 on a small loop in Columbus, Ohio, for example. And of course, Tesla produces a semi-autonomous feature for its vehicles, called Autopilot, to assist drivers and even suggest making a lane change.
This article will be updated as news develops.