Windrush: Man left 'broken' after immigration detention
A member of the Windrush generation says he was left "broken" after being wrongly detained in an immigration centre because he was unable to prove he had a right to live in the UK.
Anthony Bryan, 60, came from Jamaica in 1965 but last year was threatened with deportation by the Home Office.
He spoke to MPs and peers along with Paulette Wilson, who found herself in a similar situation.
They each said papers they had were not accepted by officials.
Mr Bryan, a grandfather from north London, was held in a detention centre twice, for almost three weeks last year.
His difficulties began when he lost his job after receiving a letter informing him he had no right to remain, despite having lived in the UK since he was eight.
Mr Bryan told a parliamentary committee how he had phoned his family from the detention centre to tell them: "It looks like you're going to see me in Jamaica."
He continued: "They had tickets for me – I thought I was going, to be honest."
"I was resigned because I couldn't fight any more. I just gave up," he told the Joint Committee on Human Rights.
He said he explained to the officials who came to detain him at his home that he had lived in the UK for most of his life, adding: "But to them I was lying… everything I was telling them, I had to prove that".
Sixty-three Windrush migrants 'removed'
New home secretary in Windrush vow
Who are the Windrush generation?
Mr Bryan was released from the immigration centre in November after a last-minute intervention from a lawyer.
Labour peer Baroness Lawrence asked Mr Bryan if he thought things would have been different if he had been from Canada, New Zealand or Australia, to which he replied: "I hate to say it, but I don't think I would have this problem".
When she asked him if he saw "race as being a big part" in what happened, he said: "In the Home Office? Yes."
'Don't belong here'
Stories of Commonwealth migrants who arrived in the UK legally as children between the late 1940s and 1973, but have no formal documentation to prove they have the right to remain in the country, have emerged in recent weeks.
The Windrush generation is named after the ship that brought the first arrivals to Britain from the Caribbean in 1948.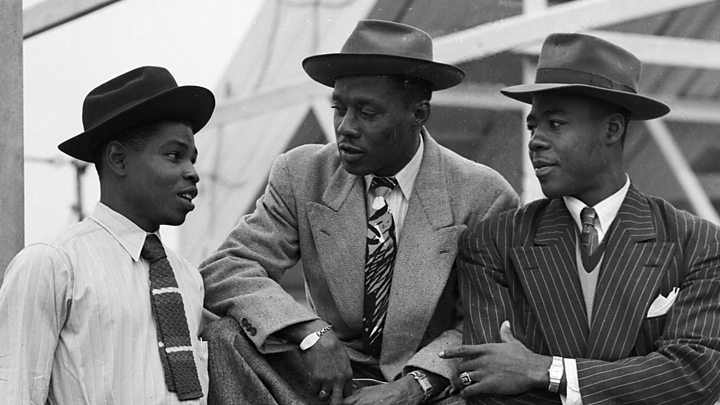 Grandmother Ms Wilson, 61, from Wolverhampton, gave evidence to the MPs and peers on the committee alongside her daughter, Natalie Barnes.
She said that without the efforts of her daughter "I would be in Jamaica, all alone."
She described hw she had been looked after by her grandparents in Wellington, Telford, when she first arrived in Britain from Jamaica in 1968 at the age of 10.
She received a letter from the Home Office in 2015 and was told to report each month to immigration officials. In October last year she was detained and taken to the Yarl's Wood immigration removal centre, where she spent a week before being released.
Ms Wilson said: "The first thing I got was a letter saying I was an illegal immigrant. At the time I didn't understand it but it took me about a week before I could show my daughter I had got this letter.
"They were saying I don't belong here – I've got six months to get out."
Referring to the decision to detain her, Ms Wilson told the committee: "Where could I have run to? My family is here in England. I wouldn't have run away."
"I was thinking they were going to pick me up here and put me on the plane and probably when I get there people's going to kill me. I was thinking all sorts of things in my head."
Ms Barnes said "documents were very hard to come by, They kept telling us to go here, there and everywhere… it was just very hard to get that evidence".
Committee chairwoman Harriet Harman said she would write to Home Secretary Sajid Javid to get the Home Office to give Mr Bryan and Ms Wilson their files so they could see the information that officials had about them.
Woman resident in UK since 1968 freed
The home secretary said this week that 63 members of the Windrush generation could have been wrongfully removed or deported from the UK since 2002.
But Mr Javid, who took over the post last month after Amber Rudd resigned, told MPs he did not have information on how many Windrush immigrants had been detained.
Storm Ali: Clean-up begins after severe winds lash UK
A huge clean-up operation is under way after Storm Ali battered parts of the UK with winds of up to 100mph.
Two people died, thousands of homes were without power and lorries overturned during the severe winds.
In Scotland, efforts are continuing through the night to clear railway lines and in Northern Ireland engineers are working to restore energy supplies.
A yellow warning for wind for parts of England and Wales is in force from 18:00 BST on Thursday.
The Met Office said gusts of up to 65mph were possible in some places, as strong winds were likely to develop cross parts of Wales and south west England during Thursday evening.
A yellow warning for rain is in place until 22:00 for northern England and Wales.
Ali is the UK's first named storm of the season.
Ali, Idris, Lily: Why do storms have names?
A history of UK named storms
Scotland cleans up after storm
Train operators including ScotRail, LNER and Virgin Trains have warned of possible disruption on Thursday morning in the aftermath of Storm Ali.
Virgin Trains said delays, alterations and cancellations on services from Edinburgh and Glasgow to London Euston were expected because of damage to overhead lines.
LNER said "multiple trees" had been blown onto the railway, resulting in disruption for trains travelling in north east England and into Scotland.
NIE Networks in Northern Ireland said its engineers were working through the night to restore energy supplies.
On Wednesday, a woman died after the caravan she was in was blown off a cliff in the Irish Republic.
It is understood the woman who was killed in County Galway was a tourist in her 50s who had been staying at a campsite in Claddaghduff.
A man in his 20s was killed and another in his 40s was injured, after a tree fell on them at the gates of Slieve Gullion Forest Park, near Newry, County Armagh.
The men were working on behalf of Northern Ireland Water.
One person was injured after being blown over by high winds outside the new V&A Dundee museum, which was later closed.
Five hundred cruise passengers and crew were stranded in Greenock after severe weather broke their ship's mooring lines. Tugs were called in to assist the Nautica.
A 102mph gust was recorded on the Tay Road Bridge between Dundee and Fife at 15:00.
Have you been affected by Storm Ali? Share your pictures, video and experiences by emailing haveyoursay@bbc.co.uk.
Please include a contact number if you are willing to speak to a BBC journalist. You can also contact us in the following ways:
WhatsApp: +447555 173285
Tweet: @BBC_HaveYourSay
Send pictures/video to yourpics@bbc.co.uk
Upload your pictures/video here
Send an SMS or MMS to 61124 or +44 7624 800 100
Please read our terms and conditions and privacy policy
Or use the form below
Your contact details Name (optional) Your E-mail address (required) Town & Country (optional) Your telephone number (optional) Comments (required)
If you are happy to be contacted by a BBC journalist please leave a telephone number that we can contact you on. In some cases a selection of your comments will be published, displaying your name as you provide it and location, unless you state otherwise. Your contact details will never be published. When sending us pictures, video or eyewitness accounts at no time should you endanger yourself or others, take any unnecessary risks or infringe any laws. Please ensure you have read the terms and conditions.
Terms and conditions
The BBC's Privacy Policy