Windrush: Man left 'broken' after immigration detention
A member of the Windrush generation says he was left "broken" after being wrongly detained in an immigration centre because he was unable to prove he had a right to live in the UK.
Anthony Bryan, 60, came from Jamaica in 1965 but last year was threatened with deportation by the Home Office.
He spoke to MPs and peers along with Paulette Wilson, who found herself in a similar situation.
They each said papers they had were not accepted by officials.
Mr Bryan, a grandfather from north London, was held in a detention centre twice, for almost three weeks last year.
His difficulties began when he lost his job after receiving a letter informing him he had no right to remain, despite having lived in the UK since he was eight.
Mr Bryan told a parliamentary committee how he had phoned his family from the detention centre to tell them: "It looks like you're going to see me in Jamaica."
He continued: "They had tickets for me – I thought I was going, to be honest."
"I was resigned because I couldn't fight any more. I just gave up," he told the Joint Committee on Human Rights.
He said he explained to the officials who came to detain him at his home that he had lived in the UK for most of his life, adding: "But to them I was lying… everything I was telling them, I had to prove that".
Sixty-three Windrush migrants 'removed'
New home secretary in Windrush vow
Who are the Windrush generation?
Mr Bryan was released from the immigration centre in November after a last-minute intervention from a lawyer.
Labour peer Baroness Lawrence asked Mr Bryan if he thought things would have been different if he had been from Canada, New Zealand or Australia, to which he replied: "I hate to say it, but I don't think I would have this problem".
When she asked him if he saw "race as being a big part" in what happened, he said: "In the Home Office? Yes."
'Don't belong here'
Stories of Commonwealth migrants who arrived in the UK legally as children between the late 1940s and 1973, but have no formal documentation to prove they have the right to remain in the country, have emerged in recent weeks.
The Windrush generation is named after the ship that brought the first arrivals to Britain from the Caribbean in 1948.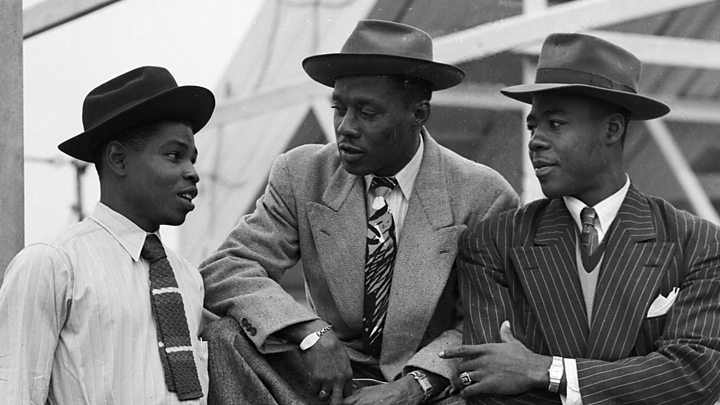 Grandmother Ms Wilson, 61, from Wolverhampton, gave evidence to the MPs and peers on the committee alongside her daughter, Natalie Barnes.
She said that without the efforts of her daughter "I would be in Jamaica, all alone."
She described hw she had been looked after by her grandparents in Wellington, Telford, when she first arrived in Britain from Jamaica in 1968 at the age of 10.
She received a letter from the Home Office in 2015 and was told to report each month to immigration officials. In October last year she was detained and taken to the Yarl's Wood immigration removal centre, where she spent a week before being released.
Ms Wilson said: "The first thing I got was a letter saying I was an illegal immigrant. At the time I didn't understand it but it took me about a week before I could show my daughter I had got this letter.
"They were saying I don't belong here – I've got six months to get out."
Referring to the decision to detain her, Ms Wilson told the committee: "Where could I have run to? My family is here in England. I wouldn't have run away."
"I was thinking they were going to pick me up here and put me on the plane and probably when I get there people's going to kill me. I was thinking all sorts of things in my head."
Ms Barnes said "documents were very hard to come by, They kept telling us to go here, there and everywhere… it was just very hard to get that evidence".
Committee chairwoman Harriet Harman said she would write to Home Secretary Sajid Javid to get the Home Office to give Mr Bryan and Ms Wilson their files so they could see the information that officials had about them.
Woman resident in UK since 1968 freed
The home secretary said this week that 63 members of the Windrush generation could have been wrongfully removed or deported from the UK since 2002.
But Mr Javid, who took over the post last month after Amber Rudd resigned, told MPs he did not have information on how many Windrush immigrants had been detained.
Tiny & T.I.'s 'Heated' Fight After She Disses Him Over Wild Rants: Why She Won't Just 'Support' Him Blindly
Oh no! We're hearing that Tiny and T.I. got into an huge fight recently over his activism! Here's all the EXCLUSIVE details!
It turns out Tameka "Tiny" Harris, 42, and T.I., 37, got into a big blowout after Tiny revealed that unlike T.I., she didn't feel that Houston's restaurant should be shut down after an incident in which a security guard had to allegedly practically drag an African American woman out of the bathroom. There's been a lot of controversy over the unfortunate situation and many, including T.I. think race was a factor in the way the woman was treated. Tiny, however, doesn't agree and although she thinks the way the woman was allegedly physically handled wasn't right, she told TMZ she doesn't believe race was an issue since the security guard was also African American. Her reaction caused a lot of friction with T.I. and the rapper feels offended that she didn't back him or his movement to shut it down up."He was pretty heated that she'd say that to the press," a source close to T.I. and Tiny EXCLUSIVELY told HollywoodLife. "He's not telling her she can't have her own opinion but when he's out there trying to make a difference and get a movement going the last thing he needs is for his wife to be helping his enemies."
Tiny's known for speaking her mind about situations like these and although she most likely isn't doing it to spite T.I., he didn't feel too great when she didn't agree with his actions and with two big personalities such as theirs, things seemed to get pretty heated. "A lot of people were talking about how she dissed him and he took it very personally and had a lot of words for Tiny," the source continued. "Of course she had plenty to say back and it turned into an epic fight. Tip is so passionate about this cause, things can easily get intense. And Tiny is a firecracker, once she gets defensive she digs her heels in."
It definitely sounds like their arguments are just as passionate as their love for each other and although they may have had a disagreement this time, we're used to seeing them support each other whenever they get the chance if it's something they both believe in. "Tiny's usually his biggest supporter, but she's also not about to be told what to do," the source said. "She's very much her own woman and will do and say what she wants. That's one of the reasons T.I. loves her so much. It's her spark and her fire that really keeps him hooked. But it can also be explosive, like it was this week."
We'll be on the lookout to see where this situation progresses from here!