Zuckerberg agrees to face EU Parliament
By Alexander J Martin, Technology Reporter
Mark Zuckerberg will appear before the EU Parliament in person to answer questions about Facebook's use of data.
The hearing will "hopefully" take place as early as next week, according to Antonio Tajani, the president of the European Parliament.
Members of the European Parliament are set to grill Facebook's chief executive regarding the improper use of 87 million users' data by Cambridge Analytica.
"The founder and CEO of Facebook has accepted our invitation and will be in Brussels as soon as possible, hopefully already next week," said Mr Tajani.
Mr Zuckerberg would meet party leaders as well as members of the EU Parliament's civil liberties committee as part of his evidence session.
:: What does Facebook do with my data – and how do I stop it?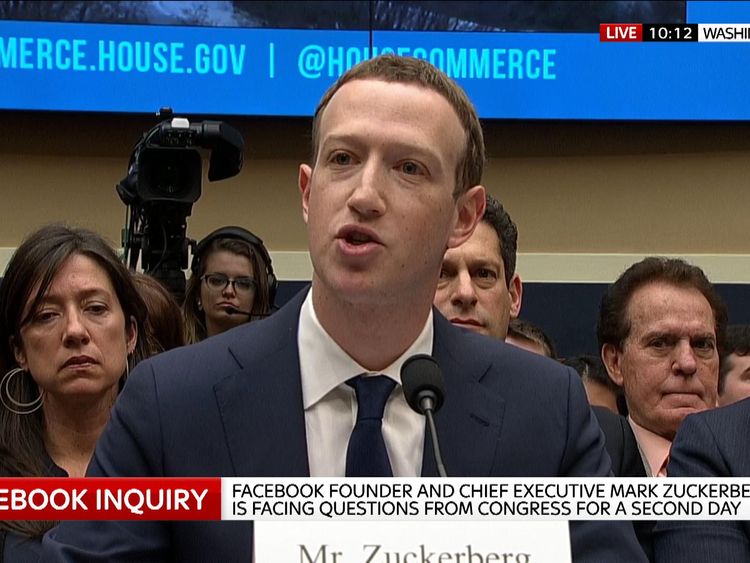 Facebook told the EU that 2.7 million people in the bloc could have been affected by the data-sharing scandal involving Cambridge Analytica.
Although the scandal-hit Cambridge Analytica has since collapsed, regulators say they are continuing their investigation into the how the company harvested data from millions of Facebook users.
More than a million of these victims are believed to be in the UK, but Mr Zuckerberg has so far refused to appear before British MPs.
Both he and Facebook have been consistently criticised by the the digital, culture, media, and sport committee for submitting "insufficient" evidence to an inquiry considering how the company handles British citizens' data.
Committee chair Damian Collins was in session when the announcement broke and was not immediately available for comment.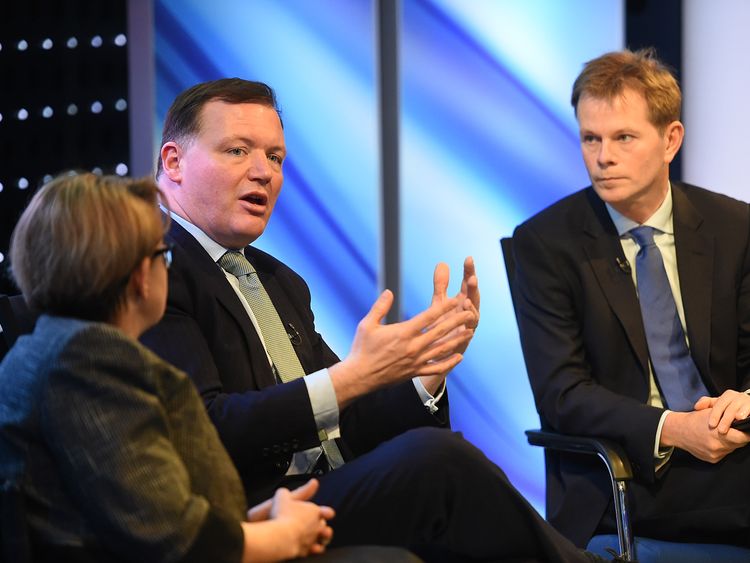 Mr Zuckerberg is likely meet EU politicians in the same week as he attends a summit in France with President Emmanuel Macron.
President Macron's office has declared that he will meet Facebook's chief executive alongside more than a dozen others from leading technology firms at a summit in Paris designed to drive investment.
France's premiere has also signalled his intention to push for an EU-wide tax on digital turnover and has called for tougher laws to tackle fake news.
More from Facebook
Facebook takes down 583m fake accounts

Facebook criticised by MPs for 'insufficient evidence' over data handling

Cambridge Analytica inquiry to continue after collapse

Facebook takes on Tinder with new dating service for 'real, long-term relationships'

MPs warn Zuckerberg of 'formal summons' to appear before Parliament

Facebook to require authorisation and labels for political adverts
"There will be tough discussions," an official in President Macron's office told Reuters, adding that the pair would have a one-to-one meeting allowing the topic to be broached in a "very frank" manner.
More follows…
A delivery robot burst into flames on Berkeley university campus, and students held a candlelit vigil
A Kiwi delivery robot burst into flames while wheeling through campus at the University of California, Berkeley.
The blaze was extinguished by a local, while the fire department made sure there was no risk of re-ignition.
Startup Kiwi said the fire was caused by a faulty battery and it pulled all of its robots from service to investigate.
Students were said to be saddened by the robot's demise and held a candlelit vigil.
A delivery robot burst into flames at the University of California, Berkeley, and students were said to be so devastated, they held a candlelit vigil to mark its demise.
The incident took place on Friday, when a Kiwi delivery robot caught fire after its battery malfunctioned, the company said in a Medium blog on Sunday.
Pictures and video posted online showed the diminutive robot engulfed in flames, before a local rushed to put out the blaze with a fire extinguisher.
Read more: People kicking these food delivery robots is an early insight into how cruel humans could be to robots
A reporter at The Daily Californian caught the moment the fire was contained. The Berkeley Fire Department arrived shortly after and doused the robot with foam to ensure there was no risk of re-ignition.
Here's a video of the Kiwibot on fire:
A student posted this image after the fire was dealt with:
One of the Kiwibots, the food delivery robot, caught on fire on campus. #kiwibot @kiwicampus pic.twitter.com/wk39ZhB8FI

— Alex (@AlexLi98) December 14, 2018
Kiwi said it took the matter "very seriously." The company, which is housed at Berkeley's startup incubator SkyDeck, said it pulled all of its robots out of service to investigate.
"Customers that had orders in progress had their food delivered by hand, minimizing the impact on the service. At no time were customers or members of the public at risk," the firm added.
Kiwi has a fleet of more than 100 robots and cofounder and CEO Felipe Chavez Cortes told TechCrunch this year that the company has fulfilled more than 10,000 orders.
The Daily Californian said the robot was not delivering a meal when it caught fire, meaning no one missed out on their food order. Students, however, reacted with sadness to the robot's demise.
Citing comments on the Overheard at UC Berkeley Facebook page, The Daily Californian said students described the robot as a "hero" and a "legend." Berkley alum James Wenzel tweeted that some even held a candlelit vigil.
so a delivery robot caught fire on berkeley's campus and students set up a candlelight vigil for it pic.twitter.com/alen7vF7Ho

— James Wenzel 🦊 (@ratherbright) December 15, 2018
SEE ALSO: Robot delivery company Starship Technologies raised $17.2 million in a round led by Daimler
Join the conversation about this story »
NOW WATCH: USB-C was supposed to be a universal connector — but it still has a lot of problems